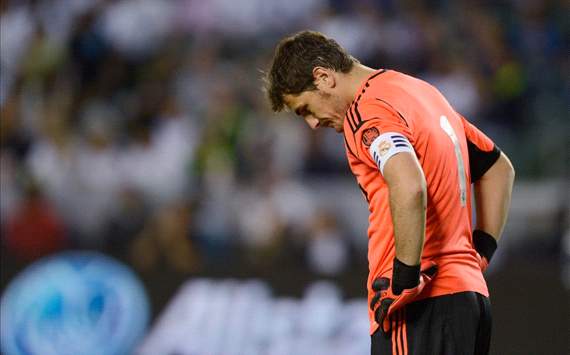 Iker Casillas – Real Madrid
Real Madrid goalkeeper Iker Casillas has spoken out about the problems that footballers face, following team-mate Cristiano Ronaldo's revelation that he is "sad" with life at the Santiago Bernabeu.

Ronaldo created a media storm on Sunday when he said that he did not celebrate his two goals against Granada because of his dissatisfaction with a "professional issue" within the club.
That had led many observers, including former Barcelona player and coach Carles Rexach and ex-Madrid defender Pachin, to dismiss his concerns, but Casillas has said that everybody – even footballers – have issues to deal with.
"I understand that it is difficult for people to understand the situation that we face as players," the Spain No.1 told Madrid's official website. "But we are people just like everyone else and all have our own worries. We have family and friends and they are all important."
Casillas also shed light on his surprise at being named joint winner of the 2012 Prince of Asturias Award for Sport alongside Barcelona captain Xavi Hernandez, the first time the honour has been given to individual football players.
"There are some awards that seem unachievable and that you never think you could get to win," he continued.
"But the work that you do throughout your sporting career could mean that you get to be nominated and I think to get this award is a great thing that gives me a lot of personal satisfaction.
The 31-year-old also gave his take on the decision to award Barcelona and Madrid's respective captains the award.
"It's been a few years in which the Real Madrid-Barcelona rivalry has grown a lot, which I think is good for football, the sport and the fans, always in moderation of course.
"It is an award for which we are the two prominent faces from each team, and from the national team because of being the captains.
"But it is a prize that there are many people behind – team-mates at our clubs and the national team, fans… it's a very nice award to win and it is great to be receiving it," he added.