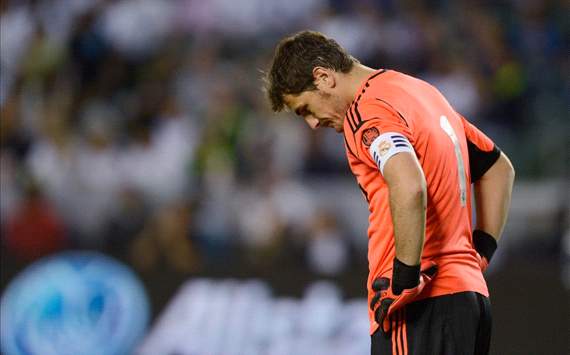 Iker Casillas – Real Madrid
Real Madrid's Iker Casillas should use the criticism being levied towards him as an incentive, according to Jose Angel Iribar, who admits that as a goalkeeper you are under more pressure than other players.

The legendary Athletic Bilbao goalkeeper made 466 Liga appearances for the Basque-side, a record expected to be equalled by Los Blancos' long-standing No.1 in Madrid's match against Mallorca.
Casillas would become the joint third goalkeeper with the most appearences in La Liga, with Francisco Buyo [542] and Andoni Zubizarreta [622] still ahead of him.
"Having played in 600-odd games, it is inevitable for Casillas to come under pressure", Iribar told AS. "But it will serve as motivation, and as an incentive to improve in the future.
"Against Borussia Dortmund, Casillas was one of the outstanding performers showing that the criticism will help him rediscover his form. Naturally, he is human so will make mistakes which will be more costly because he plays in goal."
Iribar added that he wished he could see a goalkeeper win the Ballon d'Or, but with the nominations being announced on October 29, the former-Bilbao player admits it will be difficult for Casillas to win the prestigious award.
"It would be nice [for Casillas to win the Ballon d'Or], and as a goalkeeper I wish it were so. It's complicated, though, because there is a lot of competition.
"Those who judge the award focus on the players that score the goals. Like [Lionel] Messi, like [Cristiano] Ronaldo."