England and Real Madrid midfielder Jude Bellingham has won the 2023 Kopa Trophy, given to the best young player under the age of 21, after a stunning start to life at Real Madrid.
Bellingham scored twice in Saturday's 2-1 El Clasico win at Barcelona, which included an incredible equaliser and a stoppage-time winner, to give him a goal-a-game record in his first 13 matches.
The 20-year-old finished 18th for the Ballon d'Or award before becoming the first English player to win the Kopa Trophy since its inception in 2018.
Peter Smith is joined by Joseph Shread to discuss whether or not Jude Bellingham and Harry Kane are the best players in the world right now

The Kopa Trophy is, however, awarded for his form last season, when Bellingham helped Borussia Dortmund to finish second in the Bundesliga and starred for England at the World Cup in Qatar.
Bellingham moved to Real from Dortmund in June after the Spanish giants paid an initial £88.5m with the transfer fee potentially rising to £115m – a record deal for a British player.
Spanish football expert Semra Hunter says the Spanish public is coming to terms with the phenomenal ability that Bellingham has shown

The former Birmingham midfielder has continued to impress for the Three Lions following his move to Real after player-of-the-match performances in England's recent wins over Scotland and Italy.
"I just want to thank everyone who has helped me get to this point – from Birmingham to Dortmund and now Real Madrid and the national team," Bellingham said at the Ballon d'Or event in Paris.
"Thanks for the support, it means a lot – and more to come."
His form at both international and club level has seen Bellingham become the fifth winner of the Kopa Trophy with Kylian Mbappe (2018), Matthijs de Ligt (2019), Pedri (2021) and Gavi (2022) the previous winners of the prize.
Bellingham beat Bayern Munich forward and former England youth team-mate Jamal Musiala to the honour, while Manchester United striker Rasmus Hojlund was amongst this year's nominees.
Kopa Trophy 2023 – Top 10
Jude Bellingham (Real Madrid)

Jamal Musiala (Bayern Munich

Pedri (Barcelona)

Eduardo Camavinga (Real Madrid)

Gavi (Barcelona)

Xavi Simons (RB Leipzig, on loan from PSG)

Alejandro Balde (Barcelona)

Antonio Silva (Benfica)

Rasmus Hojlund (Manchester United)

Elye Wahi (Lens)
'Standard-setter Bellingham has elite mentality'
European football expert Kevin Hatchard says Jude Bellingham is a standard setter with an elite mentality who thrives in a leadership position

European football expert Kevin Hatchard speaking on Sky Sports News:
"I didn't think he'd be fazed by playing for Real Madrid given his ridiculous amount of maturity.
"I cannot believe he's still only 20, the way he approaches everything is with such seriousness, such maturity and quality. He embraces the limelight in a good way.
"Madrid were second best in the Clasico for about an hour, but his first goal changed the game back in his side's direction.
"He's capable of scoring smart goals and spectacular goals which is as impressive He regularly scores late winners, which is the mark of a top player."
Vinicius Jr vows to continue fight against racism as he wins Socrates Award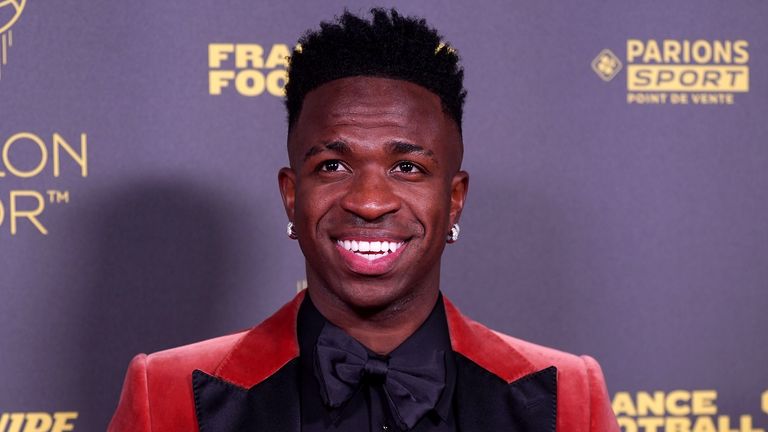 Bellingham's Real team-mate Vinicius Junior has vowed to keep speaking out against racism in football after he received the Socrates Award for his contribution off the field.
Vinicius, who has been racially abused regularly in LaLiga games for the last two seasons, was recognised for starting a foundation that is building schools in impoverished areas and investing in education in Brazil.
"I will remain strong in the fight against racism," said the Brazilian, who received the award from the Prince of Monaco. "It is a very sad thing to talk about racism nowadays, but we have to continue in the fight so that people suffer less.
"I'm very happy to receive this award and to help many children in Brazil. I had little chance of getting where I have coming from where I came so it is a pleasure for me to help as many kid as I can so they can have a chance."
The Vini Jr. Institute, created in 2020, aims to use the popularity of football to help innovations in teaching and learning in Brazilian public schools.
The project claims up to 15 schools and 10,000 students will benefit by the end of 2023, with more than 500 teachers employed.