Kylian Mbappe is prepared to sit out an entire season and leave Paris St-Germain on a free next summer after the club put him up for sale on Friday.
Mbappe was not included in the squad for PSG's pre-season tour to Japan and South Korea, which departs on Saturday, with the club making it clear they only want players on the tour who are committed, want to be at the club and that no player is more important than the club.
However, Mbappe's immediate reaction to that decision is that he is ready to sit on the bench and not play at PSG until his contract runs out next summer.
Being France captain and with the Euros coming up next summer doesn't alter his thinking.
He is willing to dig his heels in and sacrifice a season and there is nothing PSG can do about it. He is ready to call their bluff and see who blinks first.
Despite PSG's tough stance, ultimately they will have to pay him his wages and bonus until he leaves for nothing next summer.
PSG are convinced Mbappe has already agreed to join Real Madrid on a free transfer next summer, a move that is viewed as a huge betrayal after he said he would never leave for free.
The club sought clarity from Mbappe when training resumed this month but nothing has been communicated by the player.
PSG, therefore, assume Mbappe wants to leave for free and plans for life without him must begin, starting with their pre-season tour of the Far East.
Mbappe is now for sale and the club will engage with suitors, of which there are many who have been waiting for developments.
Al Hilal are one of the clubs who want to sign Mbappe this summer. Representatives of the Saudi club have been in contact with PSG. They tried to sign Lionel Messi earlier this summer and one source has told us that they also held talks with an intermediary about the possibility of signing Tottenham's Harry Kane.
PSG's six summer signings will be travelling to Japan and South Korea, together with the new coach Luis Enrique and all the positively-motivated squad.
Meanwhile, Mbappe has been told to report for training as normal at the club's new Paris training ground while the first-team squad are on tour.
Mbappe will train with other squad members who are not in the club's plans for next season. He will be training in a group of players which includes Georginio Wijnaldum and Julian Draxler.
France's players' union threatens PSG with legal action
Meanwhile, France's players' union has accused Paris Saint-Germain of morally harassing Mbappe and threatened the club with legal action to protect the forward's rights.
Mbappe trained at PSG's complex on Saturday, signing autographs for fans at the entrance before being driven in.
A statement from the Union Nationale des Footballeurs Professionels (UNFP) said: "These players – all of them – must enjoy the same working conditions as the rest of the professional workforce.
"The UNFP feels it would be useful to remind managers that putting pressure on an employee – via the deterioration of their working conditions, for example – to force them to leave or accept what the employer wants constitutes moral harassment, which French law firmly condemns.
"So, yes, the UNFP reserves the right to take civil and criminal action against any club that behaves in this way."
Analysis: This is about a massive £260m pot of money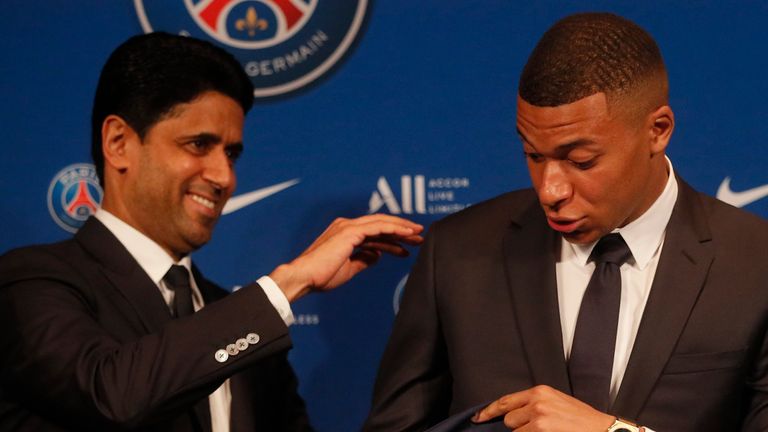 Sky Sports News' Kaveh Solhekol:
"PSG feel this is all about money. They have already invested about half a billion pounds in Kylian Mbappe, when you factor in what they paid to get him from Monaco and also the wages and all the bonuses they've paid him.
"If he stays at PSG for one more year, he will earn more than £100m in wages and bonuses. Then, next summer, when he moves to Real Madrid on a free transfer, Real Madrid will give him a £160m signing on fee. So as long as he stays where he is, he stands to make £260m and massive wages when he moves to Real Madrid.
"PSG are saying, 'we're not going to let that happen. We want to sell you now and get a transfer fee – maybe £100m-£150m – and we'll also save having to pay you another £100m over the next 12 months.
"It's about power, egos but really it's about a massive pot of money.
"PSG feel this is the ultimate betrayal, they feel he's sabotaging the club. They feel he's not a man of his word because he's gone on record in interviews before saying 'I'll never leave PSG for nothing'.
"That's PSG's attitude now: the gloves are off, it's time to act tough. They've been messed around by superstar players in the past. They're not going to let it happen again. They want him out ASAP."
What have Al-Khelaifi and Mbappe said about each other?
A statement from Mbappe's entourage in early June:
"After having publicly declared in recent weeks that he will be a Parisian next season, Kylian Mbappe did not ask for his departure this summer, but merely confirmed to the club that he was not activating his additional year.
"The management of the club in charge of its extension (signed on May 21 2022) was informed of its decision on July 15 2022 and the sole purpose of the letter was to confirm what had already been orally clarified previously.
"Mbappe and his entourage claim they have not discussed this point with the club again during the year, except 15 days ago to announce the sending of the letter. Nor has any possible new extension been mentioned.
"Finally, Mbappe and his entourage regret that the receipt of this letter has been transmitted to the media and that these exchanges are made public with the sole aim of damaging his image and the smooth running of conversations with the club."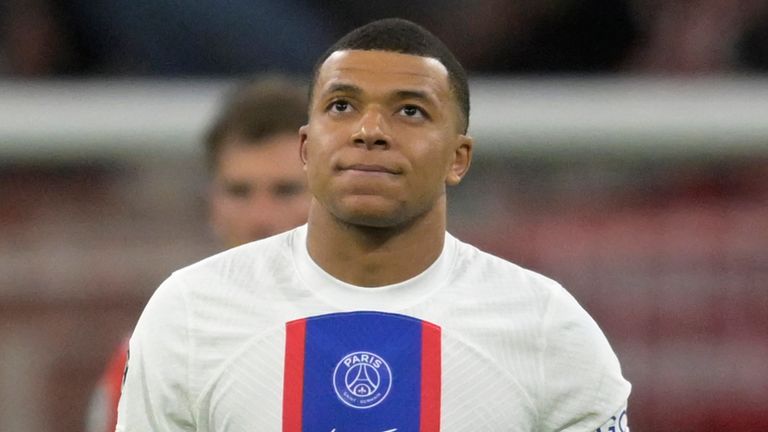 Paris Saint-Germain president Nasser Al-Khelaifi speaking in early July:
"My position is very clear. I don't want to repeat it every time: if Kylian wants to stay, we want him to stay. But he needs to sign a new contract.
"We don't want to lose the best player in the world for free. We can't do that. This is a French club.
"He said he would never leave for free. If he changes his mind today, it's not my fault. We don't want to lose the best player in the world for free, that's very clear."
Follow the summer transfer window with Sky Sports
Who will be on the move this summer when the transfer window opens on June 14 and closes at 11pm on September 1 in England and midnight in Scotland?
Keep up to date with all the latest transfer news and rumours in our dedicated Transfer Centre blog on Sky Sports' digital platforms. You can also catch up with the ins, outs and analysis on Sky Sports News.