If Jude Bellingham delivers on the pitch in the same way as he did off it at his unveiling press conference, then he will shine at Real Madrid.
Bellingham looked the part. He wore a smart dark suit and tie and even when he was presented with his new No 5 shirt, his mum and dad, while unbelievably proud, looked nervous. Bellingham looked confident and was revelling in the occasion.
What struck the assembled media, and the local press were out in force to greet Bellingham, was his assured, relaxed and confident style of speaking.
To Bellingham's left were Real Madrid executives, and when they brought him into the room, they were clearly slightly on edge, slightly tense, but after less than two minutes, one of them lent up against the wall and let out a huge sigh of relief and just smiled because Bellingham had the room in the palm of his hands.
He handled the responsibility of wearing the iconic No 5 shirt at Real, worn by Zinedine Zidane, with ease. He gently discarded any questions around pressure on him and spoke of a wonderful opportunity to lengthen the legendary status of that shirt by adding to Zidane's achievements.
Real Madrid's Jude Bellingham heaps praise on his England team-mate Harry Kane but refuses to comment on whether he will be joining him in the Spanish capital this summer.

Bellingham is well aware of the significance of wearing the No 5 jersey but hasn't forgotten his roots. "I'm now a number five," he said, "but in my heart, I'm always 22!"
I asked Bellingham about the significance of being the seventh British player to play for Real Madrid and how much he might like an eighth one to play alongside him, namely Harry Kane.
He smiled politely and with intelligence answered the question by not answering the question! He talked about how much he enjoyed playing with Kane for England and how much he loved him.
But as far as any potential transfer of Kane to Spain, Bellingham did not engage nor when I asked a similar question about playing alongside Kylian Mbappe. He batted the question back but, at the end of his answer, he did tease, "Who wouldn't want to play with Mbappe?".
Before all of that, though, came the most obvious question of the day, why Real Madrid? It was his response that really endeared him to the local press and media gathered at the club's training ground.
He gave so many different ways of saying it's just a 'no-brainer' not to play for Real Madrid! He ran through how he and his parents had been treated by Real, how they talked with the club and how impressed he was with the way they dealt with him with Dortmund as well.
Bellingham gave everybody the impression that once Madrid expressed an interest in signing him, no other club was going to get a look in.
He said the money wasn't an issue in response to a question that he could've earned more by playing in the Premier League. Bellingham wasn't tempted by that.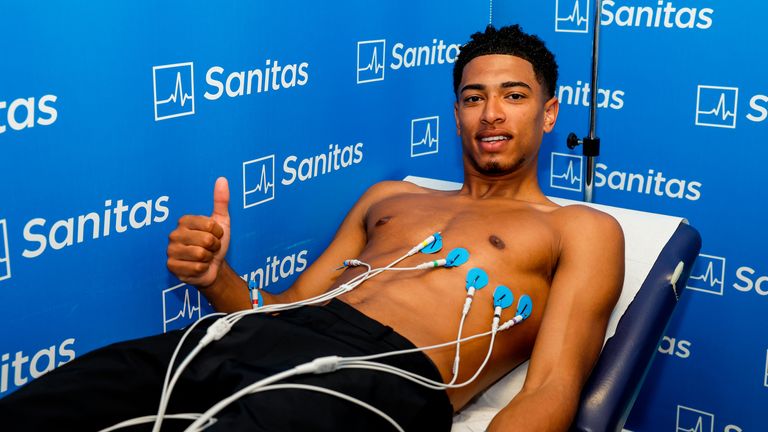 It was about coming to Real to learn, to develop, and as he said, twice, to be like a sponge to learn from the likes of Luka Modric and Toni Kroos.
As first impressions go at such a huge club like Real Madrid, Bellingham could not have done a better job.
Where will Bellingham fit in at Real Madrid?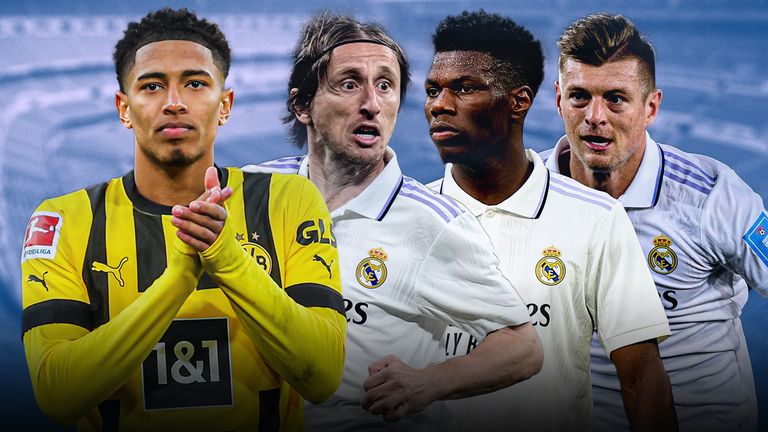 When Bellingham was at the peak of his powers during the World Cup with England, Real Madrid manager Carlo Ancelotti had his say on where he ranks as one of the best young midfielders in the world.
"Bellingham is one of them," the Italian said. "But I'll stick with my midfielders, who are very good, especially the youngsters."
It was a reminder, despite Bellingham being one of the most sought-after midfielders ahead of this summer transfer window, that Real Madrid are a club with plenty of pedigree in that position.
So where does Bellingham fit in? Is he even guaranteed a place in the Real starting line-up?
Read the full feature here!