Real Madrid's comeback against Manchester City in last season's semi-final was chaotic in the extreme. Some speculated that it was the magic of the Bernabeu. How else to explain what they had just witnessed? Certainly, nobody thought it was the tactics.
In the final minute of the 90, star striker Karim Benzema had roamed to the right flank and then to the left, popping up out wide to centre the ball for substitute Rodrygo to score the first of the two goals that Madrid needed to level the tie. The rest was history.
The margins were maddeningly small. Pep Guardiola bemoaned his misfortune, bereft that this cup competition continues to confound his genius – as it has for over a decade now. Carlo Ancelotti raised an eyebrow. He would be the one dancing on the pitch in Paris.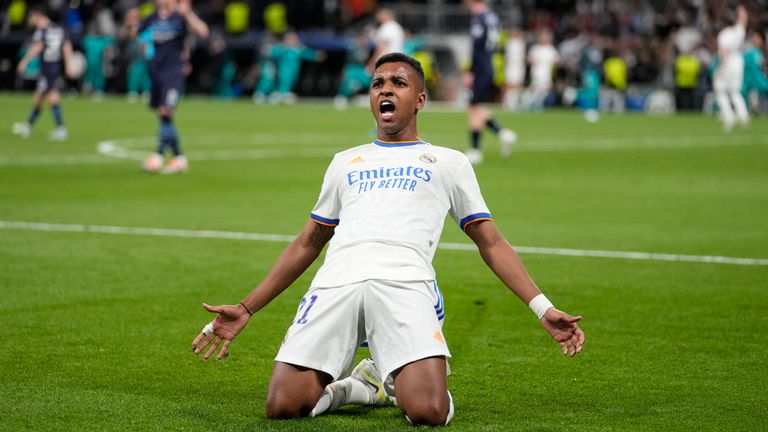 The contrast between these two is irresistible but let us begin with the comparison. Both are former midfielders who lifted this trophy as players. Both have won it as a manager, Guardiola twice with Barcelona. Ancelotti twice with Milan and twice with Madrid.
If City win this forthcoming tie home and away, Guardiola will go level with Sir Alex Ferguson on 102 Champions League victories as a coach. There would then be only one man ahead of him on the list. That man is Ancelotti, his counterpart in the Bernabeu on Tuesday.
While Guardiola's rivalry with Jurgen Klopp has been a feature of the Premier League and his time in Spain was shaped by his antagonism with Jose Mourinho, it is he and Ancelotti who are the two men to have contested the most Champions League semi-finals.
Theirs too is a rivalry of ideas because they represent two very different ways of doing this job. The stylistic contrast is not as overt but it might just be more intriguing because the difference between them is about more than tactics, it is about principles.
The positional game of Guardiola has inspired a generation of coaches. His is an ideology. It can be taught. It can be embraced.
Ancelotti's rules are less defined. It was not always so. As a fledgling coach at Parma, famously, he rejected the chance to sign Roberto Baggio because he was so wedded to the idea of Arrigo Sacchi's 4-4-2. It was a lesson that altered his approach to management.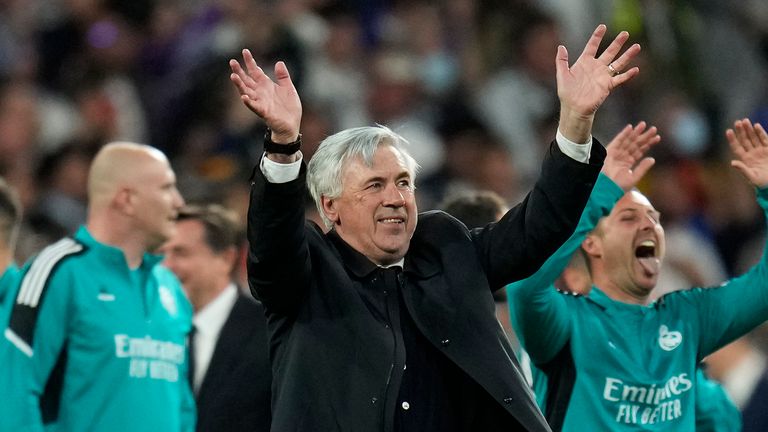 History would suggest that there is no right or wrong here.
Their first semi-final against each other was in 2014 and resulted in a big win for Ancelotti's Madrid. Guardiola famously fretted over his Bayern Munich formation for days, changing his mind twice before settling on a decision he would regret, losing 4-0 at home.
Ancelotti, characteristically, gave the responsibility to his players. To Cristiano Ronaldo. "My only wish is that every player gets the chance to work with him," Ronaldo once said. Ancelotti never had a problem with him. "In fact, he solved the problems for me."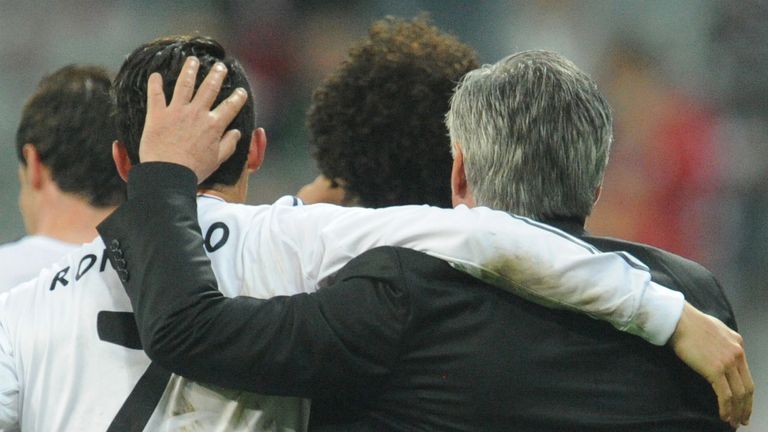 The Italian had the better of that meeting but what happened when he replaced Guardiola at Bayern highlighted the flaws in his approach. Initially, the players appeared almost giddy. "He trusts us to make our own decisions out on the pitch," said Manuel Neuer.
But before too long, it began to unravel. The change was too seismic to go smoothly. Stories emerged of senior players organising high-intensity training sessions behind Ancelotti's back, so concerned were they about the more relaxed attitude to the work.
"Pep Guardiola is focused on the details, with a lot of analytics," Joshua Kimmich would later explain. "He is also very emotional and tries to coach from the line. Then I had a coach in Carlo Ancelotti who is very calm and is not changing directly on the line."
Micro-managing is not the Ancelotti way. "Carlo with a look is already telling you many things," said Fede Valverde. Sometimes that minimalist approach is appreciated, players grow with the responsibility. Sometimes they crave a little more information.
Both ways work but they work in different ways. Perhaps it is no coincidence that Guardiola has been more successful in winning leagues than Champions Leagues. Two in 13 attempts is surprisingly few given the brilliance of his sides. He has won 10 league titles.
Ancelotti is the opposite. He may have won the Champions League as a manager more times than anyone else but last season was the first time that he won his domestic league in the same season. He has won all five major European leagues, but only once apiece.
One suspects it hints at the truth. Guardiola, in his own way, does play the percentages. Over the course of a long season, his patterns, the metronomic movements that are drilled into his players, will succeed in producing teams that win more often than others.
FREE TO WATCH: Highlights from Manchester City's win over Leeds United

Ancelotti cannot match that consistency. But by trusting in talent, by encouraging players to think for themselves, just occasionally, his teams are capable of the sort of spontaneity that is hardly possible in a Guardiola side coached to always make the 'correct' decisions.
The two left-wingers in this tie sum it up in microcosm. By common consent, it took Jack Grealish one full season to produce his best football under Guardiola. But that football looks a little different to how it looked when they paid £100m to Aston Villa for him.
Under Guardiola, the rules are more rigid. Last summer, in a twist on the usual tale, the player even suggested that he could express himself more when playing in an England shirt for Gareth Southgate. "I do feel like I play with a lot more freedom here," he said.
"That is what the manager asks me to do – go on and be myself and try to create." This season, Grealish has been widely praised at City. And yet, incongruously, he is creating fewer chances per 90 minutes than last season. He has been subsumed into the system.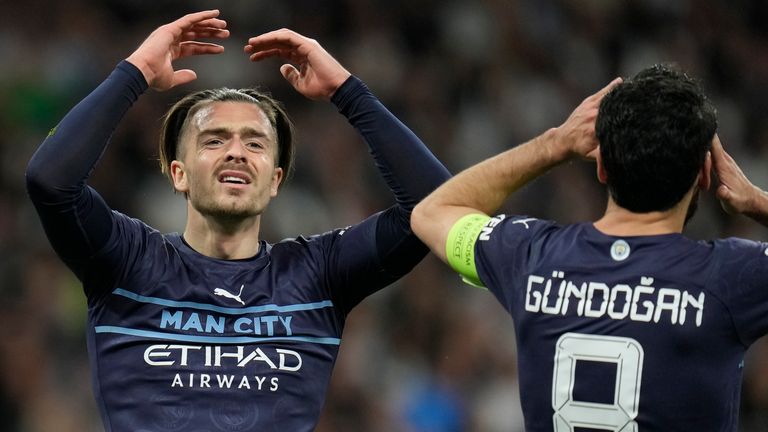 Vinicius Junior is no cog in the Madrid machine. He is the most decisive player in the world, according to Ancelotti. As such, the man whose goal won this trophy last season operates in similar areas to Grealish but without the same positional restrictions on his play.
His national team manager Tite even asked Ancelotti for advice on what he could do to bring the best out of him for Brazil. "We talked about offensive situations that would give him creative freedom, one-on-ones." Vinicius says that Ancelotti gives him confidence.
There are tactics to it, of course there are. But they are guided by the needs of the individual. In the Champions League final, Ancelotti opted for a lopsided formation that asked Valverde to defend on the right in a way that Vinicius did not have to do on the left.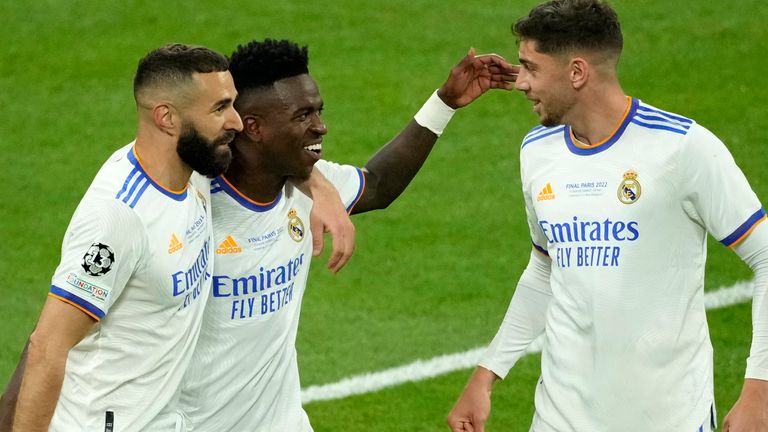 "If you asked me how we played the final in Paris, 4-3-3 or 4-4-2, I will tell you I do not know," said Ancelotti. Talk about playing up to the stereotype. But it still helps to reveal a little of why his Real Madrid team might just prove to be Guardiola's Kryptonite.
Superman usually wins in end, of course. City are favourites with the bookmakers for a reason. They will weave their patterns for three hours and with Erling Haaland up front they will hope to be clinical enough to create and convert enough chances to be out of sight.
But if those chances are not taken. If Thibaut Courtois is inspired. If this tie goes the distance and a moment of magic is required to decide it. Do not be surprised if it is a world-class problem-solver in meringue white who feels empowered to make that decision.
It is the beauty of these contrasting coaches.