Given that Chelsea have twice turned around miserable seasons to win the Champions League, the idea has gathered pace that another unlikely triumph could soon be upon us. In Karim Benzema and Real Madrid, they may have the wrong opponents.
The 14-time champions of Europe need no history lessons in this competition. Their recent 4-0 win away to Barcelona featured Benzema's second hat-trick inside a week, a reminder that Chelsea face an old foe still making the difference in the biggest games.
It is a little over a year since Benzema's hat-trick at Stamford Bridge underlined his status as football's most complete striker. A little under a year since his extra-time winner in the return leg at the Bernabeu showed why he is also the game's most decisive.
Those interventions followed his hat-trick against Paris Saint-Germain and preceded him scoring three more in that outrageous semi-final victory over Manchester City. They are the numbers of Benzema's reinvention, one of the great final acts in football.
When he turned 30 in 2017, Benzema was in the middle of a season in which he would score only five goals in 32 appearances in La Liga. That campaign was capped by a third consecutive Champions League win but Cristiano Ronaldo's exit still felt like an ending.
Instead, Benzema turned it into a catalyst for change, adapting his game once more, taking on a new role to ensure that the trophies kept coming for his team. He scored 44 goals for Real Madrid last season and has already added a further 25 this time around.
In October, two months before turning 35, he became the oldest Ballon d'Or winner since Sir Stanley Matthews. He can now be regarded as a true great of the game, the second highest scorer in the history of Real Madrid, the most successful club of them all.
It is impossible to tell the Benzema story without discussing Ronaldo, the man who tops that list. The two players arrived at the Bernabeu along with the Brazilian Kaka in the same summer of 2009. Benzema's presentation did not draw the same crowds.
For his first four seasons in Madrid, he competed for a place with Gonzalo Higuain. There could be no competing with Ronaldo. "I changed the way I played to play with him," Benzema once said. He became football's favourite oxymoron, the unselfish striker.
Zinedine Zidane claimed that the terms No 9 or No 10 did not do him justice, he was a bit of everything. It was what he did but also where he did it, creating space for Ronaldo. Another old coach, Jose Mourinho, said it was no coincidence that Ronaldo adored him.
"When Cristiano was here, we had a different style of play, I was providing more assists," Benzema explained. "He really helped me on and off the pitch. But I knew that I could do more and when he left, it was time to change my game, change my ambitions."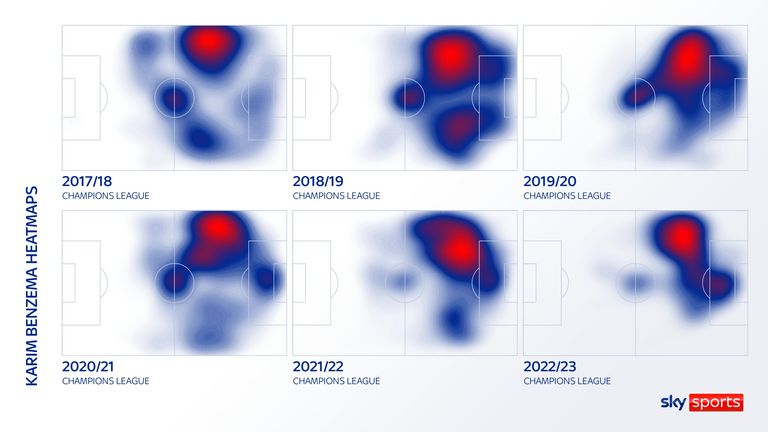 It is difficult to know what is more impressive, the fact that could make that late-career adaptation or that he had the self-awareness to recognise that it was required. In adjusting his game, Benzema showed that he was whatever Madrid needed him to be.
A new partnership has emerged with Vinicius Junior. It is tempting to assume Benzema inherited Ronaldo's mantle, that the team is in his service now. But it is remarkable that the man Mourinho claimed was not "a killer" has morphed into such a clinical finisher.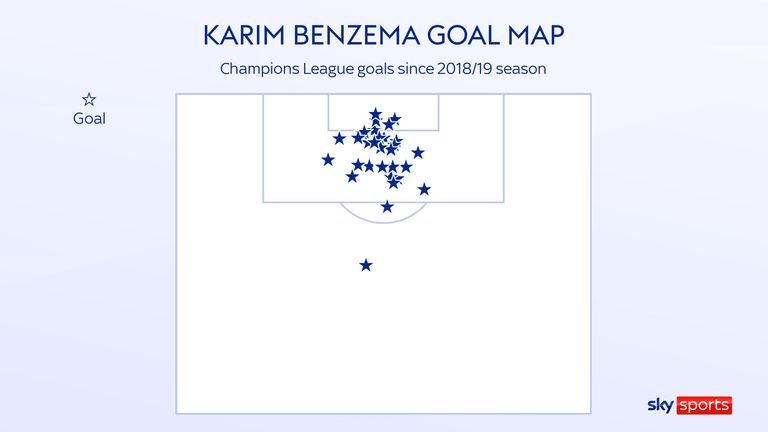 Again, he has become what Madrid needed him to be. He has become a penalty-box presence, lethal between the width of the posts, but still able to drop deep, feeding the flying wingers, his clever movement helping to isolate them against their full-backs.
He is still making his team-mates better.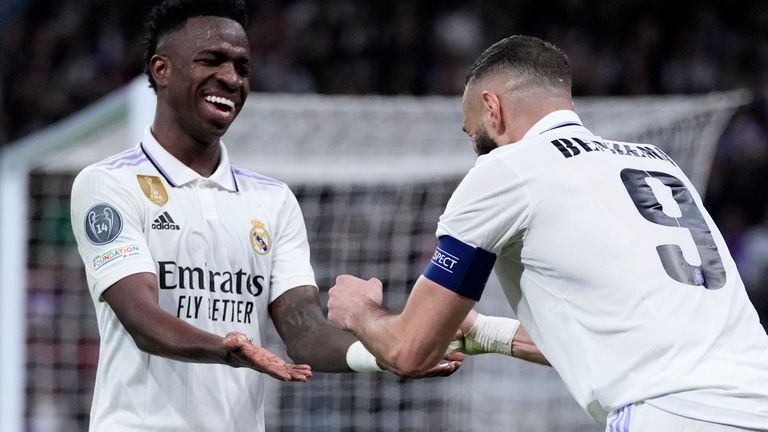 There was an early-season dip, a run of five games without a goal for the first time in two-and-a-half years, and the frustration of missing the World Cup with injury. But a return to peak fitness at a key phase of the season has brought a return to peak form.
"When he is healthy, he makes the difference," says Carlo Ancelotti.
"He has found his optimal condition again, and with the quality he has, the physical condition that supports that quality makes the difference. He is still one of the best players – not forwards, but players – in the world right now, without doubt."
It is an important distinction because Benzema has retained those qualities that marked him out as an essential figure at Real Madrid even when he was not scoring as many. As Casemiro once put it, the only thing that changed was his relationship with goals.
And so, while the statistics show that Benzema has finished nine big chances this season in La Liga, he has created 10 of those chances for others – ranking in the top six for both. He is among the top 10 players in Spain when it comes to successful through-balls.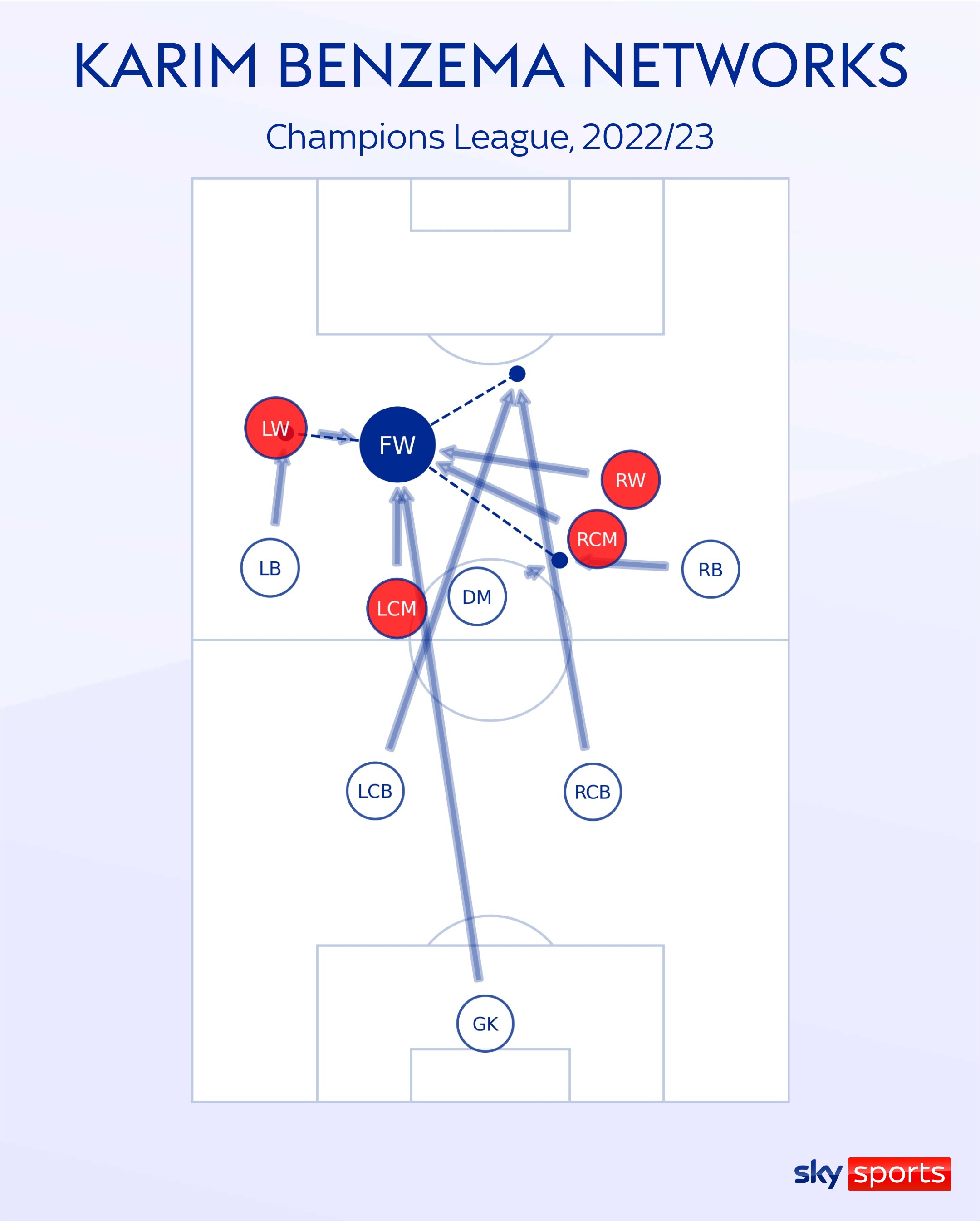 How long can he sustain this? His record of 4.86 shots per 90 minutes is the highest in La Liga so the goals still feel repeatable and there is no doubt that his seven-year absence from the France national team will have helped his quest for longevity.
It is a quest that he appears committed to.
"There are more and more players in this situation, who get better and better after they turn 30. I take good care of myself. I pay a lot of attention to what I do. I get as much rest as I can. I work harder. I find the time to work properly and I think experience helps.
"That is why I feel great today, both technically and mentally speaking. When I was 19 or 20, I was obsessed with football, with being on the pitch. And then, little by little, you realise that being on the pitch is not everything.
"There are a lot of other important things around it. Eating well, sleeping well, getting enough rest, working in the gym, so many things that I did not used to do, as the way I saw it, football was only about what happened on the pitch."
Both physically and mentally, both tactically and technically, he has become a superior striker. His career could end today and his status would be secure. The problem for Chelsea and others is that there is no sign that Karim Benzema intends to let up.