On Monday, at the Theatre du Chatelet in Paris, Lionel Messi was crowned once again The Best FIFA Men's Player of 2022. On the right bank of the River Seine, and in the oldest part of this enchanting city, there was no disputing the Argentine's position at the pinnacle of the sport.
At this star-studded event often belittled for its predictable voting pattern, World Cup winner Messi unsurprisingly cantered to the top gong, seeing off Karim Benzema and Kylian Mbappe to equal the two awards of Cristiano Ronaldo and Robert Lewandowski since its inception in 2016.
The fall-out to Messi's latest victory, as always, revealed more interestingly who voted for who, with focus immediately placed on David Alaba's decision not to back his own team-mate Benzema for the top prize.
But it was the number of votes fellow team-mate Vinicius Jr pulled in which perhaps drew the greatest surprise.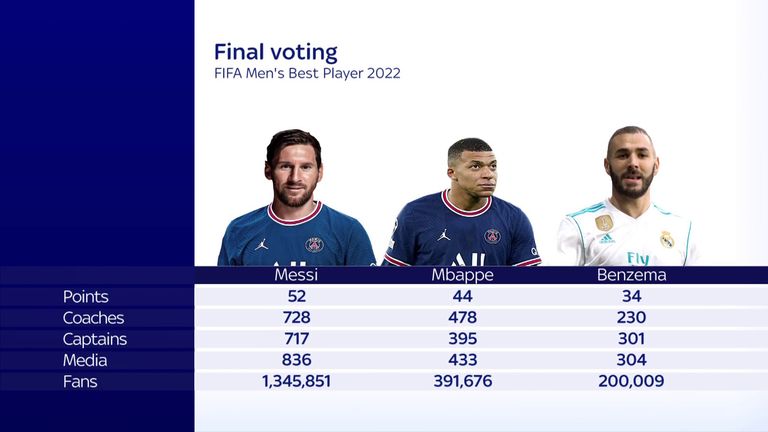 Seven kilometres further north of where the gala took place, nine months ago at the Stade de France, the Brazilian was winning a Champions League for Real Madrid, scoring the only goal as Liverpool's hopes of a seventh European title were dashed.
For only the second time in 64 years, Real were crowned Spanish and European champions in the same season. It was a year in which Vinicius would form one of the most devastating partnerships in world football, totalling 100 goals and assists in tandem with Benzema.
He was key in helping Real win the La Liga-Champions League double and will be expected to lead his side to a morale-boosting win over arch-rivals Barcelona in the Copa del Rey semi-final first leg on Thursday.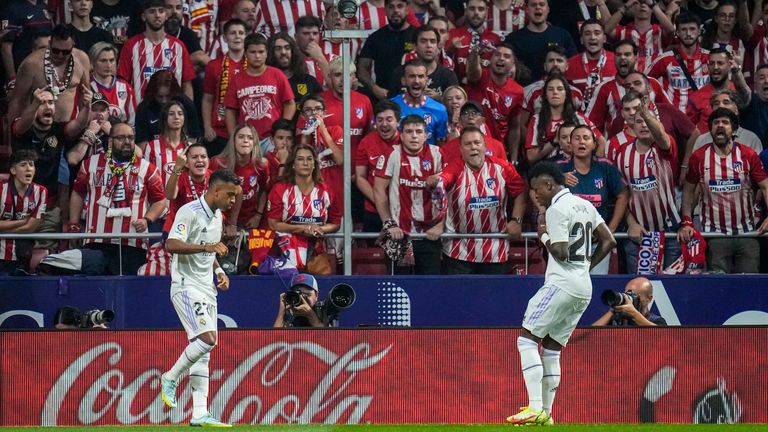 But having earned himself a place among the list of 14 nominees for the prestigious individual prize won by Messi, Vinicius would receive just three votes in first place.
A Cameroonian media member, Emmanuel Gustave Samnick, journalist Crofton Utukana from the Solomon Islands and Egypt captain Mohamed Salah were alone in viewing him as the world's best.
The likelihood is that 12 months from now, the outcome could be very different, but despite his tender age, Vinicius already knows all about the fight for recognition.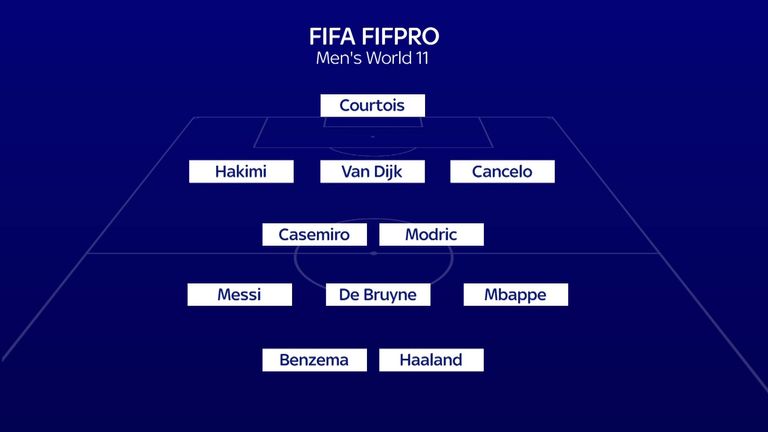 At 22 years and 224 days old, Vinicius became the youngest visiting player to score twice against Liverpool at Anfield in a major European competition since Johan Cruyff in December 1966 for Ajax in the European Cup. That alone demonstrates the calibre of player the Real Madrid star has become.
The scourge of Liverpool once more, Vinicius continues to underline his undisputed brilliance and growing influence on the global stage, but it is hard to escape the context in which his stellar performances are taking place, in stark contrast to the stance being taken in his homeland.
The Brazil Football Federation (CBF) says it will become the first to punish incidents of racism and racist abuse with points deductions. The CBF has confirmed a change to its regulations that has taken effect in the ongoing Copa do Brasil.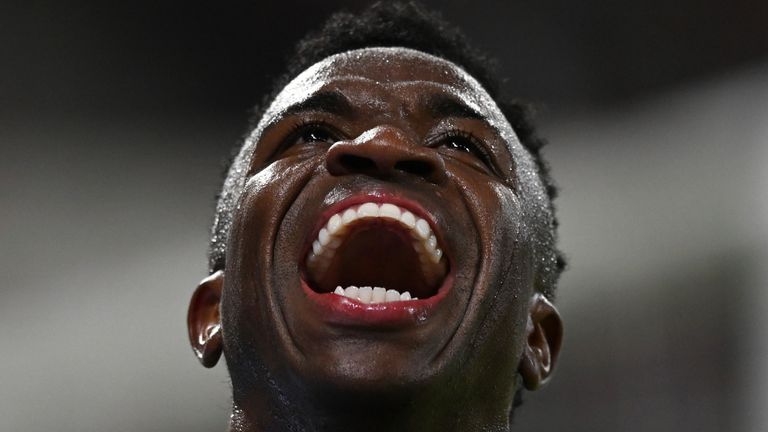 Combatting racism is a priority for CBF president Ednaldo Rodrigues, who became the first Black person to lead the organisation in over 100 years of its history when elected to the permanent role in March 2022.
Last month the country's new president, Luiz Inacio Lula da Silva, also announced an increase in penalties for racism and other crimes committed at sporting events in Brazil.
Rodrigues has spoken out against the treatment of Vinicius Jr and other athletes, saying racism now "goes beyond an attack on dignity and already threatens the physical safety of the victims".
"The fight against racism is urgent," Rodrigues said after the CBF proposal was unveiled. "Measures have been discussed for centuries and never put into practice. CBF is doing its part."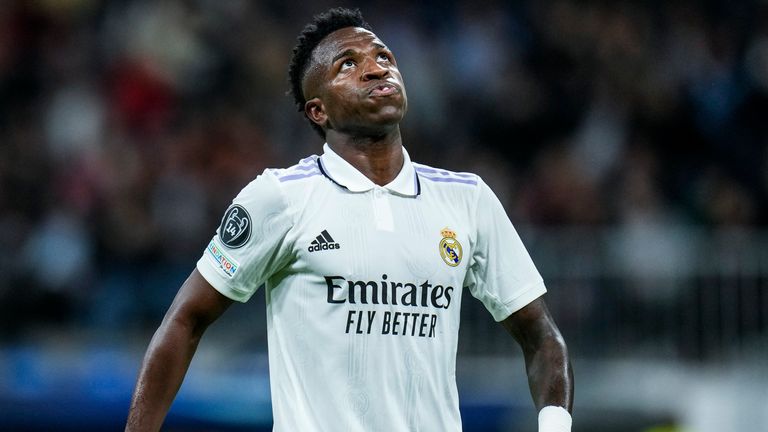 The hope is that in time the Spanish Football Federation would look to introduce something similar to the CBF's new regulations. But, judging by how the system has continually failed in recent times, you wouldn't expect radical changes any time soon.
Vinicius has been at the centre of a racism scandal in Spain over the past 12 months, racially abused on numerous occasions, most recently by fans of Real Mallorca in early February.
Supporters could be heard making racist chants in a video published by the streaming company DAZN on social media.
In a radio interview, Mallorca manager Javier Aguirre denied his players had targeted Vinicius in the ill-tempered match, in which the Brazilian suffered 10 fouls, the most by any player in La Liga this season. A foul every nine minutes.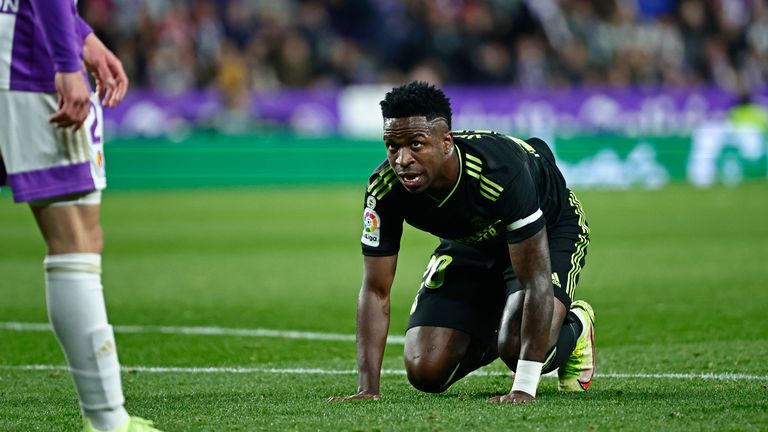 "Today the referee ignored the repeated fouls," said Real boss Carlo Ancelotti after the Mallorca defeat. "It's supposed to mean a booking if fouls are over and over and over again.
"Everything that's going on is not Vinicius' fault. He only wants to play football, but there's a provocative atmosphere caused by opponents who get stuck into him and foul him. The external focus, in this case, has to switch. It's time to study what happened to Vinicius today."
There have been other appalling episodes – at the Camp Nou against Barcelona in November 2021 and at Atletico Madrid in September 2022.
Spanish police are also investigating a possible hate crime against him after a mannequin wearing his No 20 shirt was hung from a bridge in front of the club's training centre before the Madrid derby in January.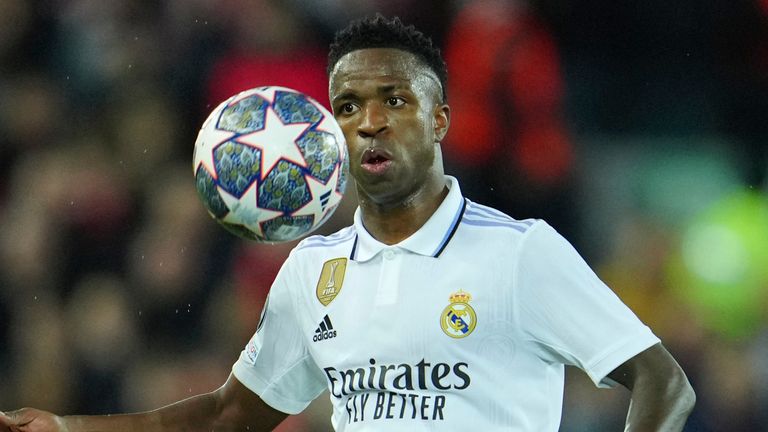 Prosecutors in Madrid decided not to press charges over racist chanting aimed at Vinicius in September after finding it had "lasted a few seconds" and had not constituted a crime.
In December, Vinicius accused LaLiga of continuing to do nothing about racist fans at matches, after videos on social media showed some shouting abuse and throwing objects at him the previous day at Valladolid.
LaLiga condemned all forms of hate speech and said it was following up on instances of racism at the match. Its president, Javier Tebas, said Vinicius' accusations were "unfair and untrue".
LaLiga says it is powerless to enforce sporting sanctions and instead refers all cases to the justice system.
Vinicius is the player with most goal attempts (28) and shots on target (15) in the Champions League this season. After scoring 22 goals with 20 assists last term, he has already scored 18 in all competitions this campaign and was named player of the tournament at the Club World Cup in January, helping Real to secure a record-extending fifth title.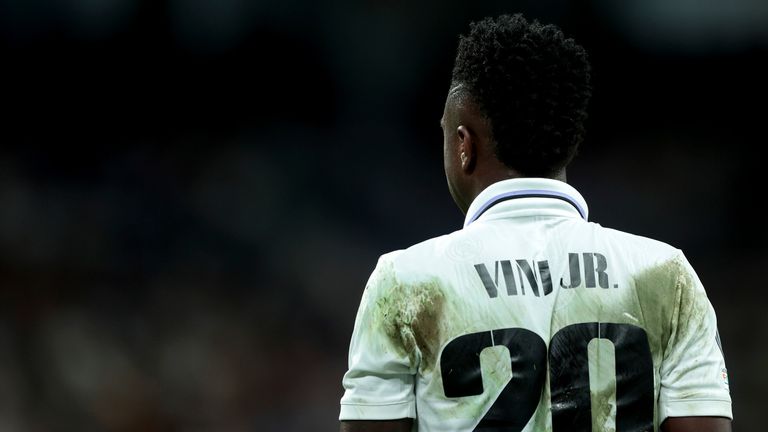 If one of the world's best players can't be protected, what chance does anyone else have in football?
For how much longer can this shocking and blatant turning a blind eye to racism go on? Points deductions, stadium bans and hefty fines appear further away than ever.
Writing for ESPN, Spanish football expert Graham Hunter said: "Vinicius is a young, talented, exciting, successful, Black Brazilian player who, inarguably in my view, is being treated atrociously by Spanish football and by some sections of the country.
"Partly because of the colour of his skin. What's happening is an outright disgrace, something that fair, decent, honest people should be repulsed by and catalysed into protesting about.
"Everything being equal, this young man who's blessed with what Ancelotti calls a prodigious, elite athleticism and robustness would be used in every one of the Italian manager's starting XIs – potentially a 64-match season.
Former Real Madrid boss Rafa Benitez warned Liverpool about Vinicius Jr's qualities

"But if those who are bullying, provoking, abusing and attacking him here in Spain have their way, this emerging legend – eighth in last season's Ballon d'Or voting – will be injured or suspended for most of them. That's the level of maliciousness being deployed against Vinicius."
Would the same treatment be dished out were he a young, white Spaniard? I have very strong doubts. In fact, I am sure it would be very different.
The Brazilian is the most-fouled player in Europe's top five leagues by a big margin. He has been fouled 84 times, with Paris Saint-Germain's Neymar joint-second on 65.
The way he has been viewed in Spain, it is as though he is the problem. That his showboating is a justifiable cause for irritation. Football is about tribalism – and creating hostility to gain an advantage over superior opposition should be expected. But it should never overstep the mark.
It remains a societal problem, not just in Spain it ought to be said, but it is a country where shifting the mindset away from racial chanting being a form of acceptable baiting has hardly moved on from the late 90s, when Roberto Carlos received such treatment playing in his first Clasico.
Hunter ends: "Spanish football has a big, ugly and growing problem with how Vinicius is being treated. It's time for every single person who sees things as they really are to speak out, repeatedly, until this scintillating talent can go about his work without being persecuted for who he is or the colour of his skin."
For now, this rising star of the game must continue to brilliantly block out the provocation; to focus on the wins, and not the battles he can only lose. He is among those fighting to become the heir to Messi's throne.
"Right now, in my opinion, he is the most decisive player in world football," said Ancelotti after that 5-2 win at Anfield.
Real have it all to play for, still fighting on three fronts this season. At the start of this new month and ahead of the first in a Barcelona trilogy, Vinicius has the world at his feet and everything to gain.
Gaslighting this elite talent, it is time Spanish football realised all it stands to lose.