An effigy of Real Madrid forward Vinicius Junior was hung from a motorway bridge hours before the team's match against Atletico Madrid in the Copa del Rey.
The perpetrators used a black figure with Vinicius Junior's name on it, tied a rope around its neck and hung it from an overpass in Madrid along with a banner with the words "Madrid hates Real".
The banner and the figure were apparently attached to the bridge while it was still dark early on Thursday morning.
Vinicius has been subjected to racist taunts more than once in Spain.
The Brazil forward has complained on social media about being targeted by racists since he came to play in Europe.
The message on the banner is often used by one of Atletico Madrid's ultra fans groups, though it denied being responsible for the display.
"These are repugnant and inadmissible acts that shame society," Atletico said in a statement.
"Our condemnation of any act that attacks the dignity of persons or institutions is categorical and unreserved," the club said.
"The rivalry between the two clubs is the greatest, but so is respect. No individual, whatever their intentions or colours, can tarnish the co-existence between different supporters. It is everyone's responsibility to avoid this."
Real Madrid thanked others for the messages of support it received after the "lamentable and repugnant act of racism, xenophobia and hatred against our player Vinicius".
"Attacks such as those suffered by our player, or those suffered by any sportsperson, have no place in a society such as ours," Real Madrid said.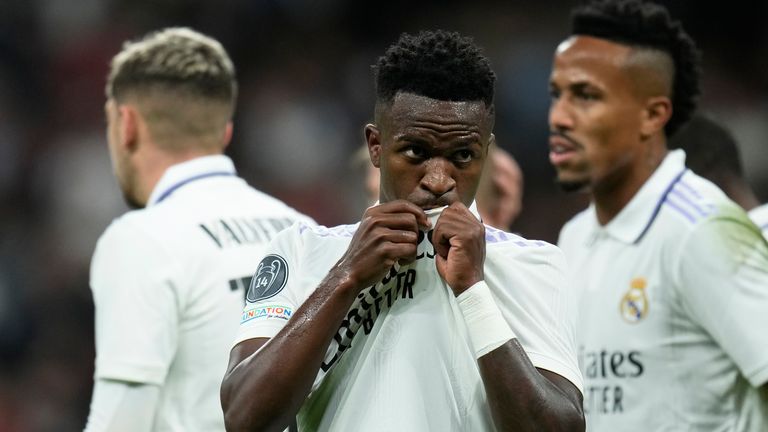 The Spanish league said it "strongly condemns acts of hatred and intimidation" made against Vinicius.
It said it would ask authorities to investigate and seek convictions with "the most severe sentences" for those responsible.
"Intolerance and violence have no place in our sport," the league said in a statement.
The Spanish football federation condemned the "intolerable act" and offered a message of support to Vinicius following the "direct threat by radical groups".
"These types of manifestations, charged with hatred, only encourage violence and have no place in our sport. Soccer must be lived with passion, but always respecting the players, the opponent and the fans," the federation said.
"This type of vandalism is unacceptable."
Atletico had already condemned its fans when a large group of them shouted racist chants before Madrid's 2-1 win in the city derby last year at the Metropolitano Stadium.
Spanish state prosecutors closed a probe into that case, citing a lack of sufficient evidence to identify potential perpetrators of the hate crime.
The Spanish league this month filed criminal complaints against Valladolid fans who aimed racist insults against Vinicius, and he was also targeted by a fan who racially insulted him after a "clasico" against Barcelona in 2021.
The Copa del Rey derby had been engulfed in controversy following a report that Madrid would prohibit Atletico fans from wearing team jerseys at the Santiago Bernabeu Stadium, something that Madrid later denied.
How much of a racism problem does Spain have?
Sky Sports' European expert Andy Brassell:
"It's a huge problem but I think what we're talking about here is an Atletico Madrid problem. Frente Atletico – the main ultras group for the club – have had a very racist element to them for a very long time.
"It's something that, if we're honest, the club hasn't dealt with. They've let them get away with it and they've let them fester. They've come out with strong words after the Madrid derby where Vinicius was racially abused for all of Europe and the world to see.
"They've now come out with a strong statement after this but it doesn't really say what action they're going to take. We need to see action as the statement is meaningless unless they follow it up.
"Frente Atletico need to have their privileges taken away. The problem they have with Vinicius is that he scored and celebrated in front of them – and because he is black."