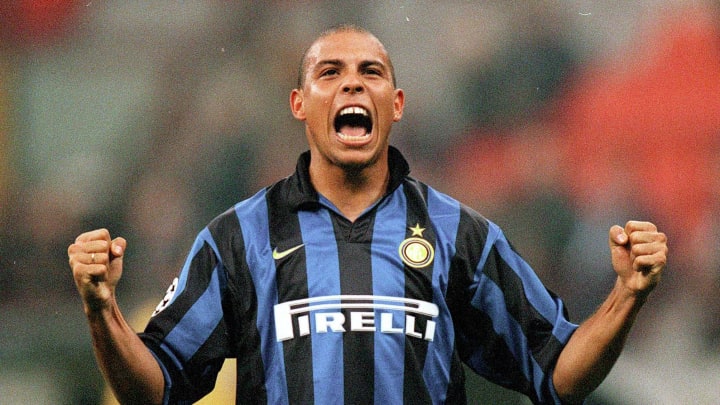 A wise and pensive Michael Owen once said: "Whichever team scores more goals usually wins."
He couldn't have been more right. Football is a game of goals, and no matter how good your team is, a classic centre-forward who can stick them away never goes amiss. But as football develops and managers begin to experiment and attempt to outsmart opponents with revolutionary tactics, the importance of a classic number nine is starting to wane.
Much like rock and roll and the routine of a half-time bovril however, the centre-forward will never die.
How good is it to see one of this rare breed pop up and take such genuine pleasure in smashing a ball into a net with such ruthlessness and contempt for his adversaries? Or batter home a towering header?
We are living in an era when their appearance is becoming more and more scarce, but back in the day, these guys were the bees knees.
Over the years, football has produced some wonderful centre-forwards who have crashed through the glass ceiling of scoring goals, while doing it in their own unique and prolific way. Here is 90min's look back at the nine greatest players to have ever performed this role.
For many, this man is the greatest player to have set foot on God's green earth. Pelé may receive some criticism on social media, from those who mock his supposedly generous goal record. But the fact that he scored so many goals that it became almost impossible to keep count, speaks volumes of the Brazilian.
Two-footed, strong in the air, majestic with the ball at his feet and a ruthless finisher, Pelé was possibly the most well-rounded footballer in the world. He won the World Cup a record three times during his playing career, scoring 77 goals for his national side over a 14-year spell.
Simply put, he was a genius of the game, and he'll always be remembered as the man who coined and perfected 'the beautiful game.'
The original Ronaldo. Pace, power, two feet, and an incomparable gift for sticking goalkeepers on their backsides. Never has the world stood up and taken notice as when this young Brazilian burst onto the scene with PSV Eindhoven, Barcelona and then Inter.
Sadly, injuries took their toll on the forward, who was forced to adapt from a man who could do everything brilliantly, to a man who could do most things exceptionally. As the raw pace escaped his body, Ronaldo settled for being an out and out goalscorer, enjoying five fruitful years at Real Madrid.
A two-time World Cup and Ballon d'Or winner, Ronaldo will always be remembered as one of the most complete centre-forwards to grace our game. And even after all the goals, the trophies and the records, we are left with that burning feeling of what might have been.
A real penalty-box player. Every centre-back's nightmare. Gerd Muller was possibly the most unconventional striker on this list in terms of appearance, but despite his short, squat physique, he was possibly the most lethal finisher of them all.
The German centre-forward may not have been blessed with the strapping body of a typical goalscorer, nor was he renowned for blistering pace, but boy, could he find the net? Muller came alive in the penalty area, and he could apply any type of finish to every ball that came his way. He just had the knack.
He still holds the record for the most goals in one season with Bayern, bagging 40 times in 34 league matches. Unbelievable.
This guy has an award for the most aesthetically-pleasing goal of the year named after him, so that tells you all you need to know. Ferenc Puskas was in the goals business during his long career, and brother, business was a-boomin'.
The powerful centre-forward was part of the famous Hungary side of the 1940s and 50s, scoring 84 goals in 85 international matches. That's almost a goal a game, for those who skipped maths at school.
Overall, he walloped home 512 goals in 528 appearances, including eight famous years at Real Madrid, writing his name in the history books as one of the most prolific goalscorers in the 20th century.
Now this man could do it all. Marco van Basten was as complete a striker as they come, and along with his breathtaking consistency and reliability, he could also produce some moments of unrivalled spectacular wonder.
The Swan of Utrecht's highlight reel would be a match for any other footballer in the world, and his near zero degree volley in the Euro 1988 final is lauded as one of the greatest goals in the sport's history.
Van Basten could conjure a miracle on any stage, no matter how vital or insignificant, and the only shame is that injury curtailed his marvellous career. A star of the game.
Until very recently, this legend was the greatest player in Portugal's illustrious history. Even though Cristiano Ronaldo may have stolen that particular tag, there are many who still reminisce much more fondly on Eusebio's sterling contribution to football.
Eusebio was one of the first genuine superstars of the sport, and his goal record pays tribute to this. The Portuguese forward rattled home 473 goals in 440 games. No need for calculators to figure out how special that is.
He won the Golden Boot at the 1966 World Cup with an incredible nine goals, and was undoubtedly one of the star performers in the tournament. Grace and elegance personified.
Any player that wins the Golden Ball at a World Cup is pretty special. Romario was an insanely gifted footballer who possessed that natural Brazilian flair and spark that separates the Samba stars from us mere mortals.
Romario was a key component in Johan Cruyff's Dream Team at Barcelona, where he found the net 30 times in his debut campaign. He was also a key figure in the Vasco de Gama side which tore Manchester United apart in the FIFA Club World Cup in 2000, putting in a memorable display.
Over 1000 career goals (apparently), he is the second-most prolific striker in football history. Wow.
Batigol. When we reminisce on the most clinical strikers in football history, the name of Gabriel Batistuta always rears its head. The Argentine forward made his name in Europe over a nine-year spell with Fiorentina, where he became a club legend, rifling home over 200 goals for la Viola.
Although he showed himself to be Serie A's deadliest forward during his time in Florence, it was at AS Roma where his heroics were rewarded with silverware. I Giallorossi lifted the 2000/01 league title – only the third in their history – and Gabigol helped himself to 20 valuable strikes over the course of the campaign.
Batistuta was pure power. The power in his legs allowed the forward to strike the ball from anywhere, with either foot, and with a vicious ferocity that made you pity the goalkeeper tasked with stopping his efforts. An icon of the 1990s, and a Serie A legend.
Karl-Heinz Rummenigge is now the chairman of Bayern – and you don't get that role by being a shoddy striker! The German forward began his career with the Bavarian giants, scoring over 200 goals in 10 years at the club.
His versatility and adaptability to different styles of play made him the prolific forward he proved to be, while his lightning pace and clinical finishing always put him out of the defender's reach.
A Bayern and West Germany legend, Rummenigge is part of football's very fabric. A wonderful forward to complete the list.
Let'