7 May, 2008. A normal day for most, but the perfect party for Real Madrid fans.
Having clinched the La Liga title three days prior with a 2-1 victory at Osasuna, the imperious Los Blancos starting XI were greeted with a pasillo – guard of honour – from their dejected rivals as they entered the Bernabeu cauldron with an obvious swagger.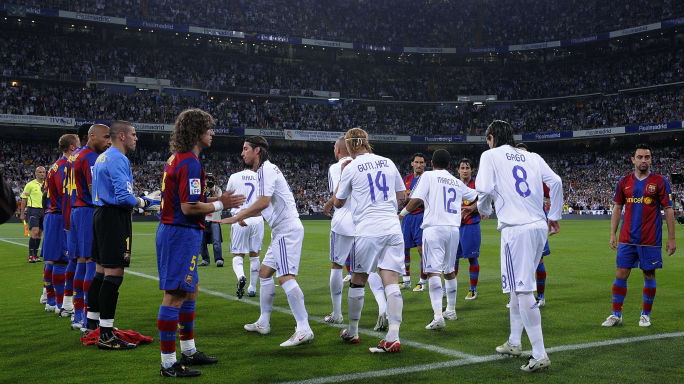 The pasillo alone would have been satisfactory enough for the home faithful – seriously, some fans left after the pre-match antics, while Catalan newspaper Sport advised readers not to switch on until 10:05pm when the nightmare was all over – but Bernd Schuster's side ensured celebrations would last long into the Madrid night with a superb display in the Clásico.
Raul kick-started the romp in the 13th minute with a sweeping left-footed effort from the edge of the area following some fine build-up play, before Arjen Robben doubled the hosts' lead with, beg your pardon…a header?!?
That's right. Pre-total baldness as well.
Substitutes Gonzalo Higuain and Ruud van Nistelrooy heaped the misery on Frank Rijkaard's side as they both scored with their respective first-touches in the second period. Although Thierry Henry bagged a late consolation, events which followed the pre-match pasillo can only be described as a paseo – a walk in the park.
---
REAL MADRID
Key Talking Point From pasillo to paseo, this was purely a celebration of a spellbinding Real Madrid side.
After Fabio Capello had guided them to La Liga triumph in 2006/07, Los Blancos had the difficult task of retaining their title the following year with former Getafe boss Schuster at the helm.
But in the end, they waltzed to consecutive crowns; finishing a hefty eight points ahead of Villarreal and a staggering 18 ahead of Barcelona.
This was a side sturdy enough in defence, tremendously well-balanced in midfield and that boasted incredible depth in attacking areas. The use of inverted wingers, most notably with Wesley Sneijder in this one, allowed for rapid combination play in central areas and persistent numerical superiority.
A superb side at their awe-inspiring finest in the May Clásico.
---
Real Madrid Player Ratings
Starting XI: Casilas (7); Ramos (7), Pepe (7), Heinze (7), Marcelo (8); Diarra (9), Gago (7), Guti (8); Sneijder (8), Raul (7), Robben (8).
Substitutes: Higuain (7), Robinho (7), Van Nistelrooy (6).
---
Mahamadou Diarra Diarra played a pivotal role in Real's title defence, as his tactical astuteness and comfort at which he screened the back four granted the likes of Fernando Gago and Guti greater freedom from box-to-box roles.
His function in the side was somewhat similar to that of Claude Makelele's in the pre-Galacticos era.
Nevertheless, the Mali international was superb in this one as his aggression often thwarted Barcelona from progressing centrally, while he also proved an unstoppable force when driving forward with possession, setting up Higuain's strike following a determined surge down the right flank.
---
BARCELONA
Key Talking Point Embarrassed. Humiliated. Gutless.
And much like Real Madrid's display, Barcelona's was a microcosm of their 2007/08 campaign. Torrid.
Rafael Marquez's fridge-like agility was ruthlessly exposed. Xavi was overwhelmed, non-existent and eventually escaped the nightmare with a red card, while they were totally reliant on Lionel Messi to conjure up some magic from thin air in the final third. The need for wholesale changes in the summer couldn't have been more apparent.
Overall, it was a bitter end to the Rijkaard era which returned a pair of La Liga titles and a Champions League triumph in 2006.
---
Barcelona Player Ratings
Starting XI: Valdes (6); Zambrotta (5), Marquez (5), Puyol (6), Abidal (6); Xavi (3), Toure (7), Gudjohnsen (5); Messi (6), Bojan (5), Henry (6).
Substitutes: Dos Santos (6), Sylvinho (6), Edmilson (5).
---
Yaya Toure Amid a humiliating day in La Blaugrana's recent history, the gangly Ivorian put in a respectable display in the middle of the park.
Paired alongside an incompetent Xavi and Eidur Gudjohnsen – for about 20 minutes before he was hauled off for no apparent reason – Toure somewhat held his own against an on-song Real midfield which persistently had a numerical advantage thanks to the movement of Raul in a withdrawn forward role and Wesley Sneijder from out wide.
The poor lad tried his best, okay?
---
What Aged the Worst
This Bojan Krkic fella was supposed to be the next Lionel Messi, right? He had the shaggy hair and everything!
Although the Spaniard was isolated as the front man in this one, the then 17-year-old had burst onto the scene following his debut in September that season, finishing the campaign with ten La Liga strikes.
However, the fact he was lining up alongside Charlie Adam and Ryan Shawcross merely three years removed from his departure from Catalonia in 2011 suggests not everything quite went to plan.
Giovanni Dos Santos is another who failed miserably in his bid to fulfil his lofty potential, while Schuster's coaching career took a significant u-turn after the La Liga triumph. The German was sacked in December 2008 before going to manage Malaga, Besiktas and Dalian Yifang with minimal success.
---
What Aged the Best
Marcelo was superb in the '08 Clásico in what many cited as his finest performance in Los Blancos colours up until that point. But how 'bout that barnet?
Sure, the neat and tidy two all over was cute 'n all, but the outlandish afro would become symbolic of the flamboyant Brazilian full-back during his decade of dominance down the Bernabeu left.
---
What Happened Next La Blaugrana would round off the campaign with a victory away Murcia following a 3-2 home defeat to Mallorca, before, well, Pep Guardiola happened.
The unproven boss was drafted in that summer as Rijkaard's replacement to immediately rid Catalonia of the dark final days of the Dutchman's reign. Guardiola's 2008/09 and 2010/11 sides are two of the best in football history, as Barça re-established themselves as Spain's supreme force.
Surprisingly, meanwhile, only three players who started this Clásico – Xavi, Carles Puyol and Sergio Ramos – would be apart of the Spain squad which triumphed at Euro 2008 that summer.
---
Let'