After one of the most shameful Clásico performances in recent memory on Sunday, it was clear that changes had to be made at Real Madrid and they have wasted no time in making them.
Julen Lopetegui was sacked after just 14 games in charge and replaced on an interim basis by Real Madrid Castilla manager Santiago Solari. He will take charge of the team for their Copa del Rey tie at Melilla on Wednesday and their La Liga match against Valladolid next weekend.
Not so much is known about Solari outside of Spain, so here are six facts about the Argentine to get you up to speed.
6. He Was Part of the Galactico Era
Despite making over 200 Real Madrid appearances between 2000 and 2005, and winning every available honour with the exception of the Copa del Rey during that time, Solari is not a name or a face that many younger football fans will recognise.
The Argentine was merely a supporting cast member to the main stars of the so-called 'Galactico' era, playing alongside the likes of Ronaldo, David Beckham, Roberto Carlos and Zinedine Zidane.
Perhaps Solari's most important contribution in his time at Real was a brilliant pass in the build-up to Zidane's famous strike in the 2002 Champions League final. 
5. He Crossed the Madrid Divide
Thibaut Courtois courted controversy when he signed for Real Madrid this year, having previously played for Atlético Madrid, but at least he had the decency to play four years at Chelsea between times. Santiago Solari gave no such respect when he crossed the Madrid divide in 2000.
To be fair to him, the rivalry was not then what it is now. Atlético had just been relegated from La Liga and Solari was too good a player to play in the Segunda División. When Real Madrid came calling, he wasn't exactly going to say no, but that didn't soothe Atlético's sense of betrayal.
It speaks volumes that in the 18 years since, only three more players have directly crossed that divide, with Theo Hernández becoming the most recent when he left Atlético for Real in 2017.
4. He Prefers Lionel Messi to Cristiano Ronaldo
As an Argentinean who coaches at Real Madrid, Solari could be forgiven for providing diplomatic, non-committal responses whenever the great debate – Lionel Messi or Cristiano Ronaldo – is broached.
But Solari has not been shy about siding with his countryman. After Messi won his fourth Ballon d'Or in 2012, Solari said: "Cristiano is the best player in the world because Messi plays another sport." 
Later that year, in a poetic tribute for El Pais, he wrote: "Scoring is intrinsic to Messi in the same way that storms, lightning or hurricane wins are atmospheric phenomena."
This opinion is perhaps not as controversial as it would have been this time last year, with Ronaldo having now joined Juventus, but it might still rankle with Real fans that their new manager prefers Barcelona's greatest player to Los Blancos' record goalscorer.
3. He Won't Get the Job Permanently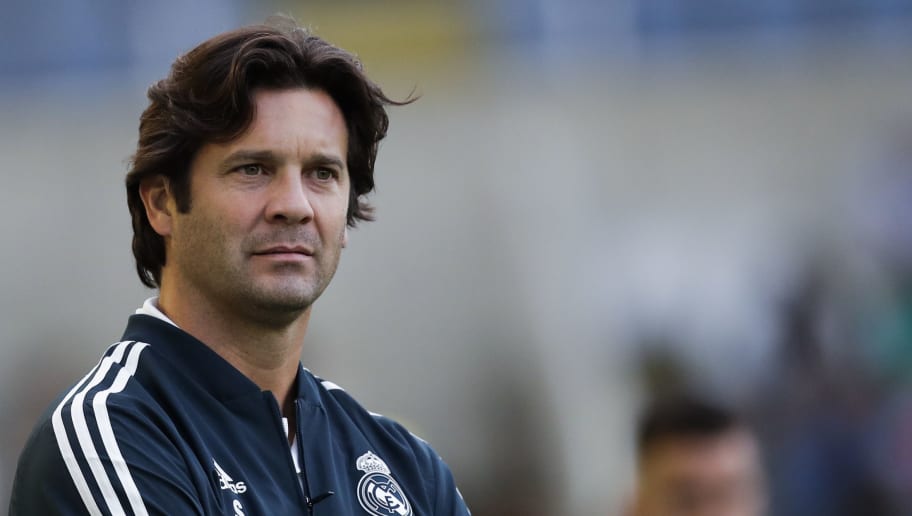 Solari's managerial career path has been compared to that of Zinedine Zidane – first managing Real Madrid Castilla before being appointed to coach the first team after a mid-season sacking. However, there are myriad reasons why this symmetry will not continue.
For one, he hasn't done any coaching with the first team, unlike Zidane who was involved from the moment he set foot in the club. His seasons with Castilla haven't been particularly successful either, finishing eighth and 11th. And of course, his playing career doesn't command the same respect as Zidane's.
Add in his opinions about Messi and his Atlético Madrid ties, and it would appear that Solari doesn't have the Real Madrid DNA to be considered for a permanent role. Plus, he's an intensely private man, so maybe the most scrutinised job in club football isn't for him.
2. He's Already Promoting Youth
Solari knows he probably won't have the top job for long so he wasted no time in calling five youth players up to train with Real Madrid's senior squad at his first training session on Tuesday. 
Javi Sánchez, Adrián de la Fuente, Álex Martín, Sergio López and Fran García were all given the chance to test themselves against the first team and one wonders if exciting Brazilian Vinícius Júnior might also get a chance after four goals in his first five Castilla appearances.
Unlike Zidane, Solari won't have the time to shape this team as he wishes. But if he's only going to have the job for a couple of weeks, the least he can do is prepare for the future.
1. He Was Named 'Sexiest Player of the Year' in 2002
Yup. This was a thing.
In 2002, Solari added another prestigious accolade to his collection as viewers of the French TV station Canal+ honoured his boyish handsomeness by naming him 'Sexiest Player of the Year'.
"I thank the people who voted for me, but I'm sure it's rigged," Solari laughed. "We'll see if I'm offered another career in the film industry when I leave."
You have to admit, there is a certain devil-may-care quality to his appearance, even all these years later. But don't get your hopes up ladies and gents – he's off the market.
Let'