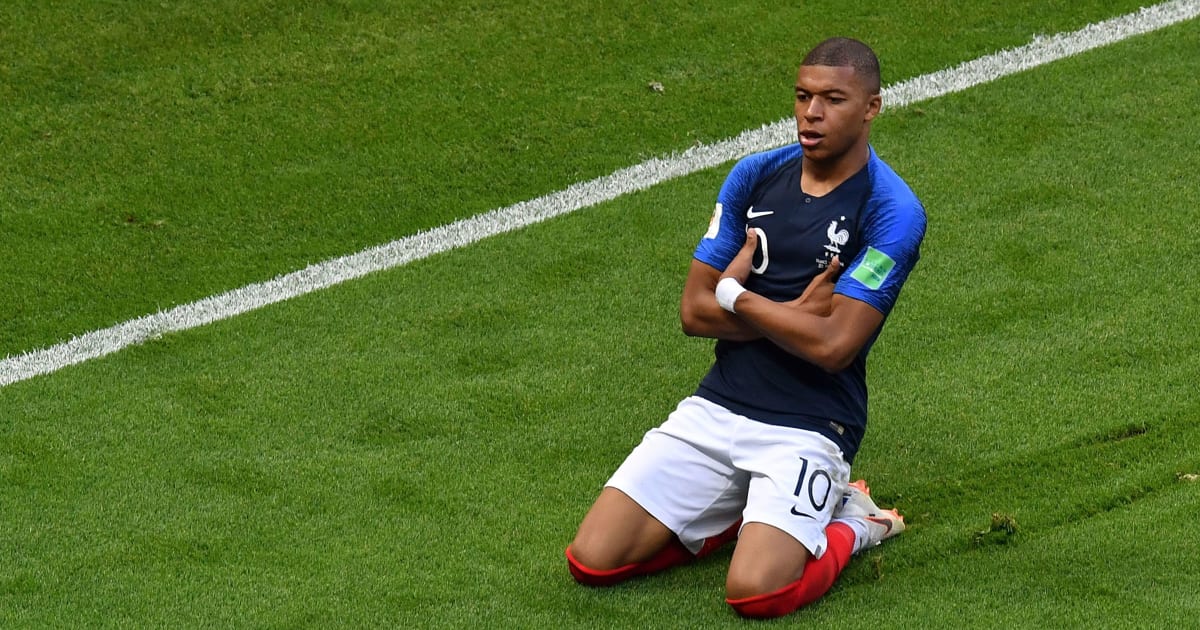 ?At one end of the pitch stood an isolated figure, a diminutive man but a giant in the world of football, surrounded by inferiority and mediocrity as his Argentinean colleagues seemingly gave up on him and their country. 
He looked cut adrift from reality as he witnessed what was perhaps his last chance at international glory slip away from his clutches, and with that, the chance to be painted with the same brush of which the great Pele and Diego Maradona are so often artistically stroked with. 
But it was not all down to the lack of cohesion within the Argentina camp. At the opposite end of where the desperate figure of Lionel Messi stood, a player who was just eight years of age when Messi set El Clásico alight with a hattrick at 19-years-old was running amok: Kylian Mbappe. 
Varane on Mbappé: "He has qualities similar to Ronaldo, the Brazilian, but he's also something different." ??

Agree? ?#UCL pic.twitter.com/6azFaqsuAo

— UEFA Champions League (@ChampionsLeague) July 2, 2018
Mbappe, coincidentally 19-years-old himself, took just 11 minutes to make his first significance indent in the round of 16 tie between France and Argentina. Having picked up a loose ball in his own third of the pitch, Paris Saint-Germain's boy wonder ate up all of 77 yards, breezing past what seemed like the entirety of La Albiceleste's team. 
Mbappe hit speeds of 38km/h at the heights of his electric run to win Les Bleus' penalty for their opening goal, allegedly beating the average speed of Usain Bolt in an 100m race. Stylistically, Mbappe appears to be what one would assume to be born if Thierry Henry and Ronaldo were somehow biologically able to reproduce, but that is unfair; Kylian Mbappe will make his name, and perhaps make it better than the aforementioned. R9? CR7? It may be time to move over.
The run in question alone would've been enough to get this post-pubescent French prodigy's name on the lips of the world, so if I were to say that it was arguably the lesser of his involvements, would you believe me? 
Albeit after a rare quiet spell in the match, Mbappe rose again when his country really needed him. Where the 27-year-old Antoine Griezmann and the 31-year-old Olivier Giroud were also spearheading the French attack, it was the teenager who bagged a decisive double with the scores at two apiece.  
The first of his brace showed a reading of the game that should have defied his years, but came to the surprise of absolutely no one. Four white and blue shirts surrounded him as a rebound fell to him on the penalty spot, where he would get just one or two touches before being swarmed. They would have to be perfect, precise and seamless, or he would be dispossessed. 
In a flash one touch to his right moved the Argentine wall with ease, before a left footed strike found the back of the net. This was a strikingly notable incident of a bright player foreseeing a seemingly unfathomable situation, and executing the actions to put him into it. 
?? Ronaldo '98:
90mins in 2-1 opening win
Goal in 2nd game
Goalless & dropped points vs Scandinavian side
2 goals vs South American side

?? Mbappe '18:
90mins in 2-1 opening win
Goal in 2nd game
Goalless & dropped points vs Scandinavian side
2 goals vs South American side pic.twitter.com/Aq5jH7u5Xr

— Dream Team (@dreamteamfc) July 2, 2018
His second was emphatic, almost as if he could do it in his sleep. A well built team move saw Mbappe one on one with Franco Armani, and all he needed was a touch. One clean strike gave France a two goal cushion over their opponents, and all but put them into the quarter finals. 
There were just three minutes between each of the teenager's goals; he had shown a killer instinct, almost as if, for the period between his 11th minute run and his 64th minute strike, he had merely been taking pity on Argentina before deciding enough was enough. 
All of this took place with a five-time Ballon d'Or winner merely watching on. France's progression at the expense of Argentina felt like it held more significance than a mere process of one team knocking out the other. It appeared to be the metaphorical passing of the torch from Messi to Mbappe.
Just a few miles from where this supposed power shift took place inside the Kazan Arena, Cristiano Ronaldo was also sent packing at the hands of Uruguay in Sochi. Symbolically, as the two modern greats of the game packed their suitcases and returned home, Mbappe stood aloft, victorious.
If success doesn't greet him in Russia on July 15th this time round, Mbappe will be 23 in Qatar in 2022. He will be better than his already humongous ability suggests, and he will get another chance. And another. And another. 
[embedded content]
In stark contrast, Messi will be 35 when Qatar host the World Cup in four years time. Ronaldo will be 37. You get the sense that their time is coming to a close, but in Mbappe's case, he is only just getting started in the purest sense of the phrase. 
Let'