Amid continual speculation over a summer return to Old Trafford, the midfielder was probed on his feelings on Juventus, the Red Devils and fellow interested party Real Madrid
Paul Pogba has refused to rule out a future return to Manchester United, describing the club as his "first family".
The Juventus star has been strongly linked with a summer move away from Turin, with Real Madrid and United understood to be leading the chase for his services.
United, who sold Pogba to Juventus in 2012, are reportedly keen to re-sign the midfielder for a world record fee of £100 million.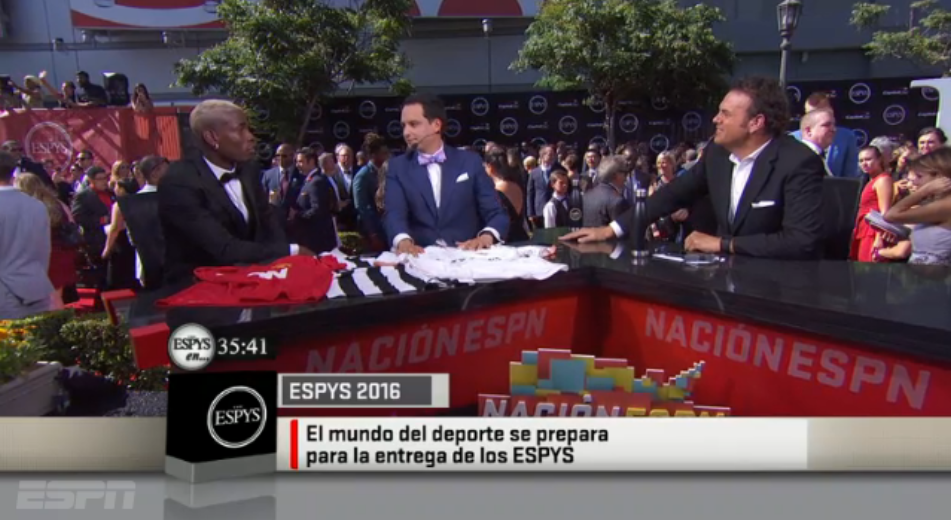 Credit: ESPN
With speculation surrounding his future intensifying by the days, Pogba was presented with the shirts of all three clubs when attending the ESPY awards ceremony on Wednesday.
When handed the Juventus jersey, Pogba replied: "It's my team, my family. It's where I'm playing. When I wear this [shirt], I'm happy, I'm happy to play football. It's something I've wanted to do since I was little. I'm happy here."
He was then handed a United shirt, to which he first made a joke – "I don't know them!" before adding: "It's my first family."
When pushed on his response should Jose Mourinho bid for him, Pogba replied: "I don't know. We'll see."
On Real Madrid, Pogba said: "A great club."
When pushed again on which club he prefers, Pogba opted against making a choice by adding: "I'll take all three."