The Portugal skipper is in line to start against Germany on Monday but after an injury-disrupted campaign for Real Madrid there are huge concerns over his fitness
SPECIAL REPORT
By Peter Staunton
Cristiano Ronaldo is suffering a degenerative knee condition called tendinosis as well as a long-standing thigh complaint. The treatment for tendinosis recommends, above all else, rest. That is hardly what Portugal needs to hear with the first game of the World Cup against Germany imminent.
There is no easy answer to the question of when Ronaldo was injured and when he will be fully fit again. It is certainly true that he will not be fully ready until his body has rested, healed and corrected itself.
Tendinosis is a condition that results from overuse. In that sense, there was no one incident that caused this Ronaldo injury. Rather, it is likely that there are many micro-tears in the area around the 29-year-old's left patellar tendon which Real Madrid could scarcely afford to allow to heal.
Ronaldo has played only a limited part in Portugal's preparations for this World Cup. His training sessions, often individually tailored, have more been aimed at allowing his body sufficient time to recuperate. He has regularly trained apart from the Portugal squad with his own medical team and has put limited pressure on his left leg in his attempts to take to the field on Monday.
In the past few days, Ronaldo has in fact trained as normal at the Portugal training base in Campinas with his left leg standing up to the rigours of preparation – but he has done so with strapping to the knee. More significantly, he left Thursday's training session with an ice-pack on the affected area only 20 minutes after it commenced.
He insisted that he was 99.9 per cent fit to Portuguese TV after but that is a familiar refrain that has played out all season long. The Portuguese Football Federation, FPF, confirmed earlier this month that along with the knee problem, Ronaldo was nursing a thigh complaint. That was an open secret as a combination of both had limited his involvement in the conclusion to Real Madrid's season.
That characteristic relentlessness of his is beginning to recede as he approaches 30. His club and country are in a Catch-22 situation. They cannot afford to take to the field without him but he is desperately in need of rest in the short term.
Ronaldo picked up a thigh injury in the 5-0 win over Almeria in late November. He missed the matches against Valladolid in the league and Galatasaray in the Champions League as a result. Before that he had played every minute for Madrid all season. Around the same time he was helping Portugal qualify for the World Cup with two virtuoso performances against Sweden in the Uefa Confederation play-offs. At that stage of the season, Real Madrid coach Carlo Ancelotti was taking 'no risks' with his talisman but his tune changed as Real chased three trophies late in the campaign. However, with increased game time came increased fatigue and more susceptibility to injury.
Ancelotti was subjected to criticism in February when he neglected to rest Ronaldo in a Champions League last-16 second-leg tie against Schalke – despite Real being five goals clear after the first leg and having Barcelona on the horizon. Subsequent reports in the Spanish press suggested that Ronaldo did indeed feel the strain in that outing with Ancelotti forced to acknowledge shortly after that his star man was in need of time off.
Ronaldo was withdrawn during a goal-scoring performance against Borussia Dortmund in the Champions League quarter-finals in early April with Ancelotti confirming in the aftermath the presence of a 'knee injury' which was downplayed as a 'minor annoyance'. He sat out the league win over Real Sociedad and the situation scarcely improved when he limped out of training with pain in his patellar tendon the morning before the second leg of the Champions League tie. Again, a left thigh complaint was reported shortly after; his participation in the Copa del Rey final against Barcelona precluded. That was one of four games he missed in his spell out.
Madrid were boosted by the news that Ronaldo would return on April 23 for the Champions League semi-final first-leg against Bayern Munich after coming through his training unscathed. He played, however, despite his lack of sharpness although he admitted afterwards to feeling 'afraid' of returning to action.
He broke down again with what was reported to be muscle fatigue just nine minutes into Madrid's vital league clash at Valladolid at the start of May, placing his Champions League final slot in jeopardy. He then sat out the game against Celta with Madrid's title challenge having faltered in his absence at Valladolid.
Madrid played Espanyol on the last day of the season with Ronaldo named in the starting line-up. With the European Golden Shoe at stake, that was to be expected. However, alarm bells rang for Madrid when he was withdrwan from the team during the warm-up such was his concern over his own fitness. Yet again, it was ruled as a 'precautionary' measure by Ancelotti, who had the final in Lisbon against Atletico Madrid in mind. It was at that point that Paulo Bento was heard as Portugal approached the final stretch in the run up to Brazil.
"We have some information about Cristiano Ronaldo due to the contact between the medical department of the Portuguese national team and Real Madrid," Bento said. "Now, after Saturday's Champions League final, we can see how he will end the season and evaluate his full fitness when he is with us.
"Once he arrives, we will try to make a plan for everything so that we can start the World Cup in the best possible shape."
Ronaldo did take part in the showpiece final but was subdued despite winning his share of the headlines with his overblown penalty celebration.
The week after the final he linked up with his national team and reported another injury; again in the posterior region of his left thigh. The FPF stated that he underwent specific rehabilitation work at the team's base.
While confirming that Ronaldo would not play against Greece, Bento also stated that Portugal had 'no deadline' for Ronaldo's recovery in the knowledge that overuse was the chief cause of his breakdown. After the dire 0-0 draw with the Greeks, Ronaldo again trained alone on 'sporting reintegration exercises' in a bid to alleviate his thigh trouble and also the tendinosis he was battling.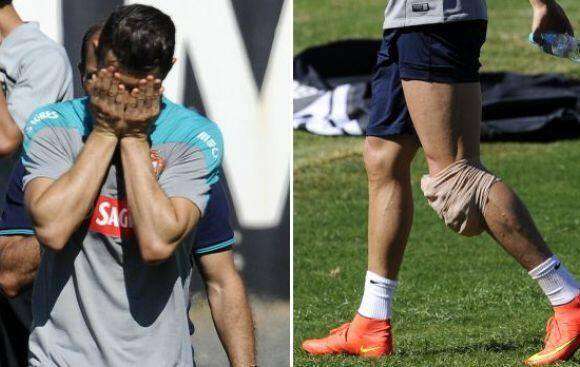 Strapping | Ronaldo left training early last Thursday with heavy strapping to his left knee
The Ballon d'Or winner was rested for the friendly against Mexico last week following Real Madrid president Florentino Perez's comments that his man should not be playing at the World Cup if not fully fit. The thigh injury and tendinosis were cited by the FPF as the reasons for his absence with the tournament countdown well and truly on and Germany on June 16 in Salvador looming.
"The situation is evolving and our expectations are evolving constantly," Bento said. "As soon as he is ready to train, we will make that announcement. The decision of if he will play and when is up to me, the player and the doctors."
He was back in training on Sunday in the days leading up to the Ireland game with team-mate Vierinha stating his return was "the best thing that could have happened in recent days." Ronaldo indeed offered encouragement with a convincing display against the Irish in a 5-1 win before sitting out the last half hour.

"I am training well, keeping the advice of the doctors in mind," he told The Times of India. "The progress is encouraging, they say, and I am feeling better with each day. You need to reach there when you are at your peak, both physically and mentally. I shall definitely be there, fully fit, no worries."
Then came his failure to complete training on Thursday with ice on his knee and the 'it's fine' protestations.
Bento, the Portugal coach, acknowledges the importance of Ronaldo to his team but has stated in the past that he has plans in case the skipper does not make it. Likewise, team-mate Nani has stated that he is ready to fill the breach should Ronaldo fail to recover. That may yet be the reality for Portugal as their star attraction needs less of the weight of the nation on his shoulders and, instead, the chance to recover.