The Seleccao have endured a miserable tournament and with the Real Madrid superstar 30 next February, is it time for him to prolong his club career?

DEBATE
By Paul Macdonald and Carlo Garganese
Only a fortunate set of results will see Cristiano Ronaldo remain a part of the 2014 World Cup. With one point from two matches, a win against Ghana is required in the final Group G match, and even that may not be enough – if Germany and the USA play out a draw, both sides will progress. Indeed, if it hadn't been for a sensational last-minute assist against the Americans on Sunday, Ronaldo would already be on the beach.
He has cut a frustrated figure in this tournament; unfit and seemingly demotivated.
He admitted after the USA draw that his Portugal side was 'average' and he never expected them to win the World Cup. But at the age of 29, is there any point in Ronaldo exerting himself further for a national side that now simply makes up the numbers?
"RONALDO TOO VALUABLE TO BE WASTED ON PORTUGAL"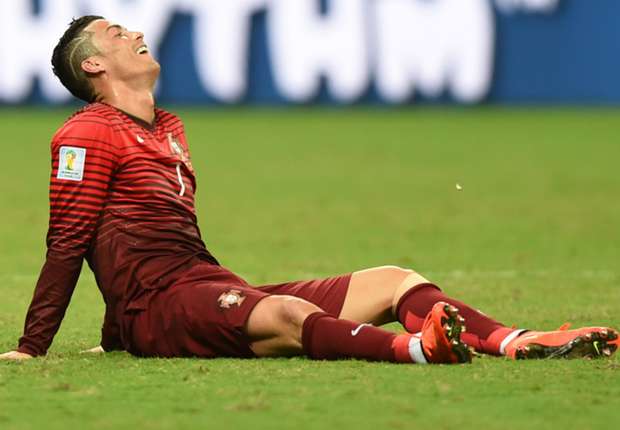 By Paul Macdonald
Cristiano Ronaldo is far too precious an asset to football to be wasted in a team packed with miserable mediocrity. Ronaldo has conquered the club game and has been desperate for international recognition to solidify his greatness, but since exiting the pitch in tears after the Euro 2004 final on home soil, it's never really looked like getting any better.
Luis Figo, Rui Costa, Pauleta and Deco have been replaced by Nani, Miguel Veloso, Helder Postiga and Joao Moutinho – no comparison. Ronaldo looks like he can't take it any more, to have players so noticeably on a different wavelength, running, passing and shooting in an alternate dimension to him.
After he planted his cross with precision accuracy onto the head of Silvestre Varela in the dying minute versus USA to merely delay the inevitable and give Portugal false hope, he tore his armband off in frustration.
'Do I have to do everything around here?' it seemed to suggest. He has battled fitness problems for weeks now, pushing himself to be at his best, driving to succeed. And for what? For woeful defending. For club mate Pepe to be dismissed against Germany and ensure a thrashing. For USA to completely outplay them. Ronaldo is 29. It's just not worth it any more.
What's to be gained by trawling across Europe in a bid to reach France in 2016, with 24 teams qualifying (meaning no gauge of improvement) and no hint of a developing generation of players that he could mentor well into his 30's?
The club game needs him. Real Madrid need him. Lovers of football need him. In recent years we've been deprived of some truly great players extending their genius over a period of a decade of more. Ronaldo (the Brazilian version), Ronaldinho, even Kaka – their reigns were brief. Cristiano Ronaldo was first a Ballon d'Or finalist in 2007, with only the 2010 podium since missing his presence. He has the consistency and he has the dedication.
The Portuguese is a well-oiled machine, and he must be properly maintained. He must be clever about when he unleashes his full power. And international football must be the sacrifice to make this happen.
Follow Paul Macdonald on

"CR7 NEEDS INTERNATIONAL SUCCESS FOR TRUE GREATNESS"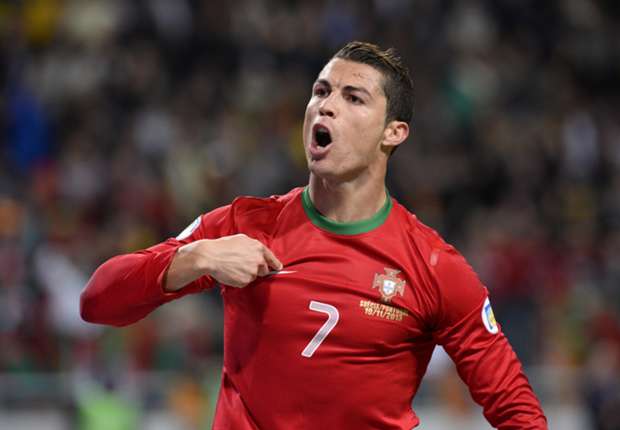 By Carlo Garganese
If Cristiano Ronaldo retires from international football he will not be remembered as one of the very greatest players of all time.
Diego Maradona, Pele, Zinedine Zidane, Franz Beckenbauer, Paolo Maldini, Johan Cruyff – even Ronaldo's countryman Eusebio – these legends were superstars for both club and country.
Ronaldo cannot be placed in this elite category unless he takes his astonishing form from Real Madrid and Manchester United to an international tournament.
Since appearing at his first major finals in 2004, Ronaldo's contribution has been appalling for a player of his otherworldly status. The Portuguese has netted just two World Cup goals in three tournaments – a penalty against Iran and the seventh strike in a 7-0 drubbing of North Korea.
Defenders of Ronaldo argue that his supporting cast for Portugal prohibits him. This certainly wasn't true in 2004 and 2006 when he was part of a golden generation that featured the likes of Rui Costa and Luis Figo.
Since then the Seleccao have declined, but Ronaldo has rarely been able to lift them on the biggest stage. And his legacy will be severely damaged unless he manages to do so at France 2016.
Those Euros see the finals expanded to 24 teams that will ensure 16 teams qualify for the knockouts. With a number of lowly nations competing, Ronaldo will have the perfect chance to build up some international credit.
He has nothing left to prove at club level – having conquered England, Spain and Europe – but he has everything to prove on the international scene.
No-one is expecting Portugal to claim any silverware in France, but Ronaldo can at the very least ensure that he doesn't go down in history as a player who starred for his club but disappointed for his country.
Follow Carlo Garganese on