Within moments of missing out on the trophy, frustrated fans were lifted late by Sergio Ramos' late leveller and ended up celebrating a memorable night in Lisbon
COMMENT
By Ben Hayward in Lisbon
It was all about La Decima. Real Madrid fans were confident of success against Atletico as their team went in search of a 10th European Cup crown. This was their competition. They couldn't lose, could they?
The mood was good among fans of both sides ahead of the match. Some supporters of Madrid and Atleti had even travelled together from the Spanish capital. Couples, friends, families – all divided by football for Europe's greatest game.
But for Atleti, there was a sense of relaxation. With La Liga in the bag and an unexpected Champions League final appearance ahead, this was already historic. Madrid's history, however, demands that these fixtures are not only reached but also conquered.
Thousands came with tickets, many more without. Even in crisis-hit Spain, fans found a way. Some sharing hotel rooms, sleeping in cars, with sandwich supplies in the boot. Eating, drinking, even washing by the side of the road. They had to be here – even if they weren't at the game.
For Atleti aficionados, European Cup or Champions League finals don't come along too often. Madrid, meanwhile, haven't reached a final in this competition for 12 years, but all of their last three (1998, 2000, 2002) were wins.
Since then, Madrid's Decima dream has hung heavily on the team's shoulders. "There is a fine line between a dream and an obsession," coach Carlo Ancelotti said in the build-up to this game.
The fans feel it too and perhaps that's why the Madrid contingent arrived at the stadium first. While Atleti fans enjoyed the sunshine in their fan zone in the north of Lisbon, Real's supporters gathered outide the Estadio Da Luz early on.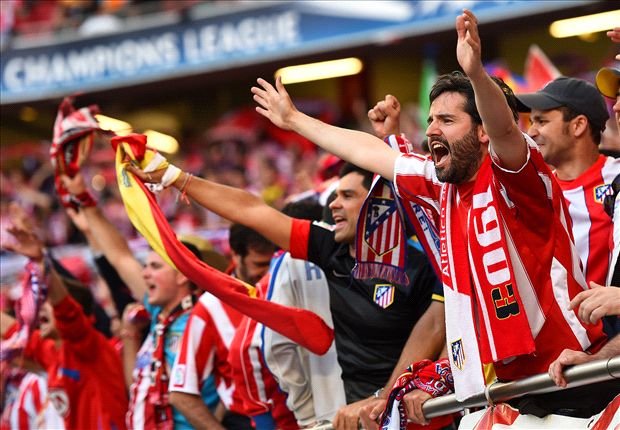 Proud | Atleti fans never stopped singing on Saturday night
Inside, however, the numbers were even and Atleti's made most of the noise – even after they lost their best player, Diego Costa, through injury early on.
And they were even louder after Diego Godin gave them the lead with a header as Iker Casillas came out and then back-tracked, left in no-man's-land and unable to paw the ball out of his net.
Chants of "Luis Aragones" just before half-time from the Rojiblancos were met with cheers at the whistle, but it was Madrid out first in the second half and their supporters issued a heart-felt rallying cry; "¡Sí se puede!" "Yes we can!"
Those continued through the second half, but still Atleti's fans sang louder. In times of need, cries of "Vamos Atleti, vamos" echoed from the red and white end of the Benfica stadium, while there were also increasing chants of "Atleti champion!"
And that looked set to become a reality as the time ticked away, but Sergio Ramos rose to head home a corner in front of the Madrid fans and the white end erupted in joy and tangible relief.
It was a big blow to Atleti and Simeone sensed his players needed a lift. Suddenly they looked tired and their coach began to protest and to pick up the players. Earlier, the fans had done that.
But extra-time brought further difficulties for Atleti. Juanfran went down injured and could barely move, but Simeone had used his three substitutes and the right-back had to go on.
The fans kept signing, but the momentum had shifted and Di Maria advanced down the defender's channel to set up Gareth Bale for 2-1. Then Marcelo marched through to make it 3-1. Still Simeone turned to the club's fans to ask for more support – and still they responded.
Cristiano Ronaldo's penalty made it 4-1 in a scoreline which doesn't tell the story of a Decima dream that was so nearly shattered but ultimately attained.
For Real, relief; for Atleti, pride – and nobody present at the Estadio Da Luz will go home unhappy with their team tonight. As the dust settles on a painful defeat, supporters of the Rojiblancos will reflect on what has been a spectacular season. Madridistas, meanwhile, are off out to paint the town white.
Follow Ben Hayward on