The Italian coach has enjoyed a superb debut campaign in Spain, but will now be expected to build an era-defining team after Real Madrid claimed La Decima on Saturday
COMMENT
By Ben Hayward in Lisbon
A season to remember. Carlo Ancelotti ends his debut campaign at Real Madrid with two trophies, the Copa del Rey and the Champions League, vindicating the decision by president Florentino Perez to part company with Jose Mourinho last summer. But for the Italian coach, this must be just the start.
Mourinho claimed the Copa in his first campaign in charge, but fell short in La Liga and in the Champions League. The Portuguese asked to be judged on his second season – and that brought a spectacular return in the Primera Division with 100 points to dethrone Barcelona after the Catalans had claimed three titles in a row in the previous years under Pep Guardiola.
On the back of that success, Mourinho signed a new long-term contract in the summer of 2012. It was supposed to be the start of something special, an era-defining dynasty. Instead, it was the beginning of the end.
Tensions grew with press and players following a poor start to 2012-13 in La Liga and the title was lost before the league had even reached its halfway stage. The Champions League ended in heroic defeat against Borussia Dortmund in a third straight semi-final exit and the Copa conceded to Atletico with a loss at the Bernabeu of all places.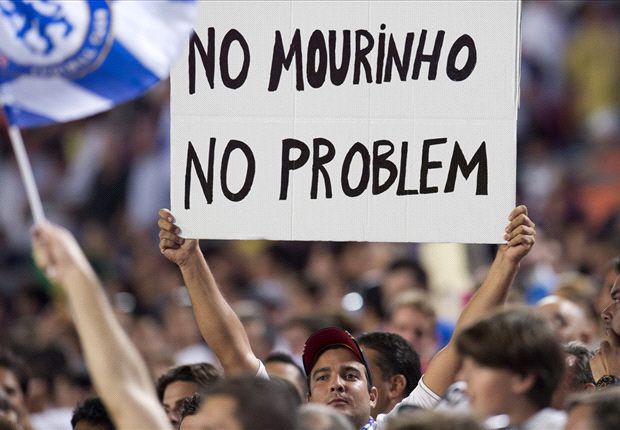 Not missing Mourinho | A Real fan in the pre-season match between Madrid and Chelsea
Madrid had claimed the Spanish Supercopa, but ended the season without a major trophy – just like Barcelona this term. It wasn't good enough and it wasn't what Madrid had signed him for.
Mourinho hadn't understood. He had boasted about his three semi-finals when he should have known full well that Madrid expect to win the competition, not finish in the last four.
Ancelotti is a step up. The Italian has taken Mourinho's Madrid and made it better. At his very first attempt, he has delivered La Decima, overcoming Dortmund, Bayern Munich and Atletico on the way – rivals that all got the better of the Portuguese in his time at the Santiago Bernabeu.
Tactically, Madrid are superior. Ancelotti has changed the system several times this season, often employs various formations in one single game and has his players performing more than one role during matches. Angel Di Maria, who has played a forward position combined with a disciplined demarcartion in midfield in many matches, is a prime example.
Di Maria was immense on Saturday and has had his finest campaign at Madrid, but so too have many more of the club's players under Ancelotti. Pepe, Sergio Ramos, Luka Modric and Karim Benzema have all enjoyed superb seasons and taken their game to new levels under the Italian, while Jese Rodriguez emerged as a real talent before his injury and complained: "I was never given a chance by Mourinho."
When Madrid dropped points in the title race a couple of months ago, the now Chelsea coach said: "I'm a little surprised. I expected Madrid to be higher up, with a greater advantage." But Ancelotti hit back at his predecessor. "Real Madrid are fighting for La Liga," he said. "Something they weren't able to do last year."
Totally true. La Liga, however, remains the one black mark on Ancelotti's opening season in Spain. The competition had been there for the taking, with both Barcelona and Atletico stalling in recent weeks, but Madrid missed the opportunity to gain ground themselves and found favour instead in the cup competitions.
Winning both the Copa and the Champions League represents a very positive return for Ancelotti in his first season. "It's incredible what we have achieved," the Italian said on Saturday. In 15 years as a coach at Juventus, AC Milan, Chelsea, Paris Saint-Germain and now Madrid, however, he has won only three league titles – and that record now needs to improve.
No team has retained the Champions League in the modern era and even if Madrid become the first team to do so next season, the league is the bread and butter for any top team. So Ancelotti needs to build on his side's knockout success by instilling an even stronger mentality and greater concentration in his squad next term.
But with the defence looking stronger than it has in years, Gareth Bale shining in his debut season, Cristiano Ronaldo at his peak and the pressure of winning La Decima now lifted, Ancelotti has all the ingredients to succeed where Mourinho failed – and define a glorious era at the Spanish side.
Follow Ben Hayward on