COMMENT: The race for the championship remains wide open after Barcelona, Atletico and Real Madrid all surprisingly dropped points
Does anyone want to win it? The three title contenders in La Liga will all end the season with around 90 points, yet Atletico, Barcelona and Real Madrid managed just two between them in a crazy weekend which leaves the race wide open with just a couple of weeks remaining.
Barca conceded the title on Saturday after a disappointing draw at home to Getafe, but the Catalans may have spoken too soon, because Atletico lost 2-0 at Levante on Sunday afternoon and Madrid could only salvage a point at home to Valencia later on. So it's still all to play for.
"We have to draw a line under this season," Xavi had said on Saturday, while Sergio Busquets added: "We need a miracle to win La Liga." However, following the results on Sunday, a title win for the Blaugrana doesn't seem so far-fetched after all. A win over Elche in their next match would mean the Catalans could reach and overtake Atletico by beating Diego Simeone's side in their final fixture at Camp Nou, a match that could yet be a straight duel for La Liga.
If Atleti defeat Malaga next weekend and Barca beat Elche, the Rojiblancos will go into the last match with 91 points and the Blaugrana will have 88, meaning a win of any kind for the Catalans would see them surpass the current league leaders. Easier said than done, however, as Barca have failed to defeat Atleti on five separate occasions so far this season.
A win in that match may not guarantee the title, either, because Madrid can claim it with three wins (Carlo Ancelotti's men have a game in hand, away to Valladolid on Wednesday) and an Atleti slip-up. And that in itself raises another interesting question: Will Barca hand a victory to Atleti to stop Real from winning La Liga if they can't win it themselves?
It's all hypothetical at this stage and Madrid also face a tough trip to Celta Vigo, coached by the man tipped to take over at Camp Nou next season, Luis Enrique. Ancelotti's side then end the season with a home match against Espanyol while Barca host Atleti in another fixture featuring sides from Spain's two biggest cities.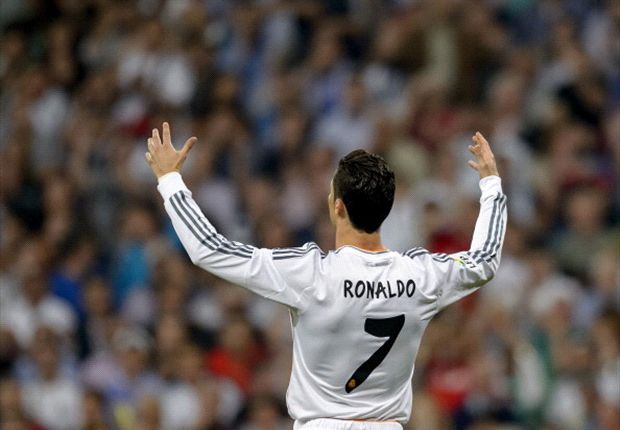 Important intervention | Ronaldo resuced Real with his 50th goal of the season
Atleti can finish with 94 points with two wins and will be champions if they reach that figure, while Barca can only total 91, although that would include a win over Simeone's side and may be enough, depending on Madrid, who can accumulate 92 with three victories in their remaining games.
"Losing today is the best thing that could have happened to us," Simeone said after his side's Levante loss. And he added: "It makes things a bit more fun…"
It certainly does, although it's an opportunity lost for Atleti, who could have wrapped up the title next weekend if they had won in Valencia. However, the Argentine was shrewdly sending a message of support and positivity to his players, fully aware that this remains in their hands – even after the loss on Sunday.
Atletico fought hard but looked tired after their mid-week exertions at Chelsea in the Champions League and came up against an inspired goalkeeper in Keylor Navas, while they never recovered from the freak Filipe Luis own-goal which gave Levante the lead.
Madrid, meanwhile, missed a number of chances against Valencia and found themselves behind to a Mathieu header late in the first half. Sergio Ramos levelled just short of the hour with a header of his own from a Cristiano Ronaldo assist, but the lead lasted only a few minutes as Dani Parejo restored the visitors' advantage. And as time ticked away, the home side became increasingly desperate, with Ronaldo in particular enduring a frustrating evening.
But the Portuguese resuced Real in added time with an extraordinary back-heeled strike from an Angel Di Maria cross and Madrid took something from a game that had looked lost. It was only a point, but it may yet be a crucial one as La Liga draws towards an unpredictable finale.
ALL TO PLAY FOR: LA LIGA AFTER THIS WEEKEND'S RESULTS
"I'm not happy," Ancelotti said afterwards. "But we will fight on with the same enthusiasm. Cristiano's goal was very important and without it, we would have lost La Liga…"
Perhaps, although there may yet be further twists in this title race. Madrid travel to Valladolid next on Wednesday in their rescheduled match. "It's not a disadvantage," the Italian coach added. "We'll do better than we did today."
A win in Valladolid will see Madrid move above Barca with two games left, while any other result will surely end their title hopes. But after a freak weekend in La Liga, the race remains very much alive. Further slip-ups for any these teams, however, are likely to spell the end of their chances. The pressure is on.
Follow Ben Hayward on