ANALYSIS: The Real Madrid forward has struck at a ratio of 1.11 per match and looks set to make it to a half-century for the fourth season in a row
Cristiano Ronaldo is on fire. The Portuguese ended 2013 in spectacular style for club and country and is in fine form this year as well after winning the Ballon d'Or in January. With five fixtures still left in the current campaign, the 29-year-old boasts his best-ever scoring ratio over a single season and is also on the verge of reaching 50 goals for the fourth time in a row.
In his first four seasons at the Santiago Bernabeu, Cristiano scored 33 (in 35 games), 53 (in 54), 60 (in 55) and 55 (in 55), respectively. This term, though, he has hit 49 in 44 at a ratio of 1.11 goals per game – easily the best in his career to date. His 60 goals in Madrid's title-winning campaign in 2011-12 came at a rate of 1.09 per game, but the Portuguese is on course to beat that this time around. His finest season at Manchester United, meanwhile, brought 42 strikes in 49 matches – a rate of just under 0.86.
Ronaldo is unlikely to reach his best mark of 60 this season, but has missed matches through injury and was aso suspended for three games in La Liga following his red card at Athletic Bilbao. Nevertheless, the Portuguese leads the scoring charts in La Liga with 30 goals and is tied with Liverpool's Luis Suarez in the race for the European Golden Shoe. The Uruguay striker has just two games to add to his tally, however, while Cristiano is likely to feature in all four of Madrid's final fixtures in the Primera Division.
In the Champions League, meanwhile, the 29-year-old has hit a record 16 goals in 10 games, beating Lionel Messi's mark of 14 in a single edition of Europe's premier club competition. The Portuguese is also now level with the Argentine on 67 Champions League strikes, with each just four adrift of record holder Raul.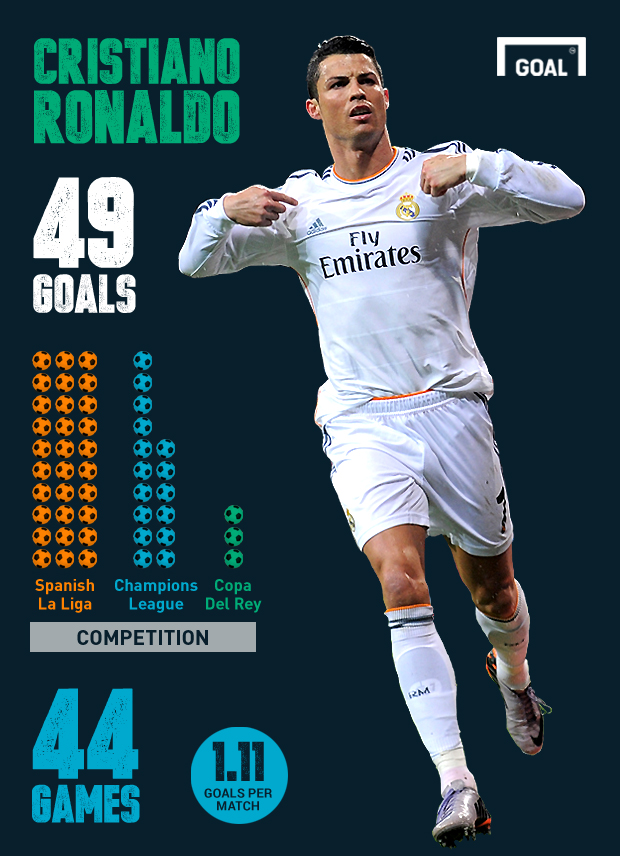 Amazingly, Ronaldo sat 17 strikes behind Messi just two years ago. When Barcelona beat AC Milan 3-1 on April 3, 2012 at Camp Nou, the Argentine scored twice to move onto 51 Champions League goals and was sixth on the list of all-time top scorers in the continental competition. Ronaldo, with 34 at that time, was not even in the top 10. But 12 goals in Madrid's march to the semi-finals last season and 16 more this term have seen the Portuguese close that gap and with a final meeting against Atletico to come later this month, he has the opportunity to move ahead of the Barcelona forward – something that seemed extremely unlikely just a couple of years ago.
Madrid's total of 37 goals in the Champions League this season is also a new competition record, while Los Blancos are within two ot reaching 100 in La Liga and have netted 150 in all competitions so far in 2013-14. Ronaldo, with 49, has a fraction under a third of that total and 24 more than Real's second-highest scorer, Karim Benzema, who has 25.
When Mesut Ozil left Madrid to join Arsenal in the summer, many believed the Portuguese would miss the German's assists, but Benzema, Gareth Bale and Angel Di Maria have all provided plenty of support to the two-time Ballon d'Or winner, who now has 250 goals in 243 appearances for Madrid and is fourth in the list of the club's all-time top scorers behind Raul (323 in 741 games), Alfredo Di Stefano (308 in 392) and Santillana (290 in 645). Ronaldo's ratio, however, is superior to all of those.
"I think that Cristiano is Madrid's best player of all time," former Real striker Michael Owen said this week. The Portuguese certainly has the numbers to back up that argument – and this season shows he's still getting better and better.
Follow Ben Hayward on