The 21-year-old has not lived up to expectations since moving to the Allianz Arena last summer and his Dortmund form may be needed when Bayern meet Real Madrid on Tuesday
COMMENT
By Enis Koylu
A Champions League semi-final against Real Madrid will always be a game of special resonance for Mario Gotze. It was on the eve of Borussia Dortmund's first-leg meeting with the Spanish side last season that his move to Bayern Munich was announced. It was the return game when his BVB career was cut short by injury.
Now, a year on, all eyes will be on him as his new team take on the Liga giants in a daunting last-four tie after he missed a great chance to score a critical away goal in the first leg.
When he made his way to the Allianz Arena in the summer of 2013, he was expected to be thrown into world stardom. Germany's top young player was moving to the Bundesliga's best team where he would link up with Pep Guardiola – one of the world's most respected coaches – and sporting director Matthias Sammer, who had famously dubbed him the "talent of the century".
Ignoring the controversy of leaving BVB for Bayern, all the talk was on how the former Barcelona boss would use Gotze. Was the 21-year-old to be the successor to the likes of Franck Ribery as the main creative force? Was he to be used as a false No.9 in a system that brought Guardiola such success with Lionel Messi at Camp Nou?
Things have not worked out ideally for Gotze, though. He was still recovering from the injury picked up at the Bernabeu when the season began and he started life in red slowly. Pep was using a 4-1-4-1 system in the early days and seemed unsure as to how Gotze fitted in.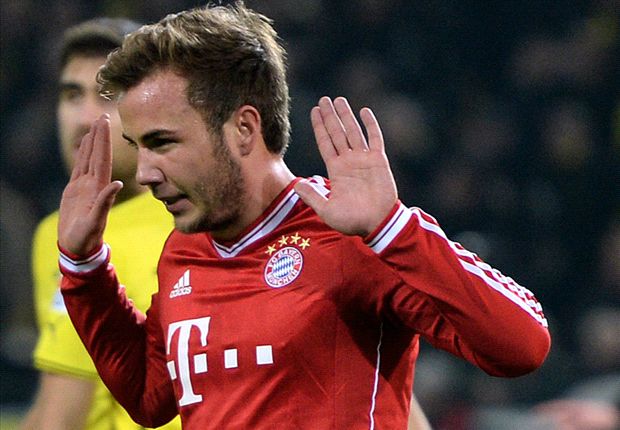 Crowning Moment | Gotze gives Bayern the lead at Dortmund
His performances as a forward, meanwhile, garnered criticism from Franz Beckenbauer. "It doesn't make sense to play Gotze as a striker. He's nowhere to be seen against three giant defenders. Bayern are wasting his potential in this position."
Too attacking to play as a classic central midfielder and with Arjen Robben and Ribery in great form on either flank, Gotze found himself on the bench, but a return to a more familiar 4-2-3-1 formation heralded a change in his fortunes.
The 21-year-old was in fine form as Bayern swept aside all who stood in their path either side of the winter break as he played in a variety of roles. The crowning moment of his Bayern career was, undoubtedly, the 3-0 win at Dortmund, where he scored the opening goal when his side were struggling.
But, barring that, his performances in big games have been disappointing. February onwards saw a lull in his form and his role in the Champions League knockout rounds has been anything but decisive.
Left out of the starting line-up in the away legs of the Manchester United and Madrid games, he was withdrawn after a poor outing in the 3-1 win over David Moyes' side at the Allianz Arena. Within minutes, Bayern had the goals they needed to see off the Red Devils.
As a player of 21, Gotze has, of course, huge scope to grow, but he was the standout player in Dortmund's team last year. Surrounded by a better calibre of team-mates and in a winning team, though, he has yet to make the progression.
Has he been worth the €37 million pricetag? Gotze has by no means had a bad season, but he has hardly been playing in a manner befitting of the second-most expensive German player ever.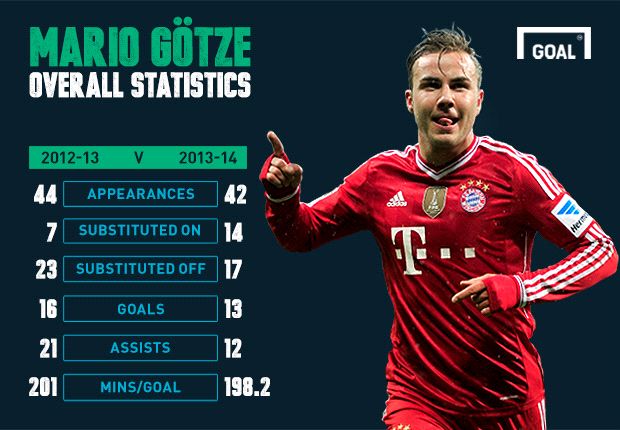 It seems that he has yet to win Guardiola's trust as the Spaniard has put his faith in more experienced operators and his stop-start role has not gone unnoticed at Signal Iduna Park.
"I would rather win one title here as a key player than four as a part-time player," Dortmund's Mats Hummels said recently in thinly-veiled dig at his erstwhile team-mate.
His record of 13 goals and 12 assists in all competitions is fair for a player who is far from the finished article, but a €37m investment demands more, particularly in big games.
And so it all comes down to a Champions League clash with Madrid once more. Gotze missed Bayern's best chance of the first-leg loss as Carlo Ancelotti's men put on a clinic of smart, counterattacking football. Bayern looked desperately bereft of ideas, despite their ludicrous suggestions that they dominated the game.
Despite his goal at the weekend, Ribery's form since the turn of the year has been visibly weaker than at the beginning of the season as he and Robben both enter the twilight of their careers.
Now the younger generation of Bayern players must step up to the plate to challenge their older team-mates. Gotze is certainly a part of that group and the Madrid game could be a turning point for him. He has all the invention, pace and trickery to get beyond a stubborn defence and deliver Bayern a victory, but he must prove it. And Guardiola must also give him his chance too.
Follow Enis Koylu on