Bayern Munich lacked a cutting edge in their 5-0 aggregate loss to Real Madrid, while Barcelona aren't firing as they were between 2008 and 2012. So successful in tandem at Camp…
The wrong kind of messy. Pep Guardiola held his hands up and admitted on Tuesday night that his Bayern Munich team had been made to look very much second best by Real Madrid in their 4-0 defeat at home to the Spanish side. It was the heaviest defeat in the Catalan's coaching career and raised question marks over the suitability of his possession philosophy at the Allianz Arena. Without Lionel Messi to turn to, Pep's powers appeared dramatically diminished.
At Barcelona, Guardiola knew the club inside out and implemented a style of play already familiar for the entire squad. The Catalans' one touch passing plan is instilled in footballers from a young age at La Masia. Pep had lived and breathed that football as a player, just like Xavi, Andres Iniesta, Lionel Messi et al. So when he took over as coach and inherited that golden generation of players, the diamond was there. It just needed to be polished.
After winning the treble last season under Jupp Heynckes, Bayern's diamond was already polished, just not quite like how Pep liked it. Instead of adapting to his new players, however, Guardiola wants those footballers to get used to the methods that made his Barca side so brilliant between 2008 and 2012. But there's one problem: there's no Messi.
Bayern's spectacular success last season owed more to team ethic than individual brilliance. Arjen Robben and Franck Ribery both shone, but were more suited to the football favoured by Heynckes – attacking spaces from deeper positions. The Frenchman may have been his side's outstanding player overall, but it was all about the collective and he didn't deserve to win the Ballon d'Or because individually, he wasn't and isn't the best. Meanwhile, Messi won all four Ballons d'Or during his time under Guardiola. He also made the difference on nights like Tuesday.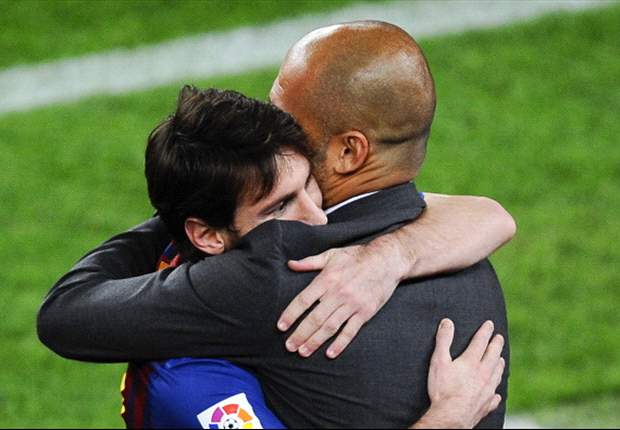 Magic moments | Messi and Pep hit the heights together at Barcelona
Pep knows that. After winning the treble with Barca in 2008-09 and adding three more trophies to make it six out of six in his second season, Guardiola admitted: "Without Leo, we would be a very good team and we would be competitive. But we wouldn't have been able to achieve all that we have if he were not with us."
Barca's style was all about pulling opponents out of position with highly complex passing and possession play which is designed to open up spaces and allow goalscoring opportunities. But Bayern not only appeared unable to create such scoring chances against Madrid, but they don't have a player like Messi to take advantage of those gaps when they do. As Pep's reign wore on at Camp Nou, it became more and more about dragging defenders away and empowering Messi, hence the Catalans' increased reliance upon the Argentine and his improved scoring rate in each season at Camp Nou.
Hopes that Mario Gotze could fulfill a similar role since signing from Borussia Dortmund in the summer seem somewhere between fanciful and far-fetched. So Guardiola is left with a problem. His philosophy remains valid, yet is missing the X-factor the Argentine added at Camp Nou.
"The reason we lost today and didn't play well is because we didn't have possession of the ball," the 43-year-old said on Tuesday night. "We didn't pass the ball as we should have done. Possession for me is the most important thing in football.
"I know there are a lot of teams that sit back and launch counterattacks, but I feel something different. We have done it so often! I like to play with the ball. There are no valid arguments now because with this defeat it won't seem credible, but I can't change what I feel. Madrid launched counterattacks because it was impossible not to, but I like football played with the ball. We need to reflect upon whether, with this team, these players can adapt to my ideas."
That last line is perhaps key. Can these footballers adapt to Pep's methods? Obviously they have to a certain extent, given their domestic success this term, yet results against the top teams have been poor. Whereas Guardiola's great Barca side always raised their game for the clashes with Europe's elite clubs, his Bayern have been unable to do so – at least not yet.
Arsenal and Manchester United were both beaten by Bayern in Champions League knockout ties, but neither have threatened to win the continental competition in several seasons now, while the Bavarians needed a late leveller and then penalties to edge out Chelsea in the Uefa Super Cup at the beginning of the season and have lost two out of three games against domestic rivals Dortmund, conceding seven goals in the process, before back-to-back losses versus Madrid this last week.
Defending was a problem again on Tuesday, with three of the four goals coming from set pieces and two of those via the head of Sergio Ramos. "We played badly," Guardiola said. "And when you play badly, you also defend badly."
That's true. Guardiola's Barca often defended badly, too. "We don't know how to defend," he once said. "We defend by attacking and by having the ball." And in moments of crisis, Messi was there to get them out of trouble. In Clasico clashes in particular, the Argentine popped up with remarkable regularity to score when his side were on the ropes. At times, it papered over obvious cracks. But often, the weaknesses weren't even noticed amid the spectacular successes and wonderful wins.
In an albeit superb season at Bayern overall, such successes have been few and far between against the top teams. Likewise at Barcelona. As prolific as ever against smaller sides, Messi was unable to inspire the Catalans when it mattered most: versus Madrid in the final of the Copa del Rey and against Atletico in the Champions League quarter-finals.
In four full seasons under Guardiola, Messi scored 38, 47, 53 and then 73 goals, was never injured, claimed the Ballon d'Or each year and almost always delivered in the biggest matches. None of that was a coincidence. Pep put Leo on a special fitness and diet programme at the Catalan club, cutting out visits to his favourite Argentine restaurant in Barcelona and late-night sessions watching football from his homeland on television. He also made Messi feel important, dispensing with Zlatan Ibrahimovic and later benching David Villa to keep his star player happy. It worked.
But since the signing of Neymar, the 26-year-old now no longer feels as important as he once did. And following the departure of Guardiola, some of his dietary discipline has also been lost. Earlier this month, the Argentine organised a barbecue for the Barca squad, something that would have been unthinkable under Guardiola. Such details may seem harmless, yet they helped make Messi the best in the world and currently that title is held by Cristiano Ronaldo, who claimed the Ballon d'Or in January and broke Leo's record for goals scored in a single edition of the Champions League by reaching 16 strikes in the competition on Tuesday.
Messi may reclaim the Ballon d'or next year, while Barcelona can be brilliant once again in the coming campaigns. Likewise, Pep will surely succeed in making Bayern great as he settles in at the Allianz Arena, brings in more players and builds on his opening season in Germany. But without each other and the spectacular synthesis we witnessed between 2008 and 2012, Pep and Leo may never hit those heady heights again.
Follow Ben Hayward on