As the Portuguese returned to the summit of world football on Monday with his second Ballon d'Or victory, Goal takes a look at his long and arduous road to the top
SPECIAL REPORT
By Ben Hayward in Madeira
For those who have known him from a young age, it was a familiar sight. Cristiano Ronaldo cried tears of joy on Monday as he collected his second Ballon d'Or, but growing up in a poor part of Madeira's capital Funchal, the world's finest footballer in 2013 could often be found weeping.
Raised in the mountainous outskirts of the island's largest town in an area called Santo Antonio, Ronaldo's childhood was anything but easy. The fourth child born to Dolores and Dinis, his arrival had been unplanned. His mother, a cook, and his father, a municipal gardener who lost his long battle with alcoholism in 2005, struggled to put food on the table.
Given the name Cristiano by his mother and Ronaldo by his father after Ronald Reagan (Dinis' favourite actor and then President of the United States), the young boy soon sought distraction on the football field. And after accompanying his father to local side Andorinha, he went along as a seven-year-old to play with his cousin Nuno – and never looked back.
Francisco Afonso, a primary school teacher who was Ronaldo's first coach, was impressed from the outset. "He was something special from the start – you could see that," he told Goal. "He was small but so determined. He started as a defender but soon moved up the pitch because he wanted to be involved in everything. He was good with both feet and fast, with good technique because he never stopped practising – and he always wanted the ball. Football was everything to him and if he couldn't play, he was distraught."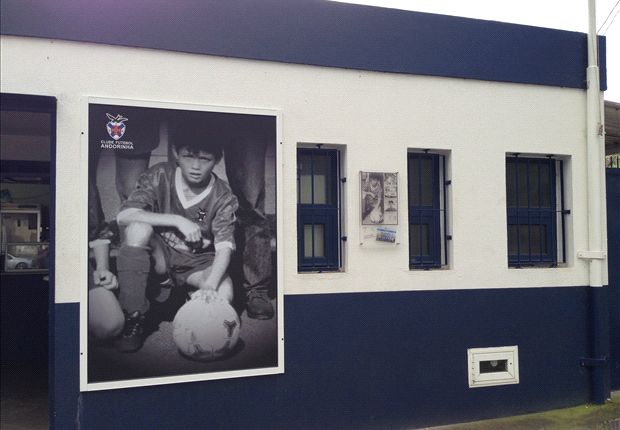 Made in Madeira | An image of a young Ronaldo at his first club Andorinha
Rui Alves, a childhood friend who remains close to the Real Madrid forward, says Ronaldo only ever wanted to play football. "We would go out and play all day, but Cristiano kicked his football all the time," he said. "I tried to get him to play other games, but he only ever wanted to play football. We would go to the bakery at the end of the day to wait for the cakes that hadn't been sold as a treat, but everywhere we went, he took his ball with him."
And at Andorinha, the now two-time Ballon d'Or winner soon made his mark. Ricardo, a team-mate of the Portuguese who still works at the club's bar, remembers Ronaldo's competitive streak. "He was streets ahead of the other players," he said. "You could see that, even at such a young age. But if he didn't get the ball, he was upset – and when we lost, he cried."
But so talented was the young Cristiano that in one match, he fired a hat-trick in the first half to give Andorinha a 3-0 lead at the break, only to take a blow to the head late in the opening period. He was carted off to hospital for examination at the interval and when he returned later on with his head all bandaged up, he was devastated to learn that in his absence, Andorinha had capitulated and lost 4-3.
Ronaldo's performances began to make waves on the Atlantic archipelago and he was soon snapped up by the island's biggest team, Nacional. At the age of 12, he was due to sign official terms as a youth player, but by then, many had realised that the skinny youngster was built for bigger and better things and a Madeiran magistrate named Joao Marques de Freitas got in touch with a scout at Sporting Lisbon, Aurelio Pereira, to discuss a possible trial for Ronaldo on the mainland.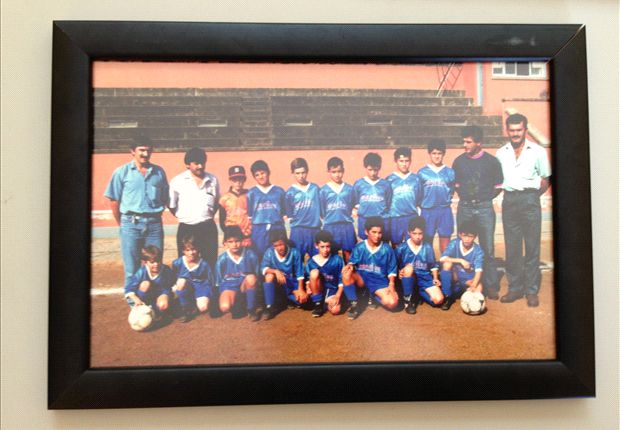 Ball in hand | Ronaldo (bottom right) in an proudly image kept by his old club
"I met Ronaldo when he was 11 years old," De Freitas told Goal. "His godfather introduced me to him and told me he was a very good player. He was very, very small – very slight and fragile.
"I got in touch with the man who was in charge of Sporting's scouting and I told him: 'There is a kid who they say is extremely good.' But he said: 'That's very young' and he told me we couldn't send a boy that young to Lisbon.
"So I spoke to Cristiano's mother, who was a very humble and very poor person. And she authorised it. So we got him a return ticket to Lisbon and Cristiano went with a sign around his neck made of cardboard, with his name on it to identify himself. Mr. Aurelio was there to meet him at the other end and he spent four days in Lisbon."
Sporting's scouts were indeed impressed with the young Madeiran and a deal was soon struck. Nacional still owed Sporting €25,000 for formation of a player they had signed previously and they told the capital club that if they pardoned that debt, they could have Ronaldo for free. Nevertheless, that was still a lot of money for an 11-year-old, and the two teams vowed to keep the details of the deal a secret.
Change of scenery | Ronaldo's family now live in a more exclusive area of Funchal
Sporting's academy is the finest in Portugal and had a knack of developing world-class wingers, like the great Luis Figo. Ronaldo's mother, a big Figo fan and Sporting supporter, was happy with the idea of seeing her son in the famous green and white and, at the age of only 12, the youngster made his move to the mainland.
Times were tough at first as the young Cristiano grew homesick and was bullied by other boys because of his thick Madeiran accent, which they found funny. "He had problems early on but he triumphed because of his very unique personality," De Freitas added. "He is a winner and he had that fearless determination from a young age.
"He was a fighter, a street kid. His father was a very unhappy person and died some years ago. So Cristiano had a very difficult childhood, but he always knew how to respond and he grew when times were tough. So when [Fifa president Sepp] Blatter made those remarks about him, he said: 'I respond on the pitch' – and he did. In that respect, Blatter was right. He is a commander."
Childhood friend Rui added: "People don't know him. They think they do but when you are with him he is such a kind and generous person. He doesn't come back here [to Santo Antonio] because many of these guys don't work and they ask him for money, so he stays away, but he is still the same person today.
"We are still in touch and he always has time for us," another friend – Ricardo – explained. "It's funny, when I was younger I used to watch Pauleta, who is from the Azores (another group of islands in the north Atlantic) playing for Portugal and think 'why can't we in Madeira have a player like that?' And it turns out we had one who was even better!
"For many people, Cristiano has put this island on the map and we will always be grateful for everything he has done for us."
So as the 28-year-old struggled to fight back the tears at the Ballon d'Or gala, you can bet that many in Madeira were weeping too, in nostalgia and pride for the man they saw grow from poverty as a crying child to win football's greatest individual prize for the second time on Monday.
Follow Ben Hayward on