The Portuguese presented the individual award to a packed Santiago Bernabeu on Saturday and then helped his side leapfrog Barca and Atletico
Cristiano Ronaldo presented the Ballon d'Or to the Santiago Bernabeu faithful ahead of Real Madrid's 2-0 win on Saturday before firing them to the top of La Liga.
He scored his 40th goal for club in country in 2013-14 as los Blancos moved to the Spanish summit for the first time since winning the title in May 2012.
The Portuguese claimed the prestigious Ballon d'Or earlier in January and showed off the award prior to kick-off as Madrid's fans held aloft gold cards to form a spectacular mosaic at the stadium.
The 28-year-old posed with the trophy on his own and then with the rest of his team-mates and the club's 78-year-old pitch supervisor, Agustin Herrerin.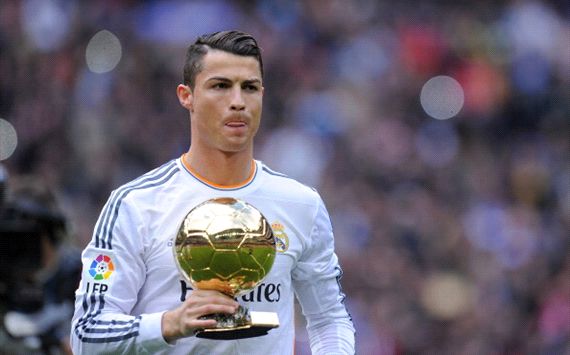 Golden Boy | Ronaldo showed off his second Ballon d'Or at the Bernabeu
It was a stark contrast to the last time he had faced Granada at the stadium, when he netted twice in September 2012 but told media after the game how he was 'sad' and upset with the club.
Ronaldo helped Madrid to a 2-0 win as he broke the deadlock with a lovely left-footed goal in the 57th minute, while he also struck the bar with a venomous free kick and forced a fine save with a spectacular overhead effort.
He also played a part in his side's second, scored by Karim Benzema, as Madrid won a seventh consecutive match without conceding for the first time in their history and, more importantly, returned to the top of La Liga for the first time in 20 months.
However, Barcelona and Atletico Madrid are only two points behind and can move back ahead of los Blancos by winning their respective fixtures on Sunday. Barca are at home to Malaga, while Atletico travel to nearby Rayo Vallecano.