A Goal writer will make the case for each of the candidates ahead of the Fifa gala, starting with the Frenchman who epitomised Bayern Munich's incredible year
COMMENT
By Peter Staunton
He may be the reigning Bundesliga player of the year, Champions League player of the year, French player of the year and European player of the year, but Franck Ribery is not the favourite to scoop the Fifa Ballon d'Or on Monday.
As a result of Cristiano Ronaldo's stunning virtuoso performances against Sweden in the World Cup play-offs, the Frenchman goes to the gala as an also-ran. As football moments go in 2013, Ronaldo's is unsurpassed. But that is not what it is all about. Ribery has been football's outstanding player in its outstanding team and for that he deserves recognition – which he, himself, feels is due.
"Under the fireplace in the living room, my wife has already prepared a place for it," Ribery said in November. "I try not to think about it, but she is thinking about it a lot. At Bayern everyone believes that I will win.
"It is for what I have done on the field, what I have done to return to my best, to be professional every day and for the trophies that I have won.
"Before this year I was very good. Now I am the best."
MOMENT OF THE SEASON
BARCA 0-3 BAYERN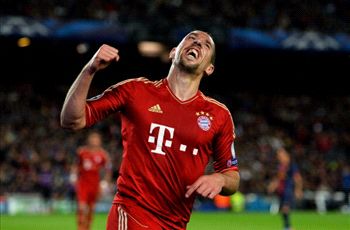 Already 4-0 up on aggregate from the first leg, Bayern did not let up on Barcelona in the Champions League semi-final at Camp Nou and it was Ribery who was the chief tormentor of the Catalans. He assisted one goal, provoked another own goal, and gave Dani Alves a torrid night. His work-rate was exemplary.
Once upon a time the Ballon d'Or was awarded to the best player on the best team over a particular year. Now it seems to be a popularity contest between Ronaldo and Lionel Messi. What the Ballon d'Or represents is harder to quantify than goals. Trophies, those tangible measurements of success, should have a lot to do with whom it goes to. The best players play for the best teams and the best teams win the trophies. No team was better than Bayern Munich in 2013 and no player better epitomised Bayern's ethos than Ribery.
"It was an extraordinary year, for the club, the people and for me," he told Telefoot in August. "We broke everything record-wise. "I have put in so much effort on the pitch. I would be very happy to win the Ballon d'Or. It would be great for me, my wife, my kids and my father."
There should have been more Bayern players on the final shortlist; Philipp Lahm, Thomas Muller and Mario Mandzukic, in particular, have been hard done by. These Bayern players, Ribery included, might not be as spectacular or explosive as Ronaldo or Messi but their football wins. They made vital contributions and, ultimately, led their side to a historic treble – success that was beyond both Ronaldo and Messi.
Real Madrid and Barcelona are without doubt the two most popular and powerful clubs on the planet. Nobody can match their money or their popularity. However, Bayern are the best team in the world and picking out their best player is a tough ask. Unlike Madrid or Barca there is no one outstanding player. The team is a manifestation of a functioning unit. This relative lack of glamour, perhaps, overshadows the awesome power of their collective under, first, Jupp Heynckes and, latterly, Pep Guardiola. In that transition, Ribery, like his team-mates, has scarcely missed a beat.
"I have never seen a player with Ribery's character at this level," Guardiola told Bild. "The way he keeps fighting and running for the team is incredible. "It's an honour for me to coach Franck."
The Ballon d'Or must be as much an award for achievement as it is for excellence; Fabio Cannavaro's victory in 2006 was more about Italy's World Cup win than his own form across the 12 months. Likewise, Ronaldo in 2002 was given the award for his exploits at the Korea-Japan World Cup and not for the scant playing time he earned with Inter and Real Madrid.
The emergence of the Ronaldo-Messi rivalry in the past few years has distorted the paradigm. In the current epoch, it matters not which team won what. Increasingly, it matters who came out on top in the battle between those two. Never before have two players gone head to head for the title as best player in the world as Ronaldo and Messi have. It has warped the game. No other player seems to be of any relevance. Arsene Wenger was right to point out that individual awards were anathema to a team game. But they need not be. These Bayern players are a throwback to a time when the team was worth more than the prize individual that decorated it.
"You're fascinating; and fan-cheered dribbling is the explosive manifestation of your intuition, joy of playing and creativity," Heynckes wrote in an open letter to Ribery in Kicker. "The experience you have gained during the last years has enriched you play even further. You have more vision, more calmness.
"You wanted success for the whole team and so you invested your great individual skills for the big picture to succeed, You did everything for the team to work properly and that is why you are popular and recognised by everybody. You reached your personal triumph via the collective's success and you were rewarded for your selfless attitude."
As Bayern have emerged as a force on the European scene after a period of dormancy so has Ribery emerged as one of the most complete players in the world. For consistency, he is unrivalled, certainly in Germany and any other of the top five leagues in Europe. Since shaking off niggling injury knocks that hampered heavily his first two seasons in Bavaria he has developed into a responsible, consistent attacker who is very rarely not involved in Bayern goals.
Moreover, he is an entertainer, a motivator and through his deeds, a leader. Team-mates seek to feed him. Fans adore him and have taken him to their hearts and look to him for inspiration. They want that feint; they want to see him go down the line and put the ball across. When he takes the ball there is expectation that something meaningful is going to happen.
Smooth as silk, tough as nails, Franck Ribery was what football was all about in 2013. If he does not win, it is a team game no longer. Think of it as a reward for all of Bayern. Ribery will share it with them.
Coming soon: Kris Voakes makes the case for Lionel Messi to win‏