The Portuguese proudly unveiled the attract to fans, friends and media in Funchal on Sunday and says he hopes to fill it with more silverware over the coming years
Cristiano Ronaldo unveiled his new museum in Madeira on Sunday and revealed he hopes to add La Decima and another Ballon d'Or to his collection in the near future.
Ronaldo flew to his native Madeira on Saturday after Real Madrid's 2-2 draw at Osasuna and was joined at the inauguration of the CR7 Museum by girlfriend Irina Shayk, team-mate Pepe, Portugal coach Paulo Bento, Blancos' director of international relations Emilio Butragueno and a host of other prominent figures from Portuguese politics and sport.
The 28-year-old gave journalists a tour of the space ahead of the official inauguration later on Sunday and said he was proud to give something back to the people of Madeira.
"I'm a proud Portuguese and a proud Madeiran, so it means a lot to me to open this museum here," he told reporters. "It's a special day for me and a way of doing something for my people."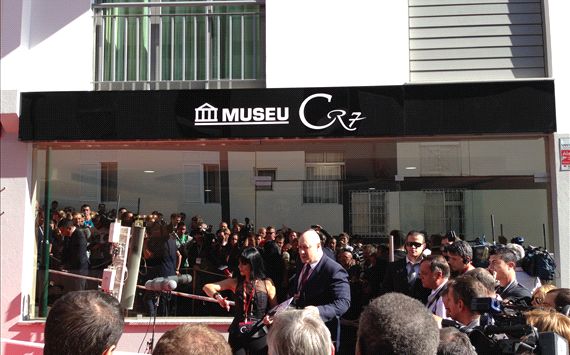 Time to open | Ronaldo's museum is inaugurated on Sunday
On display at the museum are shirts, photographs, signed footballs from his numerous hat-tricks and trophies dating all the way back to his childhood to the present day – including the Ballon d'Or he claimed in 2008.
"All of the trophies I have won are important," Ronaldo added, "And I have room for more. I don't want to mention one in particular."
But when pressed on winning La Decima (a 10th European Cup) for Real Madrid, the Portuguese replied: "There is always a space reserved for La Decima."
And after persistent questions on the Fifa Ballon d'Or, he said: "If it arrives then of course there is room for it. I hope to add many more trophies to this museum."
The president of Madeira's regional government was also at the unveiling, with the island's flag prominent as the museum's plaque was revealed by the forward's young son.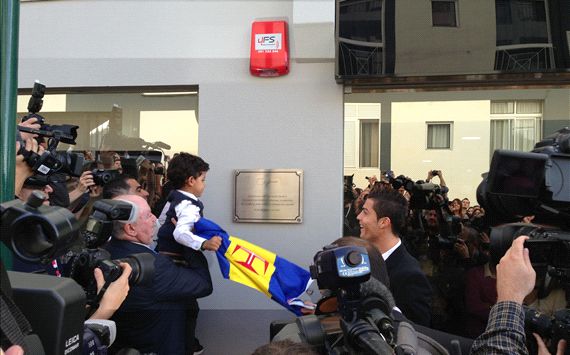 Father and son | Ronaldo's child helps his Dad open the new museum
"I hope Ronaldo will need a much bigger museum in future," the politician said. "He is one of the symbols of our island and I am so proud when I go abroad and mention Madeira and people speak about Cristiano Ronaldo.
"Even if he doesn't win the Ballon d'Or, he is the best player in the world."
Pepe, who spent three years of his career playing in Madeira with Maritimo, echoed those sentiments. "I think he is the best in the world," the Madrid defender said. "It's a special day for Cristiano and it is great to be here. I had many good times here and it means a lot every time I come back."
The president of the Portuguese Football Federation, Fernando Gomes, also attended and presented Ronaldo with a pennant from his first international against Kazakhstan in 2003. "We would like to say thank you to Cristiano for everything he has done for us," he said. "Cristiano has had a great career and we are so grateful.
"Let's hope there's a second Ballon d'Or in here soon."
Follow Ben Hayward on