Goal Transfer List 2013: It took a series of private meetings and a huge fee for the Gunners to smash their transfer record and pull off one of the year's most surprising deals
SPECIAL REPORT
By Wayne Veysey
Should a film ever be made about some of the key events in Arsenal's recent history, true authenticity could only be achieved by including Totteridge as an on-set location.
The leafy lanes of this north London suburb have long been home to manager Arsene Wenger and, when the Frenchman is keen to conduct important club business away from prying eyes, invitations are made to visit his gated mansion.
When David Dein was forced out of Arsenal by a boardroom coup, his first port of call was Wenger's family house. When Robin van Persie opened fresh contract talks with the club at the start of the summer he joined Manchester United, the first meeting was convened in Wenger's front room.
Furthermore, when Arsenal closed in on the biggest signing in their history, the deal was sealed chez Wenger.
It was to Totteridge, rather than Emirates Stadium, Arsenal's London Colney training ground or a neutral hotel, that Mesut Ozil was summoned to put the finishing touches to his stunning €50 million move from Real Madrid.
Speaking about Arsenal's club-record signing in November, Wenger said: "The first contact happened at my place, for discretion. He (Ozil) came to my house and he decided quickly. He decided in 24 hours."
It is understood that the decisive meeting took place in the week that preceded the closure of the summer transfer window.
In a cloak-and-dagger manner not uncommon in marquee transfer deals (who can forget Dimitar Berbatov being whisked to Old Trafford from Manchester airport under a blanket in Sir Alex Ferguson's car?), Arsenal had kept their move for Ozil shrouded in secrecy.
After reaching a verbal agreement with the club at Wenger's house, Ozil visited the Gunners' training base to undergo the first phase of his medical.
Arsenal are a club who always prefer to do their business far away from the public spotlight, and, in a bid not to alert rivals Tottenham to Ozil's potential arrival at Emirates Stadium, there was logic behind the need for a covert operation.
Frustrated by Spurs dragging their feet in the final stages of negotiations for Gareth Bale, Real agreed a deal that would end with Ozil moving to London almost immediately after he was replaced at the Bernabeu.
In addition to allowing Ozil to hold talks with Arsenal in London, it is understood that Real chiefs had reached an agreement with Emirates officials that Ozil would not play for the Spanish side in their league match against Athletic Bilbao on Sunday, September 1, the day before the window closed.
Real could not give the formal consent for Ozil to leave Madrid until they had completed the €100m world-record purchase of Bale, which was finally confirmed at 20:00CET on the Sunday.
The Madrid hierarchy had been disappointed at what they regarded as Tottenham unnecessarily stalling the final stages of negotiations for Bale. They suspected that Spurs chairman Daniel Levy delayed pushing the button on the deal so that Arsenal could not register Ozil, or any other Real big-hitter, in time for the north London derby on that Sunday, which Wenger's team went on to win 1-0.
The Gunners had turned their attention to Ozil after failing to land a number of primary targets – including Luis Suarez, Gonzalo Higuain and Marouane Fellaini – and learning in early August that Bale had agreed in principle his move to Spain. Wenger knew that a stellar Real player would have to be sold to part-fund Bale's arrival.
Wenger responded to Arsenal's disastrous 3-1 opening-day Premier League defeat to Aston Villa by sanctioning moves for Ozil and Angel Di Maria. The Gunners also made an enquiry for Karim Benzema although the latter was always regarded as an unlikely signing due to the domino of transfers that needed to fall.
Real indicated that both Ozil and Di Maria were potentially available for sale as they attempted to trim costs and free up space in their team for Bale.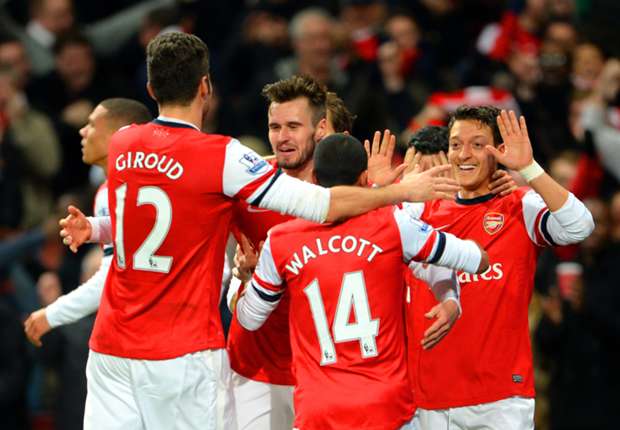 Turnaround | Ozil's arrival sparked a reversal in Arsenal's fortunes
Arsenal tabled a bid of around €30 million for Di Maria and a formal offer for Ozil, who had reacted to being substituted by Carlo Ancelotti during the 1-0 win at Granada on August 26 by storming down the tunnel and onto the team bus.
Concerned about being frozen out of the Real team in the season leading up to the 2014 World Cup and attracted to the idea of being the marquee player at Arsenal, Ozil was convinced in discussions with Wenger about making the move to London.
Goal exclusively revealed on September 1 that Arsenal were in advanced discussions with Real to sign Ozil on the day that he played no part in the Spanish team's lunchtime league win over Bilbao.
After a fee which would nearly triple Arsenal's transfer record had been agreed with Real on Sunday night, the Gunners began formally negotiating personal terms with the player's representatives.
The plan had been for Ozil to fly back to London on Monday and undergo his medical, but this was complicated by the requirement of his presence in Munich to film a television commercial with the German national team ahead of two World Cup qualifiers.
Given that the 25-year-old had already undergone primary examinations, Arsenal were content for him to complete his medical tests under the eye of the Bayern Munich and Germany team doctor Hans-Muller Wolfhart.
The terms of a five-year contract worth €155,000-a-week, which comfortably made Ozil Arsenal's highest earner, were agreed on the afternoon of transfer deadline-day, leaving only the formalities of the deal to be completed before he was announced as the marquee signing the supporters had been waiting all summer for.
Follow Wayne Veysey on

THE GOAL TRANSFER LIST 2013