Plenty to ponder for coaches Carlo Ancelotti and Gerardo Martino after their teams faced lower-league opposition in Spain's cup competition this weekend
COMMENT
By Ben Hayward | Spanish Football Writer
It was an unusual weekend. On the back of the World Cup draw on Friday, Barcelona took to the field to face Cartagena in the Copa de Rey, with Real Madrid in action at Olimpic de Xativa the following night. Different priorities, different outcomes – but plenty to ponder for the two teams after their respective cup clashes.
Barca bounced back after consecutive defeats to Ajax and Athletic Bilbao. Gerardo Martino's men needed a reaction and they got it in the continued absence of the injured Lionel Messi, beating Segunda Division B side Cartagena 4-1 on Friday. For Madrid, meanwhile, Saturday's game was an opportunity to rest players, with Cristiano Ronaldo still suspended, Gareth Bale out with flu and Xabi Alonso's fragile fitness not risked on the artificial pitch as los Blancos were held to a goalless draw in the province of Valencia.
There were positives and negatives for both teams overall and here's a look at what the big two will have learned from their respective Copa clashes this weekend.
ANCELOTTI'S DEFENCE IS IMPROVING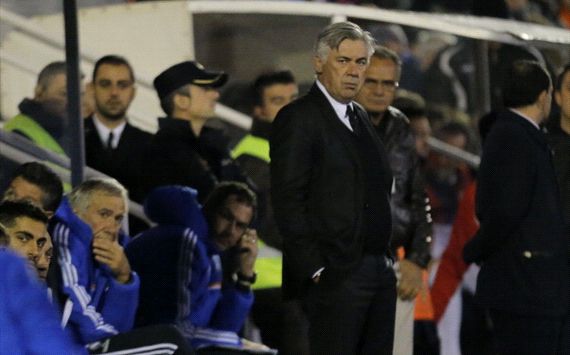 It may have been only Segunda Division B side Olimpic Xativa, but Madrid coach Carlo Ancelotti will have been encouraged to see his side keep another clean sheet.
Madrid struggled to play their football on the synthetic surface, but the Italian boss will be pleased with his back four following a third shut-out in four games.
In those four fixtures, Madrid have won 5-0 at Almeria, thrashed Galatasaray 4-1 (with all the goals coming while Real were playing with 10 men), beaten Valladolid 4-0 and now drawn 0-0 against Olimpic Xativa.
Madrid took 17 games to register their first three clean sheets of the season, but recent results seem to suggest Ancelotti is now finding the "balance" he has talked about so often this term.
However, the Italian coach will surely not be too happy that his team failed to break down a side playing in Spain's third tier – even without Ronaldo and Bale in the starting line-up.
SONG STILL NOT THE ANSWER – WHATEVER THE QUESTION

(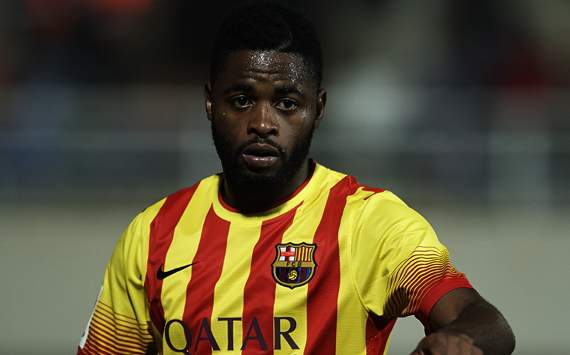 Barcelona's defence remained suspect against Cartagena, with captain Carles Puyol continuing to struggle and Adriano below his best in the right-back position.
And the back four were under greater pressure than they should have been because in midfield, Sergio Busquets and Alex Song were supposed to provide a strong shield for the men behind them.
Song, signed as cover for both defence and midfield, has however failed to impress in either position and his signing in the summer of 2012 (when Barca badly needed a centre-back) remains a mystery.
The Cameroon midfielder is a good player, but not what Barca needed and the Catalan club are less impressive, both in terms of possession and defensively, when he is in the team.
"At times, he did well but other times he was turned inside out and he was having trouble finding a second, alternative option with his passing," Martino moaned afterwards.
With a defender and a striker now needed, Song may yet leave Camp Nou because whatever the question is at the moment, he is simply not the answer.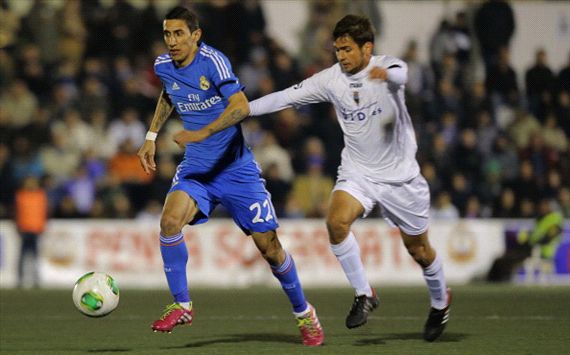 Angel Di Maria's defiant look towards Ancelotti indicated that the Argentine was anything but happy to be brought off for Karim Benzema with just over half an hour remaining.
The Italian claims that the winger was withdrawn because of injury, but the images would suggest otherwise amid strong speculation of a January move to Monaco.
This was not Di Maria's best game, but the Argentine remains one of the few Madrid men with the ability to break down defences with a moment of brilliance – particularly when Cristiano Ronaldo and Gareth Bale are missing.
After the game, Ancelotti said he would be staying at the club. Madridistas must hope there is truth in that, because selling the winger at a crucial point of the season makes absolutely no sense at all.
SENYERA STRIP SHAKES OFF JINX TAG

(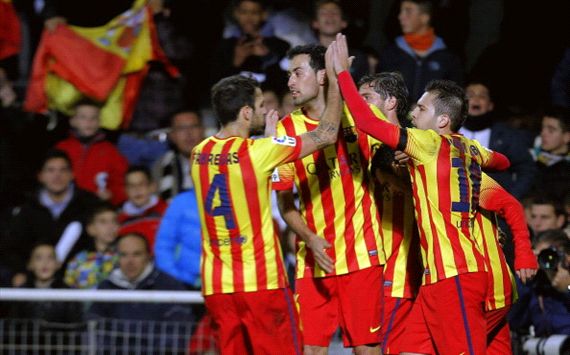 Barca's Senyera strip is not jinxed! It may have been only Cartagena, but the Blaugrana finally claimed victory in their much-maligned away kit on Friday, having failed to win any of their previous four official games in the Catalan colours.
Following a pre-season friendly loss to Bayern Munich at the Allianz Arena, Barca could only draw 1-1 with Atletico Madrid in their first competitive fixture (in the first leg of the Spanish Supercopa) in the kit, before a goalless draw at Osasuna in La Liga, a 1-1 tie at AC Milan in the Champions League and then a 1-0 loss at Athletic Bilbao last weekend.
But in their fifth official match in the Senyera strip, Barca finally ran out as winners – even if it was against a team from Spain's Segunda B.
Tougher tests await in the changed colours, however, with a trip to Getafe (where Barca lost in 2011-12) later in December and then a crunch Liga clash at Atletico in January.
LA FABRICA STARTING TO PRODUCE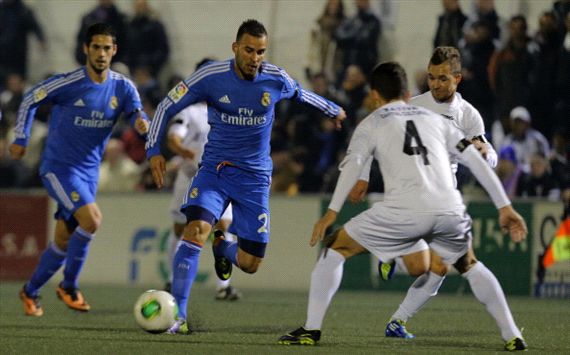 Madrid started on Saturday with nine Spanish players for the first time since November 2004 – and six of those have emerged through the club's youth ranks: La Fabrica.
Goalkeeper Iker Casillas and full-back Alvaro Arbeloa may be experienced, but the two Spain stars were joined in the XI by youngsters Dani Carvajal, Nacho, Jese and Alvaro Morata.
The three other Spanish players in the starting side were Isco (who was Madrid's best player and should not have been replace by Ancelotti with 15 minutes left), Asier Illarramendi and Sergio Ramos, while Argentina's Angel Di Maria and Brazil's Casemiro completed the line-up.
Even though Madrid failed to score on the night against lowly opposition, the presence of so many cantera players in their line-up shows that the club have perhaps learned the lessons of years gone by, when homegrown players like Juan Mata, Alvaro Negredo and Roberto Soldado were forced to seek first-team opportunities elsewhere.
PEDRO DESERVES MORE OPPORTUNITIES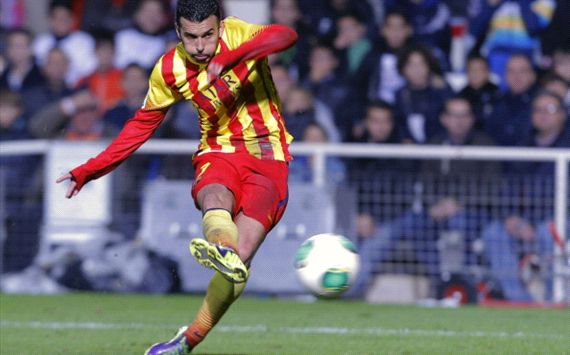 Pedro hasn't featured as much as he would have liked this season and even admitted recently that he may have to consider his options if his situation did not improve. "I'm worried I won't go to the World Cup if I don't play very much," he said last month. But back in the starting line-up on Friday, the winger made his point.
The Tenerife-born forward produced two fine finishes as Barca came from behind to beat Cartagena 4-1 away from home and ease the pressure on coach Martino after back-to-back defeats.
Pedro now has nine goals in 22 appearances (many as a substitute) this season and deserves more opportunities to shine – especially in the absence of the injured Lionel Messi.
That may prove problematic for Martino, who has to keep the likes of Alexis Sanchez and Cesc Fabregas happy, while Cristian Tello has hardly featured at all. But Pedro showed on Friday that he remains vital for his club as well as his country.
Follow Ben Hayward on