Two of the best players in the world go head to head for a shot at immortality – but the presence of which icon is essential for the tournament's success?
DEBATE
By Paul Macdonald & Robin Bairner
Uefa's play-off draw means that one of either Cristiano Ronaldo or Zlatan Ibrahimovic won't be able to bring their style, arrogance, and, most of all, brilliance, to Brazil next summer.
Sweden and Portugal will look to their talismen in order to secure passage to the promised land, but the presence of which superstar would enrich to the World Cup more?
'THE BEST PLAYER IN THE WORLD MUST BE IN BRAZIL'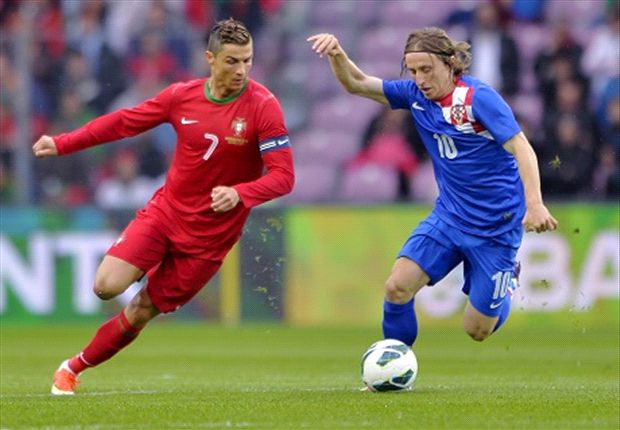 By Paul Macdonald
Whether the football community agree by handing him the Fifa Ballon d'Or or not, Cristiano Ronaldo is, at the moment, the finest player in the world by a considerable distance. With that in mind, the argument is simple: the World Cup needs the world's preeminent exponent of the game.

The World Cup as an event faces pressure to remain relevant. Winning the Champions League is now regarded as the pinnacle, and club football has exponentially increased in popularity as commentators look to question the merits of the international game.

It needs the type of performance from a global star that the tournament itself can become synonymous with. It needs Roberto Baggio in 1994, Ronaldo in 2002, Eusebio in 1966. The most individually gifted players of the current generation haven't crystallised their greatness internationally in the same way that Pele and Diego Maradona did before them, and in the eyes of some, Cristiano and sparring partner Lionel Messi can't be considered part of that particular pantheon until a World Cup is defined by their genius.
Ronaldo could, quite conceivably, achieve that level of transcendence, and it would be a travesty if he is denied the opportunity to do so. He is completely and utterly in his prime, obliterating goal records, and appears unstoppable. Yes, his Portugal side aren't one of the favourites, but it's almost irrelevant; for now he appears superhuman, indestructible, and in optimum physical condition, ready to dismantle teams on his own. At this point it almost feels like destiny is calling, and if the World Cup were to miss out on an act of era definition, it would be a loss to us all.
Of course, commercially it is a no contest – Nike and the countless corporations that will be omnipresent in Brazil can take Ronaldo to the bank. But, from a purist's perspective, a World Cup without this Cristiano – the flying, flawless, fantastic Cristiano – would simply feel incomplete.
Follow Paul Macdonald on

'THE TOURNAMENT NEEDS HIS SKILLS AND HIS PERSONALITY'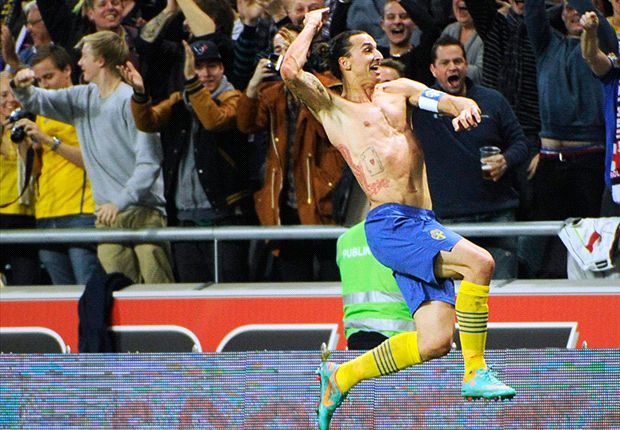 By Robin Bairner
Cristiano Ronaldo and Zlatan Ibrahimovic are both outstanding footballers, of that there can be little doubt; however, the languid Swede deserves this opportunity to showcase his wares on the world stage.
At 32, this will more than likely be Ibra's final opportunity to play a starring role in a World Cup, and there can be little doubt the tournament would benefit enormously for having not only his skills, which are perhaps at their very peak presently, but also his personality on show.
The Paris Saint-Germain striker's form this season has been remarkable. In terms of his goalscoring talents, he has mustered close to a goal a game, including six in three Champions League outings, and his increasingly mature demeanour on the field means that he performs with increasing confidence on the big stage.
Moreover, his versatility in front of goal is unparalleled. From his fierce 100km long-range drive against Anderlecht to his impossible scorpion kick versus Bastia – and let's not forget his Puskas Award-nominated overhead kick for Sweden against England last year – Ibrahimovic has a full gambit when it comes to putting the ball in the net. For this reason, he is perhaps the world's most mercurial and entertaining player.
However, Ibra's unpredictability is not restricted to events on the field. The outspoken Swede carries with him an ego matched only by his footballing talent, marking him out as one of football's few remaining media personalities.
For all this, however, he is a true leader of a workmanlike Sweden team that has the potential to repeat one of the great World Cup runs, when, in 1994, they pushed Brazil all the way in a tight semi-final before eventually finishing third courtesy of a playoff success over Bulgaria. Ibrahimovic is the Roy of the Rovers-type character who could make such a fairy tale run become reality and give the competition a romanticism it might otherwise lack.
Brazil next summer would be a brighter place with Ibrahimovic's utterly unique talents and controversial comment. It may well be the last chance we get to see one of the game's great entertainers on such a grandiose stage.
Follow Robin Bairner on