The Portuguese struck a 94th-minute winner to claim all three points for Real after they had looked like losing at Levante, but it was yet another poor performance away from home
COMMENT
By Ben Hayward | Spanish Football Writer
There was no refereeing controversy this time. Real Madrid's last-gasp win at Elche recently had come about thanks largely to the helping hand of match official Cesar Muniz Fernandez, who awarded a highly-contentious penalty deep into added time. On this occasion, however, it was more Madrid's fight and unwillingness to lie down that brought the reward of a late leveller and, subsequently, a 94th-minute winner.
Carlo Ancelotti's side had looked second best for most of the night, twice going behind to a spirited and hard-working Levante side. But like last season, Alvaro Morata popped up with a last-minute effort – this time to level the scores – and Cristiano Ronaldo then hit home via a deflection to seal a sensational 3-2 win.
Ronaldo rescued Real's fast-faltering hopes of winning La Liga and the strike spared Ancelotti's blushes, yet it could not hide a multitude of sins on another depressing night's football for the capital club. Marca described Madrid's performance as "dreadful", noting that the team had played with the "spirit" they have always shown – if "little else". "Ronaldo and Morata get Madrid out of intensive care," the paper added.
NEYMAR SHINES IN MESSI'S ROLE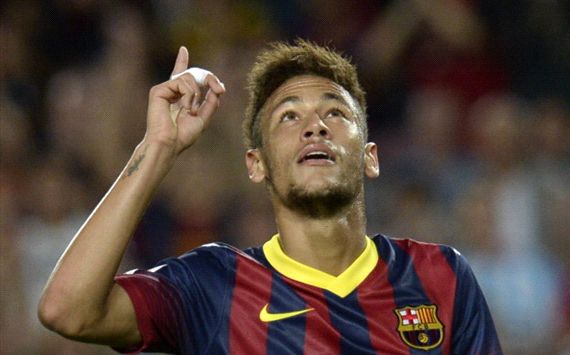 It may have been only Valladolid, but Neymar's night at Camp Nou on Saturday will likely live long in the memory for Barcelona fans. In the role reserved habitually for Lionel Messi, the Brazilian stole the show with a wonderful display of forward play in the Catalans' 4-1 victory.

The 21-year-old bagged two assists for the outstanding Alexis Sanchez, netted a goal of his own, played a pivotal part in the move for Xavi's strike and saw several penalty appeals turned down.

Two of those looked like definite fouls, but the Brazilian appears to still be suffering from his reputation as something of a play-actor.

"Neymar has one flaw," Valladolid coach Juan Ignacio Martinez said afterwards. "I am not going to say it, but we all know what it is…"

'Tata' Martino begged to differ. "From the pitch I thought the one in the first half was a penalty and also the one in the second half," he explained.

Not that it mattered. In this form, Neymar looks like a global star in the making – although it remains to be seen if he can assume such protagonism when Messi returns from injury.

The goal meant much to Madrid's players. Ronaldo removed his shirt to earn a booking he hardly seemed to care about, while goalkeeper Diego Lopez raced off his line and ran down the pitch to join in the wild celebrations. And on the bench, Ancelotti cut a relieved figure.
"The victory was very important because it was a very difficult match," the Italian explained. "We never gave in, but we gave two goals away and we need to concentrate better because that made things complicated. But, when our team plays, we can win a game in five minutes…"
On the road, however, Madrid have struggled in La Liga all season. An unconvincing 1-0 win at Granada in Real's first away game this term was followed by a 2-2 draw at Villarreal which, on a different night, could eaily have been a defeat. Then came the highly-controversial 2-1 victory at Elche, and now another success achieved in extremis on Saturday.
But more worrying than the results, which have been generally good, will be the nature of the performances in those matches. On Saturday, Madrid began poorly and even though they were the better team by the interval, Levante came out stronger again and took the initiative with the first goal and also the third after Sergio Ramos had cancelled out Baba's opener.
In the first half, it had looked like Madrid's more technical players held the key to breaking the Levante resolve, yet Ancelotti once again chose to take off the influential Isco and leave on the ineffectual Karim Benzema. To the Italian's credit, however, all three of his substitutions worked out as Morata netted the equaliser, fellow youngster Jese (who did replace the French forward late on) helped set up that goal and Marcelo changed the flow of the match with his penetrating attacks down the left flank.
Still, there appeared to be no definite pattern to their game. Madrid, playing against a back line defending deep, needed to generate the play – and they are still struggling to do so.
The sheer intensity of the home side caught the visitors off guard, too, and on this evidence, Xabi Alonso cannot return fast enough to add both solidity and creativity to a Madrid midfield which is currently lacking in both departments.
And as so often before, Ronaldo was the hero. The Portuguese now has 12 goals from Madrid's opening 10 games in all competitions (matching his best season start, last term, although that included four penalties instead of two) and 50 strikes for club and country in 2013. But it was the result that mattered most for his side as it kept Madrid within five points of Barca (still with a perfect record in the Primera Division) with eight rounds of La Liga completed and ahead of the Clasico clash at Camp Nou later in October.
That trip to the Catalan capital will be the greatest test of Madrid's title credentials but, given their continued struggles away from home, Ancelotti's side currently look nowhere near ready to face it.
Follow Ben Hayward on