Florentino Perez had hoped to sign the Brazilian until the last minute, while the Welshman was a fall-back option after Barcelona beat them to him
SPECIAL REPORT
By Ben Hayward | Spanish Football Writer
Real Madrid's record summer signing was actually their second choice. Club chief Florentino Perez set his sights on bringing in Neymar, not Gareth Bale, and only opted to recruit the Welshman after losing out to fierce rivals Barcelona for the Brazilian forward.
Neymar appeared destined to play for Madrid. The South American attacker flew to Spain for a trial in 2005 as part of the agreement which saw Santos sell Robinho to the Santiago Bernabeu side and was even registered for a short time with the capital club. But red tape ruled out a move for the 14-year-old at that time and the two parties agreed to remain in contact with a view to a transfer in future.
Madrid were sure they had their man in 2011 and even paid for medical tests with the forward in Brazil as talks reached an advanced stage, but Perez upset the player and his father by telling him he would have to fight for a place in the starting side and that he may have to spend some time on the Bernabeu bench before making a breakthrough at the capital club.
Irritated by what he perceived as an arrogant stance by Madrid, Neymar and his father chose to negotiate with Barcelona instead and by the end of the year was sold on a move to Camp Nou. However, Madrid fought until the very last minute to beat their biggest rivals to the Brazilian's signature.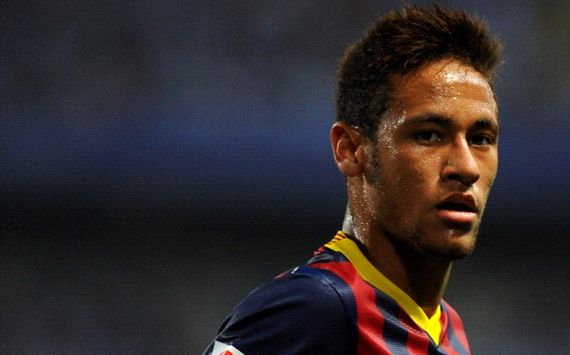 Catalans calling | But Madrid fought long and hard for Neymar
Neymar was warned by Real representatives that he would be forced to pay higher taxes in Catalunya than in Madrid and told the Catalan language would be difficult to learn. He was also promised a luxury villa within 10 kilometres of the Bernabeu and assured he would receive guidance from the formidable figure of Zinedine Zidane in his period of adaptation.
Perez set aside €100 million to sign the Brazilian and was confident his higher offer would tempt Santos and the player's third-party investors into a deal, but Neymar had his mind made up and eventually moved to Camp Nou for a fee of €57m plus €4m for a friendly between Barca and Santos in Brazil and an additional €8m for first option on three of the Peixe's brightest young stars – Gabriel, Giva and Victor Andrade – even though all three may never end up at the Catalans.
Perez was told that only a total offer in the region of €150m would be considered for the 21-year-old attacker, yet the Madrid chief continued to send faxes and e-mails with counter-bids in an attempt to snatch the forward from Barca's grasp. "When we were signing the contract, Madrid were sending emails to Santos," Barca president Sandro Rosell exclaimed in September.
In the end, however, Perez was forced to admit defeat and later conceded that Madrid had been priced out of a deal. "The signing of Neymar would have altered the ecosystem of the club," he said in late May. "We had to negotiate with many different parties and, according to the calculations we made, we would have had to pay around €150m, with the image rights distributed among many parties."
But Perez remained frustrated as the Brazilian opted for Barca and felt Madrid, their pride now wounded, needed to respond with a star signing of their own – and make a statement. So step forward Gareth Bale. Even the Blancos chief admitted in September, however, that "had Neymar arrived, I am sure we would not have signed Bale".
Ironically, Barca also tracked Bale back in 2010 and 2011, while Madrid looked set to win the race for Neymar. But in the end, it was the Catalans who signed the Brazilian after their fierce rivals were snubbed, with Real recruiting the Welshman for a world-record fee of €100m instead. A lot of money to pay for a player who back in May was only their second choice.
Follow Ben Hayward on