The summer signing from Malaga stole the show and got his side out of jail with a late headed winner, but his team need to find a better balance to enjoy success this season
COMMENT
By Ben Hayward | Spanish Football Writer
Persistence paid off for Real Madrid in the end. With four minutes left on the clock and a disappointing draw looming at home to Betis, Isco intervened to ensure the Carlo Ancelotti era began with a victory. But the new coach was fortunate to be heading home with all three points – and the Italian inquest starts now.
Buoyed by a prolific pre-season which had brought wins over Chelsea, Inter and Paris Saint-Germain, Madrid approached La Liga's opening weekend with confidence and cheer. But Betis had done their homework and the Andalusians took a first-half lead, should have doubled their advantage afterwards and came oh so close to leaving with a creditable point. "We rowed so far," Betis boss Pepe Mel mused following the final whistle. "But we ended up on the shore."
Ancelotti, meanwhile, was unhappy with his side's defending despite the three points. When Madrid had the ball, the four-man midfield of Isco, Mesut Ozil, Luka Modric and Sami Khedira moved menacingly, but only the ex-Stuttgart man and the Croat were winning the ball back. "Isco and Ozil have to learn how to defend," their coach claimed. "We need quality players, but they must work defensively. That's the key to this season, finding the balance with quality players."
TATA TENURE STARTS WITH A BANG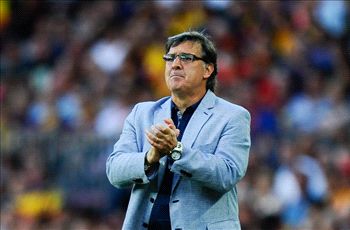 It was a symbolic scoreline. Barcelona's brilliant 7-0 win over Levante at Camp Nou on Sunday saw Gerardo Martino's reign begin with goals aplenty – even if the visitors were desperately poor.

Barca's painful 7-0 aggregate defeat to Bayern Munich in the semi-finals of last season's Champions League is still fresh in the minds of many Blaugrana fans, but Tata's tenure began positively with a rampant result on Sunday. Barca pressed with intensity, won the ball back quickly and attacked clinically as they raced into a six-goal lead at the break before taking their feet off the pedal in the second half, but it was a modest Martino who spoke after the game. "We didn't do any new things," he explained. "Only things that were saved or archived."

Credit to Barcelona for a dynamic display but, while Real's rivals Betis seem set to challenge for a Champions League spot this term, Levante look like relegation candidates. "We played like Santos," coach Joaquin Caparros said afterwards, in reference to the Brazilians' 8-0 loss in the Gamper Trophy earlier this month. "It was like we were here for a tribute match."

So a spectacular start to Tata's tenure at Camp Nou, but tougher tests await for this Barca side.

And he is right. Under Mourinho, Madrid were content to cede the possession to their rivals, sit deeply in their own half and hurt teams on the break. This meant most of the players were in position to defend when necessary but saw Madrid struggle against teams who sat back to soak up the pressure.
Ancelotti's idea is different. "It is better to press high up [the pitch] and not to use counterattacks, but to play football and have possession of the ball," he explained on Saturday.
Such a system, however, requires incredible discipline from the midfield men and Madrid missed the muscle and the interceptions of Xabi Alonso on Sunday.
Playing with impressive intensity in midfield, Betis cut Madrid open almost at will in the first 45 minutes and another concern for Ancelotti will have been the performance of his defenders. Cedric waltzed past Sergio Ramos with ridiculous ease in the lead-up to the visitors' goal, with Pepe beaten in the challenge by scorer Jorge Molina and Dani Carvajal caught out of position on a number of occasions at right-back. The canterano could also have given away a penalty for a challenge on Cedric, although replays proved inconclusive.
Betis came desperately close to a second as summer signing Joan Verdu fired just wide. "To win here you need to score a second goal," Mel added. "We understood the game well, but the key was not scoring the second goal."
Karim Benzema levelled for Madrid but the Frenchman frustrated in equal measure, sending several shots into the stands when he should have hit the target, getting caught offside on numerous occasions and failing to match the work-rate of some of his colleagues. He later left the pitch with jeers ringing in his ears and despite his goal, Madrid could genuinely do with signing a striker this summer to compete with the former Lyon man. Perhaps even instead of Gareth Bale.
But Bale will not be the four-letter name on Madridistas' lips on Monday. Instant hero Isco instead dominates the headlines in a performance which saw him set up Benzema's strike with a threaded pinpoint pass, head home the winner and then produce a brilliant nutmeg as Madrid closed the game out. "It's the first league game," the summer signing said. "We will have to improve a lot but we have just started and we have added three points."
Isco's integration gives Madrid much more quality in their new possession philosophy, but he and his team-mates must add defensive discipline to their game in order to get the best out of Ancelotti's attacking system, with Cristiano Ronaldo roaming dangerously behind Benzema and the midfield pressing high up the pitch to squeeze the space. When it clicks completely, it will be quite something. But there is still some work to be done.
Follow Ben Hayward on