The Brazilian arrived amid much fanfare in 2009, but has failed to live up to expectations following his €65m move and is now set to depart before the transfer window slams shut
COMMENT
By Ben Hayward | Spanish Football Writer
His signing signalled a new era. Florentino Perez returned to the Real Madrid presidency in the summer of 2009 and in came Kaka – the first flagship fichaje of a fresh and exciting project. But four years later, the Brazilian is ready to depart through the Bernabeu back door – an expensive error who failed to hit the heights.
Kaka was the first Galactico in the second Perez project, his arrival catching the imagination of fans and providing early signs of hope as Madrid looked to bounce back from the dominant displays of fierce rivals Barcelona in 2008-09. And at €65 million, the 2007 Ballon d'Or winner became the world's second-most expensive player upon moving from AC Milan.
Cristiano Ronaldo followed from Manchester United in a deal which caused outrage due to the staggering sum spent by Madrid in the middle of a global financial crisis. Yet fast-forward four years and nobody now questions the outlay on the Madeira-born forward, whose 201 goals in as many games represents the greatest strike-rate of any player ever to grace the famous white shirt. Kaka, by comparison, has provided no such value for money. Bought for €65m and paid a handsome €10m annually after tax, the cash splashed on the former AC Milan man has largely gone to waste.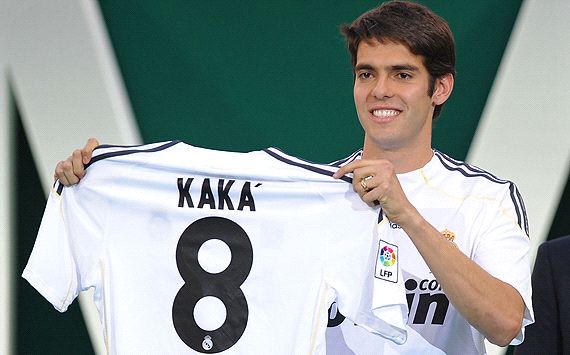 All smiles | Kaka is unveiled in 2009 following his big-money move

Kaka had his moments, of course, but those were too few and too far between. A nice guy who always hoped to triumph for the Spanish side, he has instead been seen as more a burden than a boost to Madrid these last four years.
The Brazilian's debut campaign under Manuel Pellegrini was blighted by injury problems and he was restricted to just 33 appearances, scoring nine goals. When he was fully fit, it was often claimed, he would shine.
Yet his second season was much more disappointing. Kaka put his body on the line to turn out for Brazil at the 2010 World Cup and returned to Real Madrid in a sorry state, needing knee surgery which kept him out for several months. When he eventually returned, coach Jose Mourinho enthused that Kaka was "like a new signing", but his impact was again reduced: 20 appearances and seven goals in 2009-10.
Kaka was then linked with a summer exit, but vowed to stay and succeed. "I won't leave until I have triumphed at Real Madrid," he promised. It sounded good.
The 2011-12 season was his happiest as he stood in for the injured Angel Di Maria and went on to play 40 games in all competitions. Madrid won La Liga and Kaka produced some polished performances – albeit well below his brilliant best in San Siro. "Kaka had his best games at AC Milan," Mourinho said after a particularly impressive show by the Brazilian against CSKA Moscow. "But he has never worked harder than now. He puts in a fantastic shift for the team."
KAKA AT REAL MADRID: 2009-2013


Total games
Goals
Assists
La Liga titles


Total trophies



120
29
32
1
3

But Kaka invariably shone against the lesser lights like CSKA, while struggling when faced with high-tempo teams. Betrayed by a faltering frame and plagued by fitness troubles in his time in Madrid, the game would often pass the Brazilian by and Mourinho, despite his generous praise, was keen to move the player on in the summer of 2012.
So were Madrid. But no clubs were willing to take a €20m gamble on the playmaker, while his wages also presented a stumbling block. And in any case, Kaka was keen to stay and see out a contract which runs until 2015.
Things have changed, however. Kaka was optimistic he would play an important part under his former AC Milan boss Carlo Ancelotti, but he has been ignored in Madrid's opening two games of the current campaign and has now admitted his desire to depart as he seeks a place in Brazil's squad for the World Cup next summer.
"I want to leave," Kaka told reporters after scoring twice in the 4-0 win at Deportivo La Coruna in the Teresa Herrera Trophy in Galicia on Thursday. "I think now is the right moment for me and for the club for me to leave amicably. I have spoken to Carlo Ancelotti and with the club. They all know."
Florentino knew too and had hoped to stop Kaka from speaking in Coruna. The Madrid president is set to secure the services of another Galactico over the next couple of days as Gareth Bale arrives, but as the Welshman wings in, the Brazilian should shuffle silently out through the back door.
His was a dramatic decline: from the Ballon d'Or to the Bernabeu bench, Kaka will go down as a fancy flop who cost Madrid more than €100m over four seasons. So with two years left on his current contract and nowhere near the level he was expected to reach in Spain, the Real board will now just be relieved to see the 31-year-old removed from their expensive wage bill and the player himself happy to be playing football again if a transfer can be agreed before the window slams shut on Monday. A satisfactory solution, perhaps, but far from the "triumph" he and Madrid had hoped for.
Follow Ben Hayward on