In light of Diego Simeone's claims that Spain's top flight is uninteresting because only two teams can win it, two of our experts look at the pros and cons of the Primera Division
DEBATE
By Carlo Garganese & Ben Hayward
It is often described as the game's greatest competition, is home to many of the world's finest footballers and a handful of the planet's most celebrated clubs. But is La Liga boring?
So says Diego Simeone. The Atletico Madrid coach claimed on Monday that his side have no chance of winning the Primera Division and dubbed the competition 'boring' because, in his opinion, only Barcelona and Real Madrid can win it. "Madrid and Barcelona play a different championship," the Argentine explained. "This is a boring championship."
Simeone's side finished third in La Liga last season, 24 points behind champions Barcelona, and the former Argentina captain believes no other team will have a chance of glory until television money is distributed more evenly. "We will have to wait for television distribution to change because at the moment La Liga is only between two teams," he said.
So does he have a point? Goal experts Carlo Garganese and Ben Hayward go head to head to debate whether La Liga is losing some shine. Brilliant or boring? Here's what they said:
"CLASICO DOMINANCE MAKES A MOCKERY OF LA LIGA"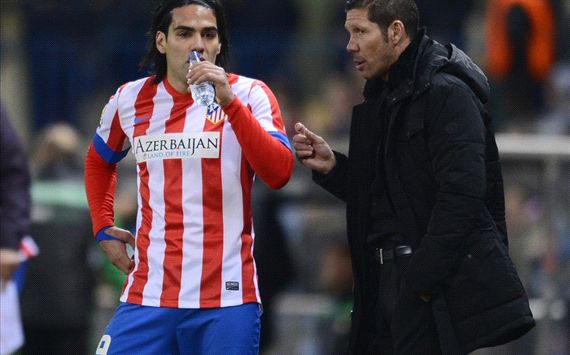 By Carlo Garganese
As a neutral football fan, I desire a competitive and fiercely-contested league where more than two teams can realistically challenge for the title – with quality spread throughout the competition.
This is simply not the case in Spain. Not only is La Liga a two-horse race, the gulf in class between the Clasico couple and the also-rans is astronomical. In the last four seasons, an average of 21 points has separated second place from third. It makes a mockery of the division.
Barcelona and Real Madrid monopolise the television revenue, making it impossible for anyone else to compete, and as a result they horde all of La Liga's top talent. Aside from Thibaut Courtois – who is not even owned by Atletico Madrid – not a single player from the 18 poor relations would make the starting XI for either Madrid or Barca.
With the financial crisis (40 clubs in Primera and Segunda owe €4 billion in total debt) and the mass summer exodus of players from La Liga, this season is due to be the most uncompetitive yet. I would not rule out both Madrid and Barca reaching 100 points.
Barcelona and Madrid play scintillating football, and I would choose to watch them over most teams in the Champions League. The likes of Atletico Madrid and Athletic are also very easy on the eye. Spanish football is not "boring", but the Spanish league as a competition is boring.
For those who still blindly defend La Liga – ask yourself this question. Would you not prefer to rewind to the turn of the millennium when the likes of Valencia and Deportivo were dripping with talent and winning championships – a period when Spain was also performing better in the Champions League? Or would you rather a league where Barca and Madrid rack up rugby scores by half time?
I know what I would prefer.
Follow Carlo Garganese on

"AN EXCITING ERA FOR SPANISH FOOTBALL"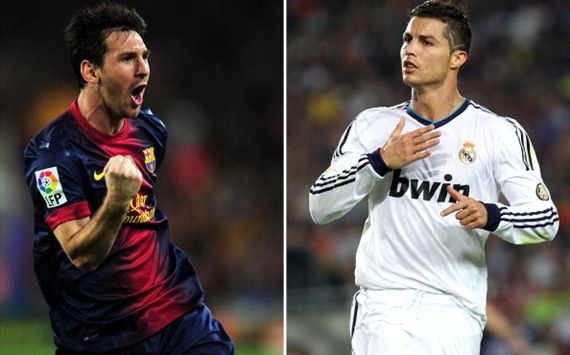 By Ben Hayward
Simeone is right when he says only Barcelona and Real Madrid can win La Liga at the moment, but he is wrong to call the Primera Division boring.
We have been fortunate to witness a fascinating duel between Barcelona and Real Madrid over the last few seasons, spearheaded by the world's two finest footballers: Lionel Messi and Cristiano Ronaldo. The battle between those two is a joy to behold and will continue this term. And on top of that, the arrival of Neymar to Barca, Isco to Madrid and possibly Gareth Bale to follow means the big two are likely to be even more exciting to watch in the current campaign.
Of course, while those two are stronger, many of the other elite Spanish sides have been forced to sell to clear debts this summer. Malaga have sold most of the side which made the Champions League quarter-finals last season, while Atletico Madrid lost Radamel Falcao, Valencia sold Roberto Soldado and almost every team in the Primera Division saw one of their top talents move on.
But there is still plenty to admire in La Liga outside Madrid and Barcelona: Valencia have signed exciting Colombian striker Dorlan Pabon to replace Soldado and look set to compete under Miroslav Djukic, Atleti will be exciting with David Villa in for Falcao, and Athletic Bilbao seem strong with Ernesto Valverde as coach and Benat in midfield.
Sevilla have also strengthened well despite the departures of Jesus Navas and Alvaro Negredo and Betis showed on Sunday at the Santiago Bernabeu that they can be a match for anyone on their day, losing out late to Real Madrid in a match they could even had won.
So while it is indeed a shame that only two teams can compete for the title, the array of top talent in the Primera Division – in what is such an exciting era for Spanish football – means La Liga is anything but boring.
Follow Ben Hayward on