Bayern and Dortmund have 13 players on our list of the planet's finest for 2012-13, compared to seven played from last term's La Liga. A significant shift in supremacy?
ANALYSIS
By Ben Hayward
The tide turned in 2012-13. While Spanish sides Barcelona and Real Madrid set out as the two favourites for the Champions League, the final of Europe's elite club competition was an all-German affair: Bayern Munich against Borussia Dortmund. Bayern won it all in the end, beating BVB in the Wembley showpiece to complete an historic treble while Barca and Madrid licked their wounds.
Germans were on top last term and, although Barca's brilliant Lionel Messi walked off with our Goal 50 prize for the finest footballer over the course of the season, Bundesliga presence on the list grew greatly compared to last year's selection.
Only five German-based players made the Goal 50 list in 2012, with BVB's Marco Reus the highest of them all in 22nd place and Mario Gomez (28th) the sole Bayern player incuded, while 17 Spain-based stars made the final 50 and six finished in the top 10: Sergio Ramos (Real Madrid, 10th), Xavi, Andres Iniesta and Lionel Messi (all Barcelona; seventh, fourth and third respectively), Iker Casillas (Madrid, second) and winner Cristiano Ronaldo (also Real).
This time, however, the swing has proved dramatic. There is no Xavi, no Ramos, nor Casillas on the latest list at all, while Iniesta is down in 19th and one of just two Barca players to make the cut along with winner Messi (Neymar is also included in 14th but has only just joined the Catalan club). Likewise Isco at Madrid, whose only representatives are Ronaldo (in third this time) and French defender Raphael Varane (37th). Including Isco, who played at Malaga last term, seven of this year's selection played their football in Spain during 2012-13.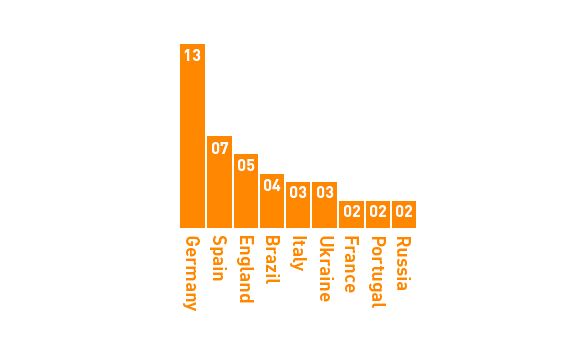 The Bundesliga has 13 stars in the 50, more than La Liga and the Premier League combined
By contrast, Germany boast 13 players in the Goal 50 list this time, including second-placed Franck Ribery, Thomas Muller (fourth) and Arjen Robben (fifth). They are three of nine Bayern stars to have made the final selection and four BVB players (including Lewandowski in 15th and 26th-placed Mario Gotze, who has since crossed the divide by making a move to the Allianz Arena).
Last year, Spain's cause was aided by their superb win at Euro 2012, while Real and Barca both enjoyed strong seasons. Jose Mourinho's Madrid claimed La Liga and Pep Guardiola's Barca added four trophies to their collection in 2011-12 before the international summer showpiece cemented the reputations of many of the players from both sides. Bayern, meanwhile, ended that season without a trophy.
The 2012-13 season was different. Madrid were in turmoil in the latter part of the campaign as Mourinho's reign came to a controversial conclusion and although Barca accumulated a joint-record 100 points in La Liga, the Catalans' capitulation at the hands of Bayern in the Champions League semi-finals seems to have counted against them in this list. Barca lost 7-0 on aggregate to the Bavarians and are down 9-2 to the treble winners in this year's Goal 50 selection. Spain's poor performance in the final of the Confederations Cup (lost 3-0 to Brazil) also contributed to La Liga's dwindling numbers on the latest list.
Winner Messi is based in Spain, of course, but Bayern's Franck Ribery came desperately close to sealing the prize this year and could yet go on to win the Ballon d'Or next January. Former France, PSG and Tottenham winger David Ginola told Goal: "Ribery had a fantastic season with Bayern Munich, probably his best season so far. He won trophies, he was part of that, he provided so much, he was very consistent. I liked the way he was involved, defending well, attacking well, scoring goals, assisting goals.
"I don't think he should think about [the Ballon d'Or]. Sometimes in life things come out of the blue. What I mean is when you think too much about something, sometimes you never get it. Don't think about it too much and you will get it."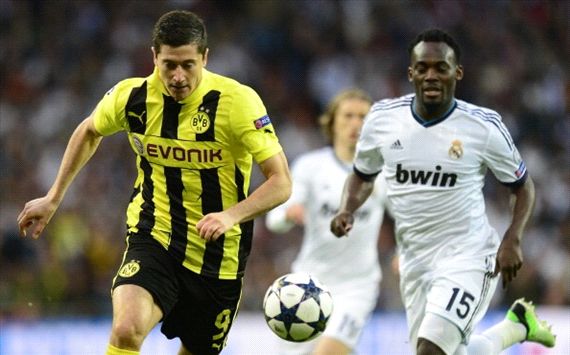 Pole dance | Lewandowski scored four as BVB beat Madrid 4-1 last season
But can the Germans' presence on this list be transferred to next season and the following Goal 50 or will Spain's sub-standard showing be seen as merely a blip in 2014? And is the Bundesliga now stronger than La Liga?
"I wouldn't say Germany has overtaken Spain [as the strongest league] but they are on a par with them now," former Germany and Liverpool midfielder Dietmar Hamann told Goal. "I would be careful to jump to conclusions based on last season's Champions League outcome [but] the top two Germans were clearly far better than the top two Spanish teams."
Despite defeat to a Dortmund side still looking strong at the weekend, Bayern's terrific team is well established and with Guardiola at the helm plus the summer signings of Mario Gotze and Thiago, the Baviarans could conceivably be even stronger in 2013-14 – which is ominous indeed for everyone else.
"Bayern are very powerful," former Villarreal midfielder Marcos Senna told Goal. "They have a tradition for reaching finals and they enjoyed an extraordinary end to the season, winning all three titles. I think that with the players they have and with the coach they have, they will be there fighting for the major titles and I am sure they will win more."
But the Brazilian-born star, part of the Spain side which beat Germany in the final of Euro 2008, believes La Roja's representatives will bounce back in 2013-14. "It's a moment," he said. "People said Barca's cycle was over last season, but I don't believe that. They are still strong, Madrid are strong and the two can go on competing for titles while Spain, along with Brazil, will be the favourites to win the World Cup next year."
Madrid and Barca both start the coming campaign with new coaches and amid much optimism. In theory, the two teams should be stronger.
Madrid have strengthened by bringing in the impressive Isco, while addressing their right-back problems with the signing of their former youth player Dani Carvajal and also added the talented young Spain star Asier Illarramendi to their ranks in midfield. Top target Gareth Bale could also arrive from Tottenham, while a new striker (possibly Liverpool's Luis Suarez) may join, leaving new coach Carlo Ancelotti with a wealth of talent at his disposal.
New Barca boss Gerardo Martino can also count on a strong squad, bolstered by the spectacular summer signing of Neymar plus the imminent arrival of a centre-back to solve the Catalans' long-standing defensive troubles, which left them exposed in the big games last season. In Martino, Barca will also benefit from a coach who will be around on a full-time basis following the unfortunate situation which saw previous boss Tito Vilanova forced to take time out for cancer treatment at a crucial point of last season.
As Senna suggests, Spain's success at international level in recent years means they will indeed be among the most fancied to win in Brazil next summer. Germany, meanwhile, are also among the favourites but Joachim Low's men are not really expected to be crowned champions at the Maracana in 2014.
La Roja remain stronger than Germany at youth level also and reclaimed the Under-21 European Championship earlier this summer, so while the Bundesliga's brilliance looks set to stay for some time to come, Spanish success seems equally long-lasting as their national team seeks yet another triumph after winning Euro 2008, the 2010 World Cup and then Euro 2012 back to back. With Barca and Madrid primed for special seasons to rival Bayern in Europe, too, Deutsch dominance is unlikely to be so emphatic in 12 months' time and La Liga's lustre should see Spain bounce back in 2014.
Follow Ben Hayward on