The decision of Spanish courts to destroy evidence that could link players with the taking of performance enhancing drugs risks tainting the game's battle against cheating
COMMENT
By Peter Staunton
If a claim from one of sport's most notorious doping doctors that he worked with footballers is not sufficient to provoke a response from the game's governing bodies then what is?
Eufemiano Fuentes, the doctor convicted this week in a Spanish court of endangering public health, has seen his medical legitimacy obliterated by continued and substantial links to the murky field of doping in sport.
He was given a one-year suspended jail sentence on Tuesday, as well as being struck off the register for four years, for providing blood transfusions to cyclists. Fuentes was one of the main players implicated in the high-profile stings Operacion Puerto and Operation Galgo, during which quantities of illegal performance enhancing substances were discovered on his premises. He faced trial on public health grounds as doping in Spain was not illegal at the time.
Distressingly for Spain's Anti-Doping Agency (AEA), as well as the World Anti-Doping Agency (Wada), judge Julia Patricia Santamaria ruled that all evidence pertaining to the case should now be destroyed. That body of evidence contains some 211 frozen blood bags found on Fuentes' premises during the raids as well as relevant documents. The bags of red blood cells and plasma would unquestionably identify athletes who worked with Fuentes. AEA has 10 days to appeal the decision to destroy the bags, which it intends to do.
"We do not consider this the end of the process. We will now use all resources at our disposal to investigate further," AEA chief Ana Munoz told BBC Radio 5 on Tuesday.
The destruction of those blood bags would mean a huge opportunity missed for the world's anti-doping bodies and the Fuentes trial, a potentially crucial watershed moment, would become a washout.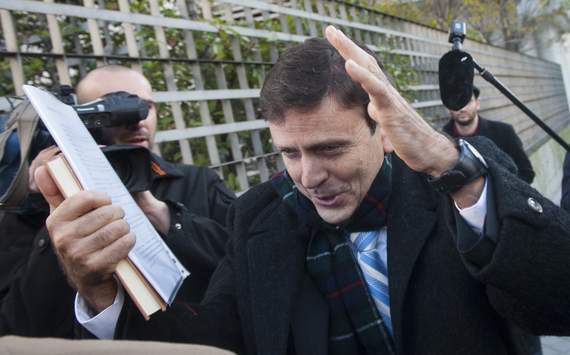 Guilty | Convicted doctor Eufemiano Fuentes claims he has worked with footballers
Judge Santamaria, early in the trial, ruled that Fuentes was not obliged to identify clients beyond the cyclists whose names are already in the public sphere. For a country keen to shed its image of being soft on doping offences, the verdict in the trial is a disaster, especially with Madrid's designs on hosting the 2020 summer Olympic Games in mind. President of Spain's Olympic Committee, Alejandro Blanco, sees things similarly.
Quite simply if Spanish authorities fail to take command of this emerging sporting crisis, doping, then there is the danger that recent achievements in tennis, basketball and football will forever be tainted.
Fuentes has admitted to the court that he worked with athletes across a number of different sports, including football, and that cyclists made up only a percentage of his patient body. He has had uncomfortably close links with football in recent times and questions remain regarding his proximity to it.
To what extent is football implicated in the Fuentes affair?
"They were sports people of all kinds," Fuentes told the court in February. "It could be a cyclist from a cycling team, a footballer from a football team, a tennis player or a boxer. There were also athletes." Until the full extent of this relationship with football players and teams is put under scrutiny then the sport could be seen as complicit by silence.
Is football the new cycling?
Jorge Jaksche, a German road cyclist who had his career ended due to his involvement in Operacion Puerto, believes that Fuentes treated players during the 2006 World Cup in Germany. After the raids, Jaksche co-operated with investigators who asked him whether he had been treated by Fuentes in Frankfurt in 2006.
He is convinced that, following a Europe-wide investigation into Fuentes' practices, the trail led to footballers participating in the World Cup. "Normally he would only go to Germany if there was a stage of the Tour de France there but I think the truth is in 2006 there was the soccer World Cup in Germany and the German police knew something about it but didn't have the whole information," Jaksche said.
Fellow cyclist Jesus Manzano, who blew the lid off the Operacion Puerto affair, is on record as stating that he saw footballers come and go from the clinic in Madrid. AEA has appointed captain Enrique Gomez as its special investigator to examine the evidence gathered in the Fuentes affair. He worked previously for the Guardia Civil and was involved with Operacion Puerto. He has also spoken on numerous occasions to Manzano, who has provided the captain with names of athletes he alleges worked with Fuentes.
The doctor, for his part, has also offered to collaborate with investigators. "If they felt I was useful and they asked me, I would consider it and would be willing. What I don't know is if what I would give them would be worthwhile to them or not," he said at trial.
One last, desperate attempt at a bargaining tool? Fuentes' career is in tatters and he needs to salvage what he can. Football might be soon confronting the same issue.