Goal crowns the best and worst from Spain over the course of the season
Unlike Europe's other major leagues, Spain's Primera Division has yet to reach its conclusion in 2012-13, with two rounds of La Liga still scheduled before the season finally finishes on the first weekend of June.
However, Barcelona have already been confirmed as champions after an impeccable campaign which could yet see the Catalans' equal Real Madrid's points record of 100, set last season by Jose Mourinho's men.
The Portuguese will depart this summer with Madrid in second, while Atletico Madrid will claim third place in La Liga. Real Sociedad and Valencia continue to battle for fourth, as a number of sides scramble to avoid the drop at the foot of the table.
But what of the other winners and losers? Who have been the best players and coaches in the league season? And what of the worst? Goal hands out the individual awards at the end of another absorbing nine months of football in Spain.
BEST GOALKEEPER
Willy Caballero (Malaga)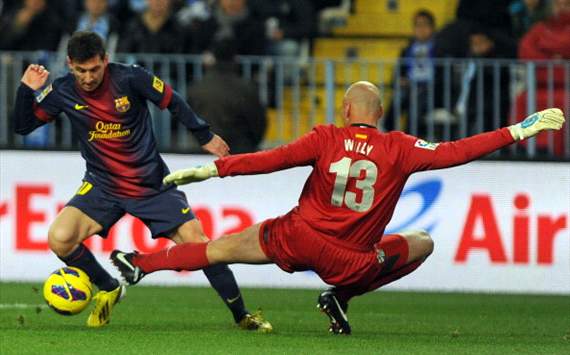 Goalkeepers have hit the headlines in Spain this term. At Real Madrid, club captain Iker Casillas was dropped by Mourinho and subsequently left out as the Portuguese preferred Diego Lopez, while Victor Valdes announced his intention to leave Barcelona earlier this year. Elsewhere, Thibaut Courtois has been brilliant for Atletico and proved the hero as his side claimed the Copa del Rey by beating Real at the Bernabeu on Friday night, but away from the spotlight, Malaga's Willy Caballero has been a revelation in 2012-13, consistently producing world-class displays and rarely making mistakes in what has been another memorable campaign for the Andalusians, and for the Argentine personally.
BEST DEFENDER
Sergio Ramos (Real Madrid)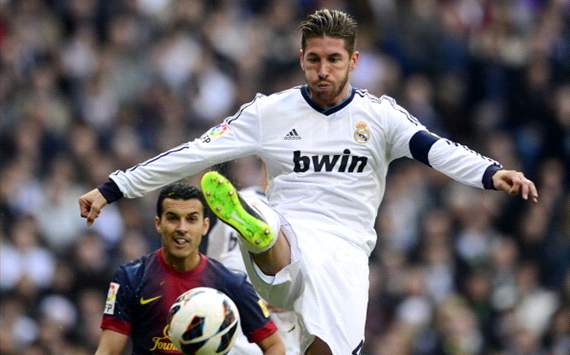 Sergio Ramos made the permanent switch from right-back to central defender in 2011-12 and looked assured in the role as Madrid stormed to the title. This term, the Seville-born star has had to take on extra responsibilities in the absence of captain Casillas and has also acted as the perfect mentor for youngster Raphael Varane, with the two forming a promising partnership at the back for Mourinho's side. Ramos still needs to improve his disciplinary record but, at 27, is already a world-class central defender with impressive leadership qualities and a useful eye for goal as well. His winner in the Clasico against Barcelona will have been a personal highlight.
BEST MIDFIELDER
Andres Iniesta (Barcelona)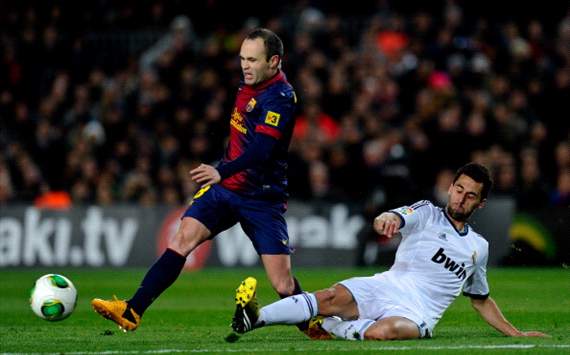 Andres Iniesta was Spain's standout performer at Euro 2012 and the midfielder carried that form into the current campaign with Barcelona. He may have only scored twice in La Liga, but 15 assists (including three in the 4-0 win at Levante) prove just how important he has been to the Catalan club in their recapturing of the title in 2012-13. And perhaps the ultimate compliment would be to say that, over the last year, he has been more important to club and country than probably the greatest central midfielder in modern times, team-mate Xavi Hernandez.
BEST ATTACKER
Lionel Messi (Barcelona)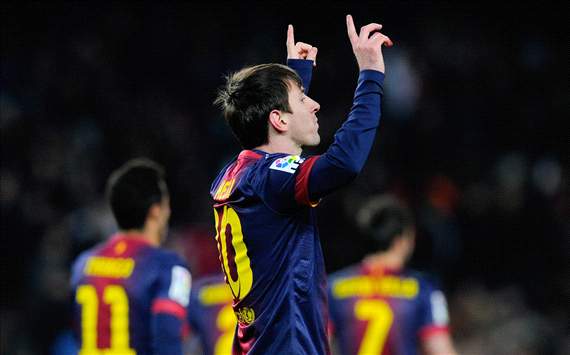 Who else? Despite a hamstring injury which has restricted his Premier Division participation in recent weeks and already curtailed his season, Lionel Messi remains the star man in the current Liga campaign. He won't now be able to surpass last season's league total of 50 goals, but 46 in just 32 games represents a remarkable ratio and the Argentine's 21-game scoring streak in the competition may never be beaten. The 25-year-old also has 12 assists this term in La Liga and has played a pivotal part in the title returning to Catalunya in 2012-13.
BEST YOUNGSTER (Under-21)
Raphael Varane (Real Madrid)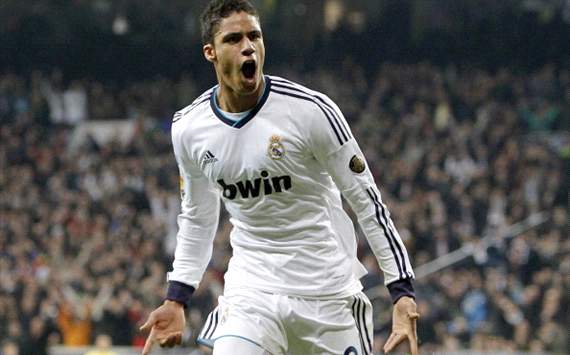 Raphael Varane has also seen his season ended by injury. The 20-year-old Frenchman injured his knee in the draw at Espanyol recently and subsequently required surgery which has ruled him out of the club's remaining fixtures, including Friday's Copa del Rey defeat against Atletico. But Madrid fans will be able to enjoy his talents for many years to come. The youngster, who only signed in 2011, has formed an impressive tandem with Ramos and stepped up seamlessly to the highest level in all competitions.
BEST COACH
Diego Simeone (Atletico Madrid)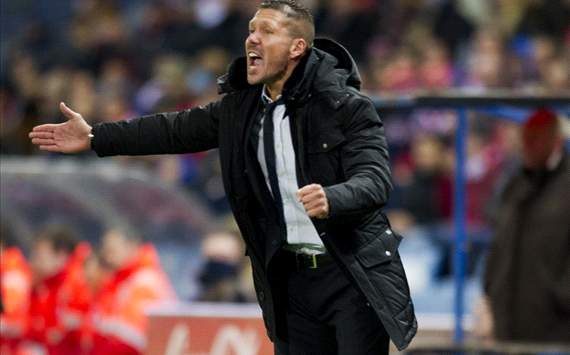 Diego Simeone led Atletico to their first victory over neighbours Real Madrid in 14 years on Friday as los Rojiblancos claimed the Copa del Rey, but the Argentine's special side haven been arguably even more impressive in La Liga and already sealed automatic Champions League qualification for next term by securing a top-three finish. "We give hope to the smaller teams everywhere," he said recently. And with around €400 million less in budget than Real, they have matched their city rivals almost all season in the Primera Division. Much of the credit for that must go to Simeone.
BEST TRANSFER
Aritz Aduriz (Valencia to Athletic Bilbao)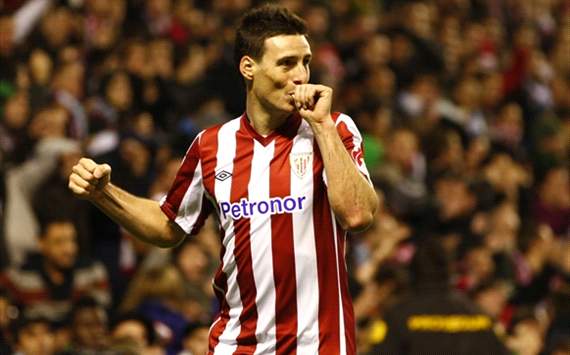 Athletic Bilbao boss Marcelo Bielsa told reporters last summer that he had not asked the club to sign striker Aritz Aduriz. Some nine months on, however, and the Argentine must be glad the forward was brought in from Valencia in a cut-price €2.5 million deal. Aduriz has struck 14 times in La Liga to make light of the poor form of Spain striker Fernando Llorente (who will join Juventus this summer) and help preserve the side's Primera Division status in what has been a complicated campaign.
WORST TRANSFER
Alex Song (Arsenal to Barcelona)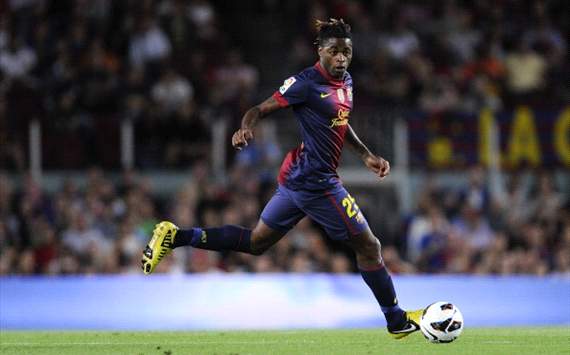 Alex Song is not a bad player, but his summer signing for Barcelona remains a highly questionable piece of business from the Catalan club. Priced out of a move for Javi Martinez, coach Tito Vilanova sought to sign a player capable of covering both defence and midfield following the decline of Carles Puyol and the departure of Seydou Keita. He chose Song. But the €19 million could surely have been better spent on a player they actually needed other than the Cameroonian, who has featured mainly as a substitute this season, occasionally in defence where he is not the solution and mostly in midfield, which was already overcrowded anyway. An expensive and strange signing.
BEST PLAYER
Lionel Messi (Barcelona)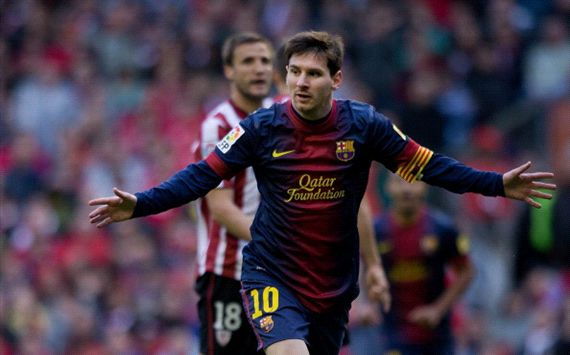 As usual, Messi has been the inspiration behind Barcelona this term. While Jose Mourinho controversially claimed last season that the Argentine's 50 league goals "meant nothing" because the title went to Real Madrid, the 25-year-old's 46 strikes in La Liga this term have ensured the Primera Division is heading to Catalunya for the fourth time in five seasons. He has been the shining star, scoring in 21 straight games and netting 46 in 32 league goals overall in 2012-13. It's another incredible season from the Argentine, comfortably better than anyone else in La Liga this term, including 34-goal Cristiano Ronaldo.
WORST PLAYER
Jose Callejon (Real Madrid)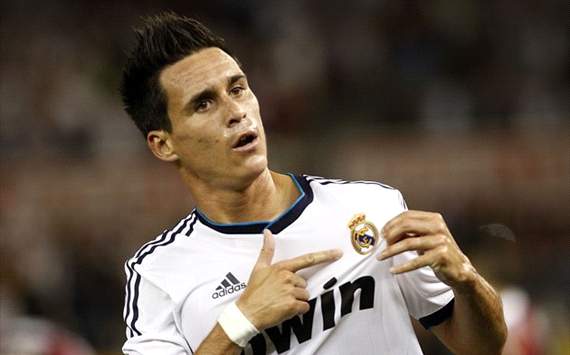 If there is one player who sums up the difference between Real Madrid's league form in 2011-12 and this season, it is Jose Callejon. The winger was superb in Mourinho's second season at the Santiago Bernabeu after signing from Espanyol, scoring five times in the Primera Division and netting 13 goals overall, with many believing he was worthy of a place in Spain's Euro 2012 squad. But following a wretched current campaign with only one league strike, that seems a million miles away now. Based on this term's form, Callejon will be very lucky if he is still a Madrid player next season.