There has been a growing consensus over the last few years that the current Barca are the best in history but Carlo Garganese disagrees following Wednesday's thumping
COMMENT
By Carlo Garganese
"Barcelona are the greatest team of all time."
Marcello Lippi, Sir Alex Ferguson, Zlatan Ibrahimovic and Ronald Koeman are just a handful of the prestigious names to proclaim that the current Barcelona are the best we have ever seen.
Many of the superlatives that have been showered on the five-time European champions over the last few years are richly deserved. There is no doubt that the Blaugrana have been among the finest in history, inspired by the incomparable Lionel Messi and two iconic midfielders in Xavi and Andres Iniesta, but some of the flattery is short-sighted and ignores the past. An ignorance that is worth highlighting following Barcelona's second successive Champions League semi-final exit, to Bayern Munich on Wednesday, a crushing 7-0 aggregate defeat which probably signals the end of the Catalans' period of dominance.
Comparing teams from different eras is always a thankless task. Football has altered and evolved immeasurably in the last few decades. Modifications such as the backpass and offside rule have created more attacking football, whereas the introduction of synthetic footballs, stricter referees and the multi-ball system have spawned a completely different environment.
Improvements in technology, training and medicine (as well as the destruction of blood bags!) mean that footballers will continue to get faster, fitter and stronger, but that doesn't mean today's players are better. It just makes them more suitable to their surroundings.
The definition of greatness is open to debate. Is it all about success? Argentina's 1986 World Cup winning coach Carlos Bilardo, who was notorious for his win at all costs ideology, remarked: "Football is played to win. You have to be first. Second is no good, second is a failure."
If this is true, then the current Barcelona cannot be considered the greatest club team of all time. At least on a continental level. Taking the appointment of Pep Guardiola as coach in 2008 as the starting point of this Barca cycle, the Blaugrana have since won two Champions Leagues in five seasons, reaching the semi-final in the other three campaigns.
Barcelona failed to defend a European Cup crown like the last team to do so in 1990, the AC Milan of Arrigo Sacchi. If we prolong that Rossoneri generation to include the first spell of Sacchi's successor, Fabio Capello, then Milan actually captured three European Cups in five years, and made the final five times between 1989 and 1995. Far more impressive numbers than today's Barcelona.
Alfredo Di Stefano's Real Madrid lifted the first five European Cups, Johan Cruyff inspired Ajax to three successive trophies in the 1970s before Franz Beckenbauer immediately did the same for Bayern Munich. Eusebio's Benfica progressed to five showpieces in eight years (winning two) in the 1960s, Helenio Herrera's Inter retained their title in 1965, while Bob Paisley's Liverpool won the European Cup on three occasions between 1977 and 1981. All these teams achieved more in Europe's elite competition than the current Barcelona. As did, arguably, Carlo Ancelotti's AC Milan, who reached three finals in five seasons in the mid-noughties – claiming two. Were we to expand this discussion to South America, one could also consider Copa Libertadores and Intercontinental Cup protagonists from the 1960s like the Santos of Pele and Penarol of Alberto Spencer.
Of course, domestic success is relevant too, but with the exception of the Sacchi and Ancelotti Milan sides, all of the above generations dominated their local leagues – just as Barcelona have in capturing every La Liga title bar one since 2008-09.
Arsene Wenger would argue that greatness should be measured aesthetically. "The teams that remain in history are the ones that had style in their play, not just the ones that won trophies," the Arsenal manager stressed in 2003. Some of the most beautiful outfits failed gloriously – Hungary 1954, Netherlands 1974 and Brazil 1982 are three international examples – yet their legacies are legendary.
There is a split in opinion over just how entertaining Barca have been – detractors considering them incomplete and occasionally sterile – but what isn't in doubt is that no team has ever monopolised possession like Xavi, Messi & Co. The collective brand of one-touch tiki-taka passing is completely unique and their pressing high up the pitch equally revolutionary. This prompted Sacchi to concede that Guardiola's Barcelona had marked football's first tactical development since his Milan retained the European Cup in 1990.
"Football is played to win. You have to be first. Second is no good, second is a failure"

– Carlos Bilardo

But does this development make Barcelona the greatest club team of all-time? Not in this writer's view. There have been tactical innovations throughout history – from the W-M to the 4-2-4 to the 3-5-2 – and only last week former Italy star Gianluca Vialli proclaimed that Champions League finalists Bayern Munich and Dortmund were taking football into a new era where fitness and pressing supersedes possession and passing. Has the antidote to Barcelona's ground-breaking bane already been found?
What certainly must be taken into account is the strength of competition during any given period of dominance. Real Madrid's five successive titles were attained when the European Cup was a fledgling tournament and some European leagues were still semi-professional or regional, including Germany's. But the eras of Benfica, Inter, Ajax, Bayern, Liverpool and the two Milans were all at least comparable to the current age – certainly in terms of competition – with the latter two undoubtedly stronger.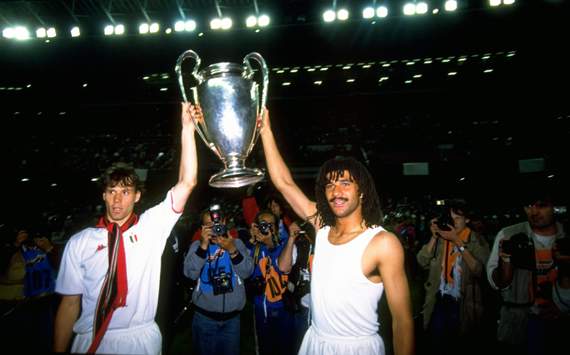 Dominance | Barca never retained the Champions League like Sacchi's Milan did
Barcelona's epoch would see European football monopolised by just a handful of rich, elite clubs. There have been few rivals for Barca both domestically and on the continent, and we currently live in an age where defences and defenders are at their weakest for half a century. Would Messi have scored 73 goals in one season back in 1989-90? No chance.
With the exception of Benfica, Ancelotti's Milan and perhaps Madrid, every other protagonist referenced dominated when their domestic league was not only the best in Europe, but also fiercely competitive. Just qualifying for the European Cup was a huge achievement with only the league winner granted access, even if the tournament itself was less gruelling than the current format.
Ultimately, Barcelona have not done enough to be ranked above the likes of Sacchi's Milan and Cruyff's Ajax. Up to 10 sides were more successful at the highest level of club competition, despite the current era being far from super-competitive. Barcelona's beauty and legacy are insufficient. The Spaniards needed to retain the Champions League at the very least and ideally win three or four finals in total to close the argument.
This is unlikely to happen now following their humiliating loss to Bayern. With Carles Puyol and Xavi hitting their mid-thirties, Victor Valdes leaving and stars like Dani Alves and David Villa past their peak, we have surely already seen the best of this Barcelona golden generation.
Follow Carlo Garganese on