A host of BVB players are the subject of reported interest from clubs around Europe but the Turk's story demonstrates the grass is not necessarily greener elsewhere
COMMENT
By Enis Koylu
It was a move that shouldn't have gone wrong. Nuri Sahin arrived at Real Madrid as the best player in Germany and a Bundesliga champion, ready to prove himself at the highest level and announce himself as the natural successor to Xabi Alonso.
A little under two years later, he is back at Signal Iduna Park after a failed loan spell at Liverpool, having struggled to establish himself in any way, shape or form at the Santiago Bernabeu.
He may have returned home, but Sahin does not look to be the player who left BVB – yet. The Turkey international has demonstrated his genius but his ordeal away from the club seems to have shattered his confidence and fitness.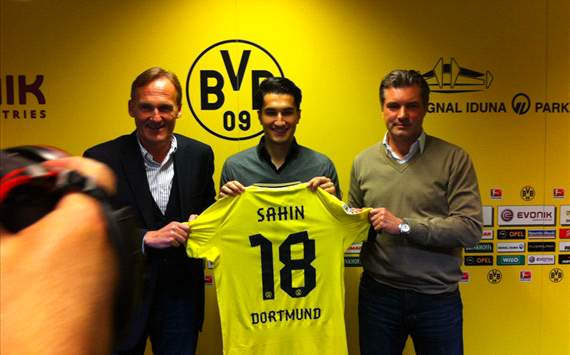 Welcome home | Sahin returned to his old club after 18 wasted months away
And now, many members of the team who Sahin led to the 2011 title find themselves in the same position. Mario Gotze's controversial move to Bayern Munich has been confirmed, with Robert Lewandowski set to follow him, if not to the Allianz Arena, then to Manchester United.
On the horizon, Mats Hummels is the subject of reported interest from Barcelona and Ilkay Gundogan, who has developed into one of the Bundesliga's finest midfielders in the last 12 months, openly admitted he would like to ply his trade in either England or Spain in the future.
Even Marco Reus, yet to complete his first season at his hometown club following his move from Borussia Monchengladbach, was reportedly careful to insert a €35 million buyout clause into his contract in case of any interest from Europe's big guns.
And it all goes to highlight how Borussia Dortmund, in the grand scheme of things, are still a small fish in the big pond of European football. Their progress since surviving a brush with bankruptcy under a decade ago has been remarkable, but they still do not have the prestige or financial clout to compete with the biggest clubs.
"Which player who has left us is happier now? Sahin? Kagawa? Barrios? No one!"

– Hans-Joachim Watzke

But the likes of Hummels and Gundogan should think twice before leaving. Though their talent is indubitable, their careers have been made by BVB, and more importantly coach Jurgen Klopp, who, together with sporting director and club legend Michael Zorc, have been the major reason behind Dortmund's revival.
His influence on the pitch is there for all to see, with the deposed German champions playing some stunning football and gatecrashing the European elite this season, but his ability to forge a strong unit and instill confidence in his players is what makes him all the more special as a trainer.
Shinji Kagawa, who left for Manchester United last summer, reportedly sobbed into his boss' arms for 20 minutes before departing the side, while club CEO Hans-Joachim Watzke has noticed the trend of players who have left the Signal Iduna Park outfit and failed to live up to expectations.
"Which player who has left us is happier now?" he asked in December. "Kagawa? Sahin? [Lucas] Barrios? No one."
For his part, Sahin was certain the atmospheres at the Bernabeu or Anfield were not like the one he left behind. "I can only play at 100 per cent when I'm happy. This wasn't the case at Madrid or Liverpool," he mused upon his return home.
"I can only play at 100% when I'm happy. That's why I wanted to return to Dortmund. I know where I want to be and I'm there now"
"That's why I wanted to return to Dortmund. I just hope this story will last for a long, long time. I know where I want to be, and I am there now."
Indeed, Kagawa, while a good workmanlike player for United and a Premier League champion, has largely failed to rekindle the form which saw him take Germany by storm at the tail end of last season, earning him a move to Old Trafford.
And there is no guarantee, then, that Gotze and Lewandowski will succeed away from BVB.
Gotze, who has been with Dortmund since he was eight years old, will find the competitive, win-at-all-costs atmosphere at Sabener Stasse a completely different proposition, where players are regularly scapegoated and hung out to dry, as Mario Gomez has discovered.
Meanwhile, it is worth remembering Lewandowski was a wholly unremarkable striker, useful only for his workrate, until he was promoted to the BVB first team last season thanks to a thigh injury Barrios sustained at the Copa America.
It is an effect we have often seen in teams who challenge the aristocracy. Arsenal have consistently lost players such as Nicolas Anelka, Emmanuel Petit, Cesc Fabregas and Samir Nasri, but have persevered as their old stars (with the exception of Robin van Persie) struggle to find the form that made them special in north London.
And so, when Hummels & Co. take up their places at the Santiago Bernabeu on Tuesday in the Champions League semi-final, they should pause for a moment to take a look at where Sahin sat on the Madrid bench and remember the grass is possibly greener at Signal Iduna Park.
Follow Enis Koylu on