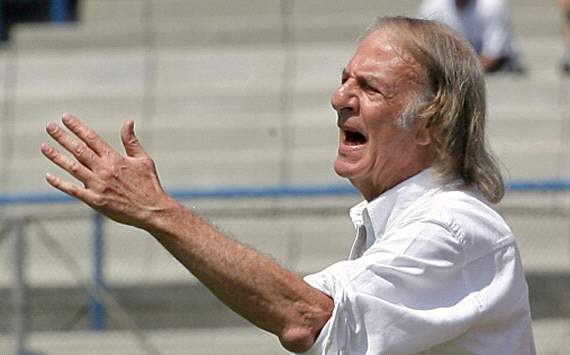 César Luis Menotti / Getty
Cesar Luis Menotti has praised

Barcelona attacker Lionel Messi,

claiming that the 25-year-old is from another planet.

The Blaugrana star has had an outstanding 2012, breaking record after record, and is on his way to overtake Gerd Muller as the most prolific striker over the course of calendar year ever to ply his trade in Europe.
Messi is also on the final shortlist for the Ballon d'Or, and could lift the award for a record fourth time if he beats the competition of Cristiano Ronaldo and Andres Iniesta.
"Messi is a Martian, it is amazing what he has accomplished," Menotti told Radio Xarxa
"There is no discussion, Messi is the best of the three [finalists for the Ballon d'Or]. He deserves the award because of his deep commitment to the team, his solidarity, cautiousness and respectfulness.
"When a goal is scored, he runs to hug his team-mates, he will not celebrate on the podium.

He then took the time to give his take on one of the other finalists, Cristiano Ronaldo, and commented on a possible move to Barcelona for Brazilian Neymar.
"Cristiano Ronaldo is individually significant, but he is a player who plays to win the game individually. When he does not, the team plays with 10 [men].
"If Neymar understands how to play in Barcelona, he has the conditions to be an important player. If a player does not understand that, he cannot play for Barcelona."