In the coming weeks, Goal.com will publish exclusive extracts from Richard Fitzpatrick's new book, El Clasico: Barcelona v Real Madrid, Football's Greatest Rivalry.


CLICK HERE TO ORDER A COPY OF EL CLASICO: BARCELONA V REAL MADRID, FOOTBALL'S GREATEST RIVALRY

Luis Figo won the Ballon d'Or award in 2000, the year he moved from Barcelona to Real Madrid, a switch that made him the most expensive player in the world. It would be hard to think of a football transfer that caused a greater ruckus.
When he returned to play in Barcelona for the first time in Real Madrid colours, armed police ran alongside his team coach for protection. Still the bus was ambushed by demented Barca fans. Four or five windows were broken. Real Madrid's players cowered on the floor as stones and bottles whistled past them.
He was, in Barca eyes, the worst kind of traitor – a pesetero, a money-grabber. Fans yelled "Die Figo", as he took to the pitch; noise levels, according to the sound metre that Canal Plus television had installed for the match, were higher than at any nightclub in town.
Anytime he ventured near one of the corners of the pitch objects, including coins, mobile phones, half-bricks, and a bicycle chain, rained down on top of him. When he played in the same fixture two years later, someone threw the head of a suckling pig at him while he prepared to take a corner.
"At first I wasn't sure," says Figo about his transfer across the great Spanish divide. "But once I arrived at Real Madrid, I'm glad I did because I came to the club to gain more prestige and to get better financial conditions. I wanted to play better football and win more titles."
Which he did – in his first three seasons at Real Madrid, Figo won a league title (2001), a Champions League (2002) and a second league title (2003). His move precipitated a shift in the balance of power between the two giants of Spanish football, just as it had done when Michael Laudrup, another traitorous character in the derby's morality play, departed Cruyff's Dream Team in 1994.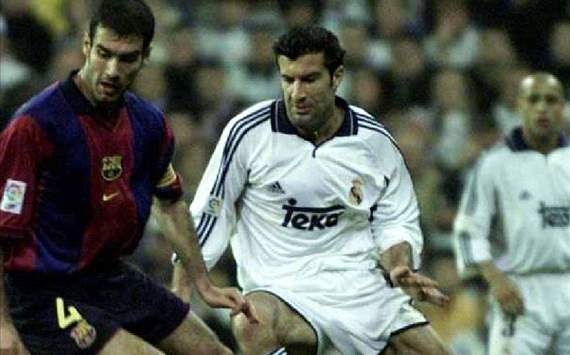 Friend or foe? | Figo in action against Pep Guardiola following his Madrid move
Figo, however, fared better in weathering life at Camp Nou as a Real Madrid player. Rattled by the hostile reception he received, Laudrup had to be substituted after 66 minutes of his first return visit to Barcelona in 1995, later claiming that it was "the worst day of my life".
Figo, although part of a team that lost 2–0 in November 2000 at the Camp Nou, held his own. Carles Puyol was marking him that night. "The thing about Figo," he said after the game, "is that he never, ever stops moving, pulling you this way and that. But the really amazing thing about tonight was that despite that brutal pressure he was under he kept asking for the ball all the time, as if nothing out of the ordinary were happening."
"I didn't care much for the atmosphere," says Figo, reflecting on the night. "I knew it was going to be bad, partly because the media created it that way. In the end you never know what's going to happen. My main concern was that, in sporting terms, everything went well and that things didn't go any further, that they didn't transcend the boundaries of sport. There was always the risk that something odd could have happened. My idea was simply to go and play and to try and win."
Perhaps the most telling incident of the night came straight after the final whistle. To a man, every one of Barcelona's players sought Figo out for an embrace. Having downed their tools on the factory floor, they recognised Figo for what he was – a comrade, a fellow worker. Barca's fans looked on through a different lens, a cartoonish, nationalist one. They fulminated at his defection from the tribe. They couldn't forgive him.
"I'm not bothered too much by the fans' reaction," he says. "What matters to me is that I lived there and had happy times there, and what I achieved there. My conscience is clear. I couldn't have done more, I think."
Whenever Figo returned to the Camp Nou, bodyguards were detailed to safeguard him. He says he understands where the fans' animosity originated. "Fans are people who don't have their own opinions," he says.
"Many times, masses are moved by the opinion of others, in this case the media. It's all about business. In the end, everything was generated by the press. I see it that way because the media always wants to take advantage of a situation.
"In this case, well, the press 'heated' the ambience before the game. For me, despite the rivalry that there might be, football is a sport. Things shouldn't trespass the limits of sport because if in any situation something else happens – if something bad happened – then people, the vast majority, would feel guilty, remorseful. I see it as a game of football. There's rivalry, but this rivalry should not drift from the realm of sport into violence."
Figo, of course, emerged unscathed from the encounters. He says he doesn't remember seeing the famous pig's head in 2002 until he saw some pictures of the match on the following day's newspapers.
He avoided, for instance, a similar fate to Mo Johnston in Glasgow. Johnston joined Rangers in 1989 – via Nantes in France – from Celtic, becoming the first notable Catholic to play for the Protestant enclave. He once shipped a pie to the face from a fan after scoring against Celtic. It does take cojones to do what these men have done.
"In the moment one sees that it is a unique experience," admits Figo, almost wistfully. "I don't think there's another athlete that has played with a hundred-thousand-something crowd against him. It's good to remember that."
Follow Richard Fitzpatrick on

To win a copy of El Clasico: Barcelona v Real Madrid, Football's Greatest Rivalry, answer the following question: At which club did Luis Figo start his professional career? Responses must be sent to competitions@goal.com and the winner will be announced in next week's extract. Last week's winner: Adrian Sung