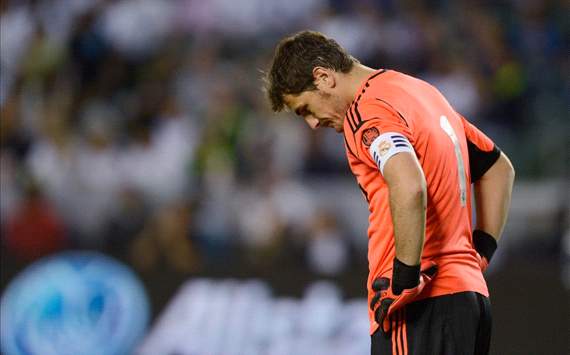 Iker Casillas – Real Madrid
Real Madrid's Raul Albiol claims that there is a campaign against Iker Casillas to prevent him from claiming this year's Ballon d'Or award.
The Spanish press has been particularly critical of their national team captain over apparent mistakes he has committed in recent games and Albiol believes that it is not being done without reason.
"When these types of criticisms are made, there is an objective. This campaign is to give those who choose the Ballon d'Or one less problem," the defender told EFE.
"It is clear that to win the award as a goalkeeper is very difficult but, if anyone can do, it is Iker. Last year, he won trophies with Spain and with Real Madrid. He had a great season."
While Casillas has received criticism, other candidates for the award, such as Cristiano Ronaldo, Andres Iniesta and Lionel Messi have received praise. Albiol believes that all four players are worthy of winning and suggested one way of deciding who wins the accolade.
"The most just thing would be to give a Ballon d'Or to Cristiano, Messi, Iker and Iniesta too. There is only one, but many players would deserve it," he added.
Albiol recognised that it is harder for a goalkeeper to win the award, but, insisted that this should not change anything if he deserves it.
"A keeper should have the same chance as an outfield player, and he has given a lot to Spanish football, the national team and Real Madrid," he continued.
"He has been number one for many years and now everyone wants to destabilise him. Iker has long proven to be the number one and he still is. Some people want to remove him from this position. He is very calm. He's young for a goalkeeper, despite the years and the titles that he already carries."
Casillas has been criticised for the goals conceded in recent ties against Manchester City and Barcelona, particularly from set-pieces. But Albiol dismissed it all as unwarranted.
"I imagine that when he goes home it affects him – that is normal," he said.
"He is always demanding of himself, and gets angry. He wants to stop everything. There is a lot of talk in the last weeks that he could have done more or less with different goals. It is normal that they expect a lot from him, but we know he is safe between the posts."