In the coming weeks, Goal.com will publish exclusive extracts from Richard Fitzpatrick's new book, El Clasico: Barcelona v Real Madrid, Football's Greatest Rivalry.


CLICK HERE TO ORDER A COPY OF EL CLASICO: BARCELONA V REAL MADRID, FOOTBALL'S GREATEST RIVALRY

When the whistle blew to signal the end of the first leg of the 2011 Champions League semi-final between Real Madrid and Barcelona at the Bernabeu Stadium, fistfights broke out in the stands. Real Madrid had just lost 2-0, both goals coming from Lionel Messi. For the second, a wonder goal, the Argentine flashed past five defenders before clipping the ball low into the net.
Some irate fans invaded the pitch. Missiles rained down onto it. Police made a shield for the match officials as they fled for sanctuary. Later in the night, Andy Townsend, the ITV commentator who is unfortunate enough to bear an uncanny resemblance to match referee Wolfgang Stark, was set upon in a restaurant by an angry mob. In the clubs' backrooms, both their legal teams scurried around, hatching cases to be presented to Uefa about each other's deceit.
The teams' two generals – and their soldiers – were confined to barracks for a cooling-off period before emerging for the post-match press conference. Whatever the theatrics of Barcelona's players earlier, they were nothing to the pathos served up by Jose Mourinho, Real Madrid's manager. The press room is his domain. He sat back in his throne. He wasn't angry. He was confused, lurching between indignation and disbelief. "Por que?" he kept asking. Why?
He wanted our understanding, our sympathy. He cast about wearily, flicking imaginary fluff from his trousers. He longed to return to the bosom of his family. He was disgusted with this world, he said. He generously gave us insight into his tactical approach, into the 'organisational moments' that he seeks to manipulate, like a deity, the fate of a match. But he had just been foiled by the ref, a patsy, like three others he named from the refereeing trade who did the dirty work of larger, mysterious forces. Why was Barcelona spoiled? Was it because of their affiliation with Unicef, he wondered? Oh, they were a brilliant team, he conceded, toying with our feelings, but when the digs came, amidst his train of conspiracy theories, they were vicious.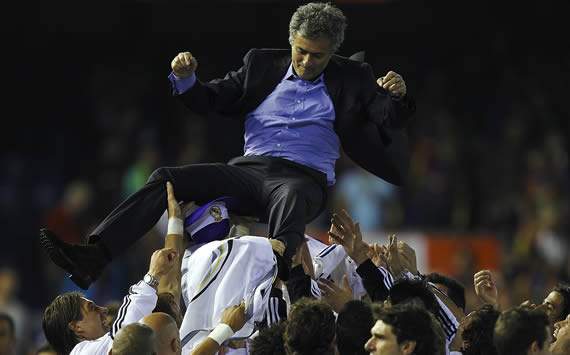 Beating Barca | Mourinho has now overseen several triumphs against Real's rivals
Pep Guardiola, his nemesis, had profited from 'the scandal of Stamford Bridge' two years earlier when Barcelona benefited from favourable referring decisions in a semi-final against Chelsea. "I would have been embarrassed to win that title," he said. Now, after 'the scandal of the Bernabeu', his counterpart at Barcelona was on course for another defiled crown. "I hope that one day he can win a proper Champions League. Deep down, if they are good people, it cannot taste right for them," he said, twirling his moral compass. "I hope one day that Guardiola has the chance of winning a brilliant, clean championship with no scandal." The battle lines of El Clasico had just frosted over.
Mourinho, to use his own parlance, has added pepper to the fun. He will forever be remembered in the annals of the Barcelona v Real Madrid rivalry as one of the saga's great hate figures. That he has been an agent provocateur isn't surprising, but the response to his antics is illuminating. For taking the fight to Barcelona, he has become a poster boy for Spain's political right, and the only Real Madrid manager to have his name chanted at the Bernabeu.
It is not uncommon for footballers to get lassoed into the political bullring, willingly or otherwise. Real Madrid's majestic team of the 1950s is the obvious case in point. Sometimes, as in the Maradonian Church, they can even spawn mock religions. Mourinho is noteworthy because he's not an athlete. He's adored – and is egged on by his president, Florentino Perez – because of his polemics.
The Portuguese despises the holier-than-thou attitude of Guardiola and the Barca project, a collection he refers to as "the beautiful children of football". The insinuations in his press exchanges about Guardiola, implying that he's deceitful, continued into the 2011–2012 season.
"The interesting thing," he bemoaned in a press conference in March 2012, "is that there are people much smarter than me that sell an image and get to have a completely different picture than mine." All the while, he has remained oblivious, of course, to the ridiculous contortions required to transform Real Madrid, the ultimate team of the establishment, into some kind of victim at the mercy of a bizarre cabal, incorporating bent refs, the media and Uefa.
Mourinho has finally delivered, however, on his mandate: he has beaten Barcelona. The earth's axis has tilted slightly with Real Madrid's record-breaking, 100-point league title victory in May 2012 and the announcement a couple of weeks beforehand that Guardiola would be stepping down as coach of Barcelona, to be replaced by his assistant, Tito Vilanova. The Catalan cited exhaustion as the reason for his departure. It seemed extraordinary that he would walk away from the finest collection of players he is ever likely to manage, with the best days yet to come for many of them, but the stresses at FC Barcelona are not normal.
Only two men have served longer management terms at the club since the Second World War. Both of them were broken by the experience. Johan Cruyff, Guardiola's mentor, suffered a heart attack during his reign and never managed a football team again after being sacked. Frank Rijkaard, Guardiola's predecessor, became so unhinged at one stage during his last, rudderless season that he moved out of his family home and into a hotel near the Camp Nou. His nerves, by his own admission, were shot.
Guardiola had reached his threshold. "I don't have good memories of the Madrid–Barca games – neither the victories nor the defeats. There were always other things that took away from the football," he said before his final Clasico match as coach, a 2–1 loss at the Camp Nou in April 2012. He spoke with a dejected air. The rope-a-dope tactics favoured by him in the pressroom had taken their toll.
"Many things have been hidden by our silence," he said as his time drew to a close. In Mourinho he encountered a foe whose modus operandi – like Alex Ferguson's – is one of siege mentality. In Spain, Mourinho had found the most fertile ground yet for instilling an Us v. Them mindset in his charges.
Follow Richard Fitzpatrick on

To win a copy of El Clasico: Barcelona v Real Madrid, Football's Greatest Rivalry, answer the following question: What was the score in Jose Mourinho's first Clasico as Real Madrid coach? Responses must be sent to competitions@goal.com and the winner will be announced in the next extract.