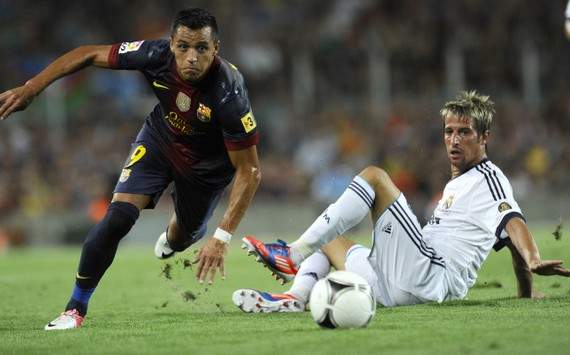 ANALYSIS
By Alberto Pinero | Goal.com Spain
Real Madrid and Barcelona meet this Sunday in a Clasico which looks set to have big implications on the outcome of La Liga. Something which seemed impossible just a month and a half ago has become a reality now as eight points separate one side from the other.
If Barcelona collect the three points on Sunday, the Catalans will open up an 11-point advantage on Madrid – an abyss when one considers how the last few championships have been decided, with just a few points dividing the top two teams and usually right at the end of the competition.
Jose Mourinho has maintained since before the game against Deportivo La Coruna last weekend that the points difference does not concern him at this early stage, with much of the championship still to be disputed. The important thing, the Portuguese has said, is to recover the positive sensations within his team. However, he would perhaps do well to reconsider his priorities because if Madrid fall 11 points behind Barcelona, the capital club would be left needing a comeback of historical proportions.
Because no team in the history of La Liga has ever managed to come back from more than eight points behind to claim a championship. Eight points, in fact, is the biggest deficit overcome – by Valencia in 2003-04 – to win the Primera Division. Then, Rafael Benitez's side hauled back Madrid themselves, in what was the beginning of the end of the Galactico era. Such a feat had not been achieved before, and has not been achieved since.
What Barca's advantage
will look like if they win on Sunday
Last season, Pep Guardiola's Barcelona found themselves 10 points adrift of Madrid in the 23rd round of La Liga and, despite reducing that gap to four at one stage, they were ultimately unable to turn it around. And in the end, Barca finished nine points adrift of Madrid as Mourinho's men set a new points record by racking up 100 units – as well as 121 goals.
Madrid, then, clearly have a difficult task on their hands – although not an impossible one. In 2004, the Catalans made up an astonishing 18 points on Madrid in the second half of the campaign under Frank Rijkaard, but still lost out to Valencia overall. Back then, of course, La Liga was a much more evenly disputed competition, and no side has ever overcome a deficit of more than eight points to claim the title.
And with the way these two teams are dominating, it appears even more difficult now. So lose the Clasico on Sunday, and Madrid will likely lose La Liga, too.