In the coming weeks, Goal.com will publish exclusive extracts from Richard Fitzpatrick's new book, 'El Clasico: Barcelona v Real Madrid, Football's Greatest Rivalry'.


CLICK HERE TO ORDER A COPY OF 'EL CLASICO: BARCELONA V REAL MADRID, FOOTBALL'S GREATEST RIVALRY'

Leo Messi is 5ft 6½in. He wasn't always so tall. When he arrived in Barcelona as a 13-year-old from Argentina, he was 4ft 6in, nearly one foot shorter than the average height for a boy of that age.
As a child, Messi was diagnosed with a rare growth hormone deficiency. The condition affects one in 20 million people. It is not a family affliction. His younger sister, Maria Sol, for instance, is a tall young lady.
The average cost of treatment, which involves subcutaneous injections every day for three to five years, is over £100,000 a year. This kind of money was beyond the means of Messi's parents. Messi began his treatment in 1998.
At the time, his father worked in a steel-making company; his mother at a magnet manufacturing workshop. The medical insurance they used to cover the costs of the treatment ran out after two years.
Messi's club, Newell's Old Boys, initially offered to pay for every second injection, but when payments started arriving late, Messi's parents got the hump and took their talented son for a trial to Barcelona when the opportunity arose.
Messi's family joined him in Barcelona when he arrived to take up his apprenticeship in February 2001. They knew so little about their new city that it came as a surprise to them that it was by the sea. Suffering from homesickness, however, his mother and his siblings returned to their hometown, Rosario, birthplace of Che Guevara, later that summer.
Messi, who summered in Argentina, was asked repeatedly what he wanted to do; he decided to return to Barca of his own volition. Messi's father, Jorge, who looks a ringer for his son and manages his financial affairs to this day, stayed in Catalonia to chaperone him. The young prodigy admits that he was so miserable at times that he used to cry in his house, alone so that his father wouldn't see.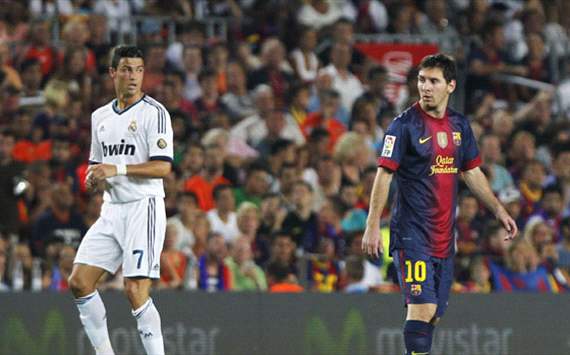 Best in the world |
Ronaldo and Messi dominated the recent Clasico at Camp Nou
Messi looks as if he's shy, but apparently he's as much of a trickster off the field as he is on it. "People who know him in the dressing room know that he's cachondo. He's a kidder, a real scream," says Carles Folguera, director of La Masia, Barca's football academy.
Messi's from the famous class of 1987, a contemporary of Gerard Pique and Cesc Fabregas. In his early days with the big boys, the little Argentine nearly chose the wrong path. He used to traipse after Ronaldinho when the Brazilian hit the town. One day he was pulled aside.
"You've two options," said Pep Guardiola, who was coach of Barcelona's B Team at the time. "Either you keep on partying, and you'll be out of here in days. Or you start eating properly, quit the alcohol, go to bed early and come to practice on time. Only then might you become the best in the world."
In Spain, a debate rages as to whether Messi is better than Real Madrid's Cristiano Ronaldo. The Portuguese star is a peculiar man. He is the ultimate galactico and one of sport's great narcissists. He once bragged that he does a thousand press-ups a day to maintain his rippled abs.
He is petulant when things don't go smoothly for him during matches, a childish practice which he has never managed to kick. His mother said that his nickname was "cry baby" as a child; that he used to cry if his friends didn't score when he passed the ball to them, which might explain why he loves to dribble so much. During the award ceremony for the 2007 Fifa World Player of the Year, he was on the verge of tears when it was announced that he had trailed in third behind Messi and the winner, Kaka.
Despite the arrested development and the sappy exterior, he is, however, a resilient man. On the pitch, he is courageous, has largely forsaken his youthful habit of diving, and is strong in the air.
Xabi Alonso, his team-mate at Real Madrid, points out that he's a workhorse when it comes to rummaging for the ball, something that is uncommon for players of his ilk. "When a team loses the ball, some superstars wait for their team-mates to get it back for them. Not Cristiano. He fights, he runs, he helps us in midfield."
People wonder at his self-love. "I think that being rich, handsome, being a great player, people are jealous of me," he said in a post-match interview in 2011, trying to account for why opposition players like to hack him down in matches.
It was as if he were listing some of the chemical elements from the periodic table. This kind of arrogance might offend some; others are grateful for his spikiness, for having the personality to provoke while most of his peers in Spanish football like Messi excel at saying nothing.
His bloody-mindedness owes something to his childhood. He was born in February 1985 on the island of Madeira, which is closer to Africa than to mainland Europe.
He was named after his father's favourite actor, Ronald Reagan. He's the youngest of four siblings. One of his sisters eked out a career in music on the back of his subsequent fame by using the stage name, Ronalda.
The family wasn't impoverished – his father, who died of an alcohol-related illness in 2005, was a gardener; his mother, a cook – but money was scarce enough that they lived in a bungalow so small that the washing machine was kept on the roof.
At 12 years of age he left home to take up an apprenticeship 600 miles away at Sporting Lisbon. He was on his way.
Ronaldo's goalscoring stats are the measure of Messi's. Ronaldo, to his credit, has scored most of his Real Madrid goals for a team in transition. He's more powerful than Messi. He's a better header of the ball and has a unique, banana-leaf trajectory to his long-range shots. He has become a more effective player under Jose Mourinho who has taught him to forage closer to goal, but he doesn't unlock defences with the artistry of his Argentine rival.
Ronaldo, at 27 years of age, is only just learning to do one-twos. In that crowded middle space of the field where Messi often gathers the ball, he often looks for passes. Messi creates more critical goals than Ronaldo, as he did for David Villa's brace in the famous 5-0 Clasico match in 2010. To pass the ball is an attribute of La Masia boys.
Follow Richard Fitzpatrick on

To win a copy of El Clasico: Barcelona v Real Madrid, Football's Greatest Rivalry, answer the following question: How many goals have Messi and Ronaldo scored in the Clasico? Responses must be sent to competitions@goal.com and the winner will be announced in next week's extract. Last week's winner: Pawel Brzozowski