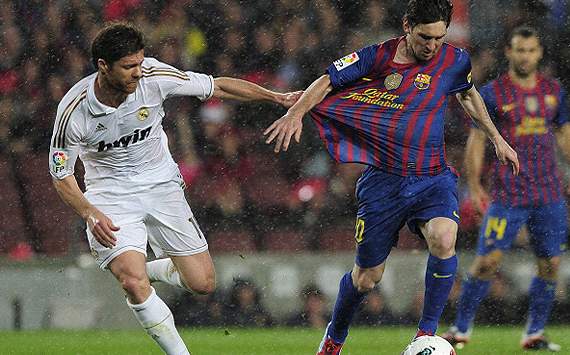 Real Madrid midfielder Xabi Alonso has insisted he is content playing under Jose Mourinho ahead of Sunday's El Clasico encounter with Barcelona.
The outspoken Portuguese tactician has clashed with established Santiago Bernebau stars during his two seasons at the capital side, his much-publicised feud with vice-captain Sergio Ramos the most recent example. Alonso insists he has no issues with the former Chelsea and Inter manager however, a relationship he believes is shared by most of the players at the club.


"I have a very good relationship and good communication with [Mourinho]," the 30-year old told ESPN.
"I know how he wants to play games, how he sees the football and we share many ideas. He's a coach I want to be at Real Madrid. I feel motivated and comfortable working with him, a feeling shared by most of the players."
Los Blancos will face title-rivals Barcelona at Camp Nou on Sunday, in what is widely regarded as the world's largest club derby. Alonso claims he has grown accustomed to the media attention given to the match since his transfer to Madrid in 2009, but added the fixture has become more important following his side's stuttering start to the domestic season.
"Eventually you get used to dealing with the [pressure and speculation]," the former Liverpool star revealed.
"People are very ambitions, [we] live in an environment that sometimes speaks much more than it acts.
"We are aware of [our] bad start, and it is our responsibility to reverse the situation and be fighting for titles at the end of the season. These are very important points as we are playing [Barcelona]."