In the coming weeks, Goal.com will publish exclusive extracts from Richard Fitzpatrick's new book, El Clasico: Barcelona v Real Madrid, Football's Greatest Rivalry.


CLICK HERE TO ORDER A COPY OF EL CLASICO: BARCELONA V REAL MADRID, FOOTBALL'S GREATEST RIVALRY

Vicente del Bosque was born in Salamanca, the old university town, in 1950. Salamanca is a charming little city close to the Portuguese border. Its city centre is a clutch of narrow, medieval streets knotted around a few palaces and plazas.
Del Bosque's father was a clerk in Salamanca for RENFE, Spain's national railway company. The man was a trade unionist with a head full of radical, progressive ideas. Politically, he was a Republican.
During the Civil War, he was captured by General Franco's forces close to Mingilla, in the Basque Country. He was charged with being a rojo, a red. Nothing else, this was enough to get him arrested. He remained in captivity in the Basque town of Alava for three years where, according to Del Bosque, he had a rough time of it.
Del Bosque has spent most of his life at Real Madrid. He joined the club as a teenager. When he graduated to the first team, he remained ensconced on it for a decade. He was a defensive midfielder. Joan Golobart, the former Espanyol player and journalist, says he was "an organiser".
On his retirement from playing, Del Bosque put his organisational skills to work in Real Madrid's cantera, living in an apartment so close to the club's former training ground that he could clock which players arrived early to practice.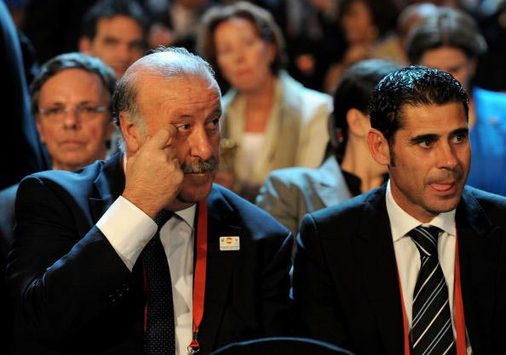 Made in Madrid | Del Bosque worked with Fernando Hierro at the Santiago Bernabeu
Twice during the mid-1990s, he acted as caretaker coach of the first team while the club shopped around for managers. In 1999, after John Toshack got sacked, he took over full time as manager. He was a revelation, guiding the club's galacticos to two Champions League titles and a brace of league trophies.
According to the Real Madrid player Sergio Ramos, who plays for him on la Seleccion nacional, Del Bosque is "psychologically refined". He has a collegiate management style. His lack of ego was useful, during the era of Luís Figo, Zinedine Zidane and the Brazilian Ronaldo, for soothing a dressing room of larger egos.
During half-time, he might only speak for a minute or two. Players say that he never raises his voice or singles out a player for criticism. To try and analyse his emotions when he's on the touchline is a pointless exercise. He's inscrutable. You might as well be looking at a cow in a field.
Effective though his quiet industry was he still fell out of favour with the club. At the end of four seasons – the evening after Real Madrid had been crowned league champions – he was fired. He learnt about his dismissal while waiting to go on air in a TV studio.
He was dispensed with because he was an unfussy, old-school coach who didn't fit with Real Madrid's marketing-driven business plan. Club president Florentino Perez fawns over the image rights of his star assets like a Hollywood studio boss. The club had just signed David Beckham and was selling replica jerseys with frenzied zeal. Del Bosque, a loyal, humble soldier from another era, was passe.
"Del Bosque's profile is a traditional one," Perez told a news conference. "We're looking for someone with more emphasis on tactics, strategy and physical preparation. We believe that the squad we are building would be more powerful with a coach with a different character. Del Bosque was showing signs of exhaustion. I want to be sincere about this – our belief that he was not the right coach for the future."
Del Bosque avows that he will never return to work for Real Madrid. The reasoning proffered at his exit interview incensed him. "The fact," he said, "that some smart-a*** dressed in a pair of braces comes up to me and tells me I've got to get 'modern' really pi**** me off."
Del Bosque was swapped for a man with multi-linguistic skills and a good tan – Carlos Queiroz, Alex Ferguson's former No. 2, who failed to deliver Perez a trophy, as was the case with five subsequent chosen successors until the construction chief decided to try his luck with Jose Mourinho.
Del Bosque was brought back into the fold in March 2011 when he was awarded honorary membership – along with Rafael Nadal and Placido Domingo – but for several years he had felt awkward going along to matches at the Bernabeu stadium with his family, given the circumstances of his departure from the club. His left-leaning politics had complicated membership of the tribe, too.
"Del Bosque is loved because he represents values of moderation, prudence and cohesion," says Santiago Segurola, Spain's foremost football writer. "He is a very interesting figure because he is a madridista to death. He served the club for over 30 years. He coached the team, won leagues and Champions Leagues, the World Cup, but he is accepted more by the rest of the world than he is by the core of Real Madrid.
"When Florentino Perez awarded him the honorary medal, the normal thing would have been to present it to him in the middle of the pitch at the Bernabeu and people would have risen toapplaud a madridista, but this didn't happen. I think that Real Madrid is a club that divides."
Follow Richard Fitzpatrick on

To win a copy of El Clasico: Barcelona v Real Madrid, Football's Greatest Rivalry, answer the following question: Not inlcuding his spell as caretaker, how many trophies did Del Bosque win as coach of Real Madrid? Responses must be sent to competitions@goal.com and the winner will be announced in next week's extract. Last week's winner: Darren O' Neill