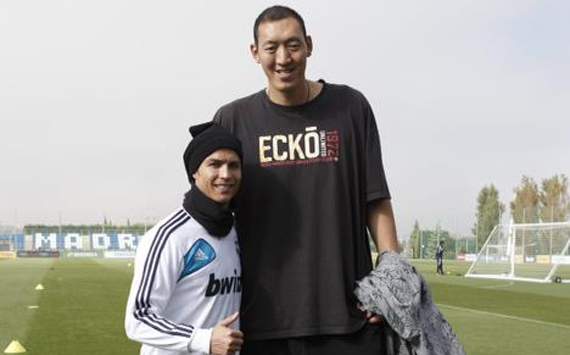 It is not every day Cristiano Ronaldo is not the centre of attention, but photographed next to professional basketball player Sun Mingming, who stands at a whopping 7 ft 9 inches, the Real Madrid attacker should understand why.
The Los Blancos forward has posted a picture of himself alongside the Beijing Ducks player on his Facebook page, as the Chinese centre visited the club's Valdebebas training ground.
The former Manchester United winger can attest to not exactly being small, measuring approximately 6 ft 1 inches, but compared to his fellow athlete, he comes up a little short, with a full 1ft 8 inch difference between the two global superstars.
However Extra Time is sure the picture will not damage the 27-year-old's ego too much, after recently becoming the third youngest European player to reach a century of international appearances and continuing to impress for the Spanish champions, scoring 15 goals in 12 appearances so far this season.