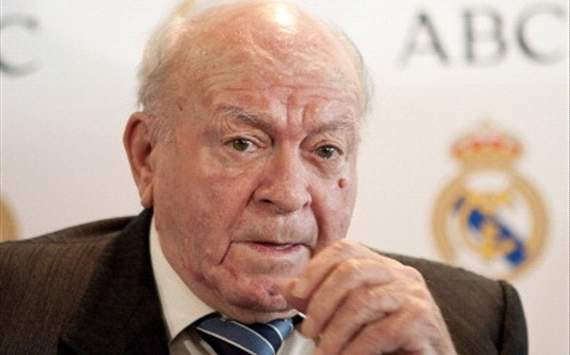 Alfredo Di Stefano has evaluated Barcelona as the best team in the world, as they head into Sunday's Clasico against Real Madrid.
The Spanish champions lie eight points behind Tito Vilanova's Blaugrana, and former Madrid icon Di Stefano has spoken of his admiration for the way the Catalan outfit have gone about dominating the sport.
"It will be a very difficult game. Both teams have players who can win them the tie," the 86-year-old revealed to ESPN.
"Barcelona play outstanding football, which they won't change, whether they win or lose. They are superior to everyone because they have about four or five individuals who are outstanding footballers. You can't ignore the truth."
Nevertheless, the Argentine legend believes that a result for the capital side would be far-reaching, assuring that his former side's title chances will be hugely boosted by a victory.
"I hope Real Madrid win and then we can start to strike fear into the teams above us."
Lionel Messi and Cristiano Ronaldo, talismans for either side, come head to head at Camp Nou after doing battle for the Ballon d'Or, and Di Stefano is unable to select an eventual victor.
"They are both different players. They play in different positions, they have different characteristics, different talents, but both are brilliant goalscorers and that's the most important thing," he said.
"It's difficult to say [who should win the Golden Ball], football is not an exact science and people have different opinions on who is the best player. It's up to the players and coaches who vote.
"All a player wants to do is win, because that's the best thing for his team."