In the coming weeks, Goal.com will publish exclusive extracts from Richard Fitzpatrick's new book, El Clasico: Barcelona v Real Madrid, Football's Greatest Rivalry.


CLICK HERE TO ORDER A COPY OF EL CLASICO: BARCELONA V REAL MADRID, FOOTBALL'S GREATEST RIVALRY

Barcelona have long been a standard-bearer for separatist sentiment in Catalonia, particularly during General Franco's 36-year fascist dictatorship, which ended with his death in November 1975.
As coach, Pep Guardiola used to speak in Catalan during press conferences. Seven million people speak Catalan, which is closer to French than it is to castellano, Castilian Spanish.
Dismissive madrilenos call Catalans polacos, or Poles, because of the alien, slurping sound of their language. There is a clause in player contracts at Barca which states that foreign players must embrace the Catalan language.
Perched in the north-east corner of Spain, Catalunya thinks of itself being closer culturally to its Mediterranean neighbours France and Italy than it does to Madrid, off to the west.
Catalans even have an expression for what makes them different to other Spaniards, el hecho diferencial – the differentiating fact. They prize sobriety, enterprise and hard work. They reckon that they have their own yin and yang; that they're a mix between seny i rauxa, common sense and madness. Barca fans maintain that Guardiola is the quintessence of seny.
"In a way, Johan Cruyff's way of thinking is the embodiment of rauxa," says Justin Webster, an English documentary-maker living in Barcelona. "Cruyff when he was a player and coach at Barca was always doing revolutionary things because he came, rather like the Catalan chef Ferran Adria, from a working-class background. Nobody's taught them to do anything. They start with a blank slate and they invent themselves. That appeals very much to a certain kind of Catalan idea – they're absorbed with reinventing the nation."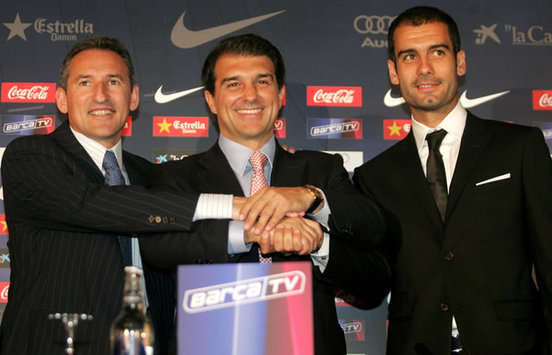 Winning formula |
But

Laporta

was criticised for over-politicising

Barca
A month after stepping down as president of Barca in June 2010, having won two Champions League titles in his seven-year reign, Joan Laporta set up a political party, Catalan Solidarity for Independence, which won four seats in Catalonia's 135-member parliament in November 2010.
"From the beginning of the 20th century, Barca have always been considered the club of Catalunya," he says. "Why? Because the board of directors in a general assembly supported the Estatut de Catalunya [a statute which defines its self-governing rights] in the 1930s and during my presidency, in 2006, we supported the new Estatut de Catalunya. Since democracy, Catalan rights are not being promoted, and if we don't promote our rights, who is going to?
"Of course under the dictatorship, the repression was more evident. The Catalan language was forbidden. But today we are in the same process. Barca are a representative of Catalan culture, a symbolic church for our country. It is a way to promote our feelings, the best possible tool to promote the image of Catalunya to the world. It's very important because we are giving a cause, a sense to our club, a reason to exist."
Not many people outside Catalunya appreciate Laporta's politics. Few around Spain – outside the Basque Country – sympathise with Catalunya's push for independence, which is so ardently promoted by Barcelona. It offends their notion of a unified nation.
In 2005, for example, there was a damaging campaign to boycott cava, the sparkling wine synonymous with Catalunya, when it refused to back Madrid's bid to host the 2012 Olympics.
There are roughly one million Real Madrid supporters in Catalonia. They feel besieged, a bit like a mining camp deep in Comanche Territory. They resent the overbearing separatist politics of Barca, particularly when it leaks into the school curriculum.
"In a lot of public schools in music class, the Barca anthem is taught to the children as if it was a Catalan folk song," says author and journalist Jose Miguel Villarroya. "This is a problem. It's the anthem of the Barca team, like the German anthem or the British anthem. It's not a traditional Catalan song. People in Catalunya support other teams than Barca, like Espanyol and Real Madrid.
"Now there is an agenda. A lot of politicians, bankers and industrialists are trying to create a homogenous society. They say a good Catalan person loves Catalunya. Barca is the image of Catalunya. It is a great team. It wins a lot of trophies.
"The most important thing in Catalunya is Barca. It's the central column of this feeling. So if you're not from Barca, you're not a good Catalan. If you're from Real Madrid, you're the devil incarnate.
Real Madrid is the foe, not only against Barcelona but also against Catalunya. "For these people, not all Catalans, Real Madrid represents the old orthodoxy, old Spain. It represents the old enemies – Franco's time, centralism and restrictions on Catalans' liberties. This makes it more difficult to be from Real Madrid at the moment.
"The resentment towards Real Madrid supporters is stronger now. They say, 'Are you a Real Madrid fan? Well, then you are a fascist.' When I was a child in Franco's time, this was not a problem because there was no democracy. People couldn't talk about politics. Real Madrid, Barcelona, Espanyol were only football teams."
Laporta and his cohorts like to keep politics front and centre, however. "When a Spanish person tells you 'sport is not politics', don't believe them," he says.
"Only people who have a state feel comfortable with their structures, with their national teams. In that case there is no politics. But in our case, I can't support my national team – the Catalan national team – in the World Cup. Then football is politics. Of course it is!
"I've been involved in using football and sport in politics. Think about Cuba or think about the United States. Sport is not politics? My God!"
Follow Richard Fitzpatrick on

To win a copy of El Clasico: Barcelona v Real Madrid, Football's Greatest Rivalry, answer the following question: How many trophies did Barcelona win during Joan Laporta's reign as Barcelona president? Responses must be sent to competitions@goal.com and the winner will be announced in next week's extract. Last week's winner: Subham Ghosh